[AdSense-A]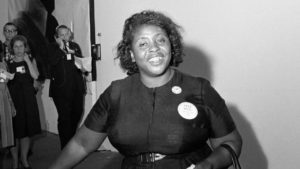 By Marlena Ryan
2020 is a big election year. If you have not registered to vote, it is important that you check your state's voter registration deadlines and register. Most states offer online voter registration, and all states still offer paper forms which can be mailed. While our country is still plagued with voter suppression, women and people of color do have the right to vote. But imagine for a moment being fined, beaten, and losing your job all for trying to register to vote. Such is the story of Fannie Lou Hamer, a wife and mother who embodied fearless activism. August 31st marked the 58th anniversary that she along with 17 other people of color traveled 26 miles by bus to register to vote.
Fannie Lou Hamer, who worked on Mississippi plantations from the age of six, fought to put an end to racially based voting requirements in the South during the 1960s. In 1961, at the age of 44, she was sterilized without her consent, receiving a hysterectomy during an operation to have a uterine tumor removed. Known as a "Mississippi Appendectomy", forced sterilizations were a way to suppress populations of people of color. While speaking to an audience in Washington, DC, Fannie Lou Hamer once said about forced sterilizations at the North Sunflower County Hospital, "about six out of 10 Negro women that go to the hospital are sterilized with tubes tied." She and her husband Perry Hamer would go on to adopt two daughters.
It was a year later, during the summer of 1962, that Fannie Lou Hamer would take on a leadership role in the Civil Rights movement. She attended a meeting at a church led by the Student Non-Violent Coordinating Committee (or SNCC), an interracial civil rights organization. During the meeting, Mrs. Hamer learned for the first time that black people could register and vote. On August 31, 1962, Fannie Lou Hamer along with 17 other people took a bus to go and register to vote in Indianola, Mississippi. When they arrived at the county courthouse, Highway Patrolmen were outside with guns. Once inside, the group was told they would have to wait outside with the exception of two people, to take a literacy test. Fannie Lou Hamer and a young, black man named Ernest Davis, were the two allowed inside to take the test. The registrar pointed out a section of the Constitution of Mississippi to Mrs. Hamer. She was to read and copy what she saw, then below that interpret what she had read. Though Mrs. Hamer knew how to read and write, she was not able to interpret the section. On their way back home, the bus driver was stopped by Highway Patrolmen and arrested for driving a bus that was too yellow. The group collectively paid the bus driver's $100 fine.
Once home, Mrs. Hamer was told by the plantation owner she worked for that she needed to withdraw her registration, or she would have to leave. She responded by simply saying, "I didn't try to register for you. I tried to register for myself." Fannie Lou Hamer was let go that night, losing her job and the place she had called home for 18 years. Her act of defiance? Trying to register to vote. Her husband, Perry Hamer had to stay on the plantation to work through the harvest. But the plantation owner took Mr. Hamer's car along with their rented home and other possessions, and the Hamer's had to start over, living mainly off the small weekly stipend she received while working for the SNCC.
Being off the plantation however, paved the way for Fannie Lou Hamer to focus on helping the black community and promoting voter registration among black people. She even became one of the first black people to register to vote in Sunflower County, Mississippi, in 1963. On June 9th, 1963, Fannie Lou Hamer was traveling by bus with a group of activists after attending a voter registration workshop in Charleston, South Carolina. The group made a stop in Winona, Mississippi, to get food and take a bathroom break at the bus station. But with, the lunch counter being for whites-only, the group was kicked out and arrested by police. At the county jail, Fannie Lou Hamer and other black women were severely beaten not only by police, but also by black prisoners who were ordered by the officers to use blackjack weapons to beat the women. Mrs. Hamer was beaten so badly that she suffered permanent kidney damage. The activists were in jail for another three days before finally being released. Such incredible violence around simply helping black people register to vote.
Fannie Lou Hamer is an inspirational black woman. This courageous wife and mother did not let fear, police brutality, or even white supremacy get in the way of using her voice to do what was right and speak out against racial injustice. She went on to use her influence in ever greater ways, including speaking before a credentials committee at the Democratic National Convention in 1964. Her goal? To speak out against the party's exclusion of black delegates from Mississippi. Her message in 1964 still rings true for all Americans today: "You can pray until you faint, but if you don't get up and try to do something, God is not going to put it in your lap". It is my hope that the life and voice of Fannie Lou Hamer inspire you to try to do something to make our society one that is more united and more just for everyone. And a great place to start is by making sure to register and vote this November.
Fannie Lou Hamer continued her work as an activist until her death. She died from breast cancer and complications from her jail house beating on March 14, 1977, at the age of 59. Her memorial service was so full that services were not only held at the William Chapel M.B. Church, but an overflow service was also held at the Ruleville Central High School in Ruleville, Mississippi with over 1,500 people in attendance. Andrew Young, the US Ambassador to the United Nations delivered the eulogy. He reportedly said, "None of us would be where we are today had she not been there then." In 2005, the grave site of Fannie Lou Hamer along with the grave site of her husband Perry Hamer was buried at the Fannie Lou Hamer memorial garden in Ruleville, Mississippi. Her tombstone is engraved with one of her famous quotes, "I am sick and tired or being sick and tired."

Contact the Feature Writers