[AdSense-A]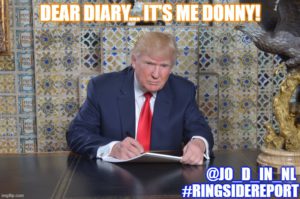 By Jo-Ann "Jo D NL" Duke
The diary scribblings of T4: Temper Tantrum Toddler Trump
Dear Diary,
It's me again, Donny. I am so mad that Faux News hasn't fired that reporter who backed up that stupid article on me, seriously, right. They should do just what I tell them but no, they are being bad and not listening to me! Can you imagine that? Oh, everyone is being so mean to me, can you believe that they are actually using things I have said against me, that is just so awful, how could they do this to me? I am the boss, they are supposed to do whatever I say, whenever I say, and they're not. I am so fed up.
Honestly, I can't believe the only not fake news station would do this to me, I thought they were on my side, but no, they are actually taking things I have said during my speeches, or whatever, and they are sticking up for their reporter, also, they are actually using all the brilliant things I have said, just for a chance to make me look bad, you know that they must be cutting and pasting things, because everything I say is just always so smart, good and right. I know what it is, they are afraid that I am going to win that contest in November, and they are trying to help those other people win. They know that I will keep doing the job the same I have always done, and they don't want that. They want someone different, because I always do things my way, not the way the others do it.
They want someone completely different from me, but they will never get anyone as good as me, because after all, like I say all the same, there has never been a president as good as me, none of them have ever done so much to America like I have, no one else can be like me, because I am one of a kind. They are so stupid, because they don't know just how much the people want me as their president, and they will do whatever is necessary to keep me. Let the stupid fake news reporters say what they want, it doesn't matter, because my words are always right, and my followers love me to just say whatever I am thinking, especially when I say just what they think and want to hear. Still though I think it is really mean and awful that they would try to report what I am saying, why would they do that, it just seems really wrong and they aren't showing me the proper respect, I think that's how the borezillas put it, I guess that's what they said, as soon as they stopped talking about me, you know I stop listening. They are supposed to make sure that people are always talking good about me, saying what a great job I am doing, not what they have been saying lately.
Well, I gotta go, at least for now, I wish I could stay here and talk to you, but the borezillas will find me if I don't go back, they are so freaking out like they think that I could possibly lose, as if. I will be here forever, I am never leaving this place. It's mine now, never going to give it up. They will have to drag me out of here, hee hee.
They can't do that, I am the big boss.
Love you, talk to you later, bye.
Donny T.
Contact the Feature Writers