[AdSense-A]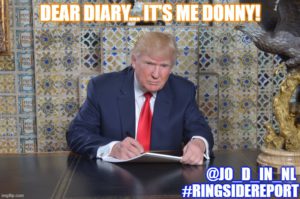 By Jo-Ann "Jo D NL" Duke
The diary scribblings of T4: Temper Tantrum Toddler Trump
Dear Diary,
Hi, it's me again, Donny. I showed everyone the other day how much a law and order president I am, it was when I told them about all the people I have had arrested for trying to remove any of the statues, that they will go to prison for 10 years if they destroy any of those things, like seriously, what is people's problems with all the old statues; like we all know, they are part of our past.
What really happened all of a sudden has everyone complaining about the people on the statues, and all the military bases' names, right, they all seem to have forgotten about all these brave men who fought in the war, and are trying to destroy the history of our country. Why do people care what side of the war these people fought in?
After all, we're all Americans, people should remember this; anyway, I hope someday that there will be bunches of statues of me, and I definitely don't want anyone saying bad things about me, or trying to get rid of any of my statues after I am finished here; because everyone knows that mine will be the best ever, why wouldn't they?
Especially since they will be there so people can come and see them, and talk about how great a president I was, you know that they will be wishing that they still had me, cause no one will ever do the job like I did, because I am so unique and perfect. My followers are so happy that I am standing up for their heroes, that I am so confident that I will win the big contest in November, and I deserve to, because V keeps telling me that I have been doing such a good job, and he can't wait to see what I will do in the next four years as well.
I feel so good when he tells me this, cause he really knows what he is talking about, and I know that he wouldn't lie to me, that he really means what he says to mean, so this means that I have really done such a good job and that I can keep doing it for another 4 years.
He is such a nice guy and he told me that it was right to stick up for being so tough on the statues being destroyed, that it will show people that I really do care about the country, not just what I can get dropped since I am the president, which is good between me and you, you know what I mean.
I have to keep to these special briefings, which is fun for me, because I love it when there is a camera on me; the only bad thing is when the nasty people at these things are always trying to trip me up, and get me to say something or their reports.
That's because of course they know that everyone will want to read anything written about me, that the fact is that everyone loves to hear about me; and to be honest, I am so really not surprised to hear this, you know?
All of my comments were so good that they think that I agree with those people, as if, imagine this, they think that I will stand up and to fight with them; and will do with all the might of the presidency. Can you believe that any person would actually believe that what I was saying is how I really feel, think and feel, omg, what a laugh; nope, not real, not that they need to know that.
Well, DD, got to go for now, I will be back later to talk with you some more; it's so nice to have such a great friend like you.
Bye for now, will talk to you later.
Love you,
Donny
Contact the Feature Writers