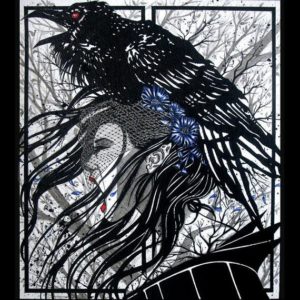 By Bethany "BST2" Armstrong
This is a story of a murder and death that is still in progress. It is a story of a potential serial killer told from her perspective. This is my story, my murder, my death. And you, dear readers, shall be my judges, my jury, and, perhaps, my executioners.
The story begins with my conception: an unsuccessful narcissist trying desperately to find a man, any man, to love her bitter heart. My genesis was the "love" of two broken people, broken in very different ways.
Forged in pain and shame and denial, my father chose the life of a Midwestern farmer, though his mind was built for more. His refusal to acknowledge the abuse of his parents made him the perfect adornment, crutch and theater on which my mother pantomimed the ill love she learned as a child. Begat from the womb of a woman who had yet to find her strength and the seed of a Ku Klux Klan officer, mother acknowledged the abuse even as she re-enacted the lines and stage directions written by my grandfather.
Not to worry, dear reader, their abuse was neither physical nor sexual. Rather, it was covertly and overtly shame based. In later years, I found myself longing for a beating, a thrashing, a switch applied to my backside. The hot mark of a hand print across my face I could have worn as a badge of honor, a tangible thing. Every child knows about sticks and stones, but the wounds of words they never taught me. And that is how Karen entered my life.
"Don't be so melodramatic. Drama Queen."
Karen is what I call my anxiety voice, the voice of my mother, the sickness, my own dark passenger. She canters through my brain willy nilly, stomping on my dignity and my self-esteem. She tells me to do things… hateful things.
"You should drive full speed into that tree over there," she whispers. "Your children would be better off if you were dead."
Karen has an amazing memory. She may just be the cruelest genius I know. She reminds me constantly of my failures as a child, a woman, a mom, a student, a teacher, whenever the opportunity arises. She can recall with vivid detail the loss of my virginity at a friend's house at age 13. When my mother found out, she said I was a slut, a dirty, shameful thing.
"You're not good enough to publish. No one wants to hear this."
Karen has mother's voice. She preaches shame from the pulpit of my brain, with just enough truth to grab me, hook, line, and sinker. Like mother, Karen loves nothing more than to sabotage anything good and pure and beautiful in my life. She was angry that I left my abusive spouse, it was my fault he behaved that way, after all.
"If you had been a better wife to him he would have loved you. If you had more faith, God would have changed his heart."
She despises all the truth-tellers, the wisdom-whisperers, those that have held their hands and hearts out to me in solidarity. She knew they would help me kill her. She knew they would be complicit in her murder.
"Don't write what you feel, you'll hurt mother, hateful child."
Every day I rise, with the intent to finally complete my kill. I stalk her like prey, listening for the rustle of her footsteps in my skull. I pounce and thrash, I laugh and banish, I reject her lies and accept her truths while I work to be better and stronger than either Karen or mother dear believed I was meant to be. More than what they need me to be.
"Your mother only wants what is best for you, and this is how you act?"
So, what will it be, dear readers? Do I deserve this existence? How long should I suffer before I complete my kill? Will you hold her down while I torture her as she has tortured me for decades? Or will you dismiss me, tell me to listen to my mother, to Karen? Will you add your voice to theirs or to the voice of my lovelies? My people say "Put this bitch down already. It'll be a mercy for you both."
What? Why so quiet, Karen? No last words?
Contact the Feature Writers