[AdSense-A]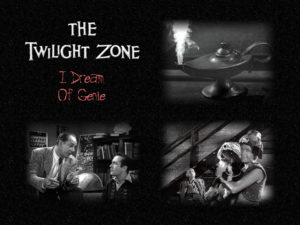 By William Kozy
This hour-long episode from Season 4 is one of the few Twilight Zone episodes I've never seen until seeking it out for this article. It received only 1 vote in my survey asking Twilight Zone fans and writers, "Which is your favorite episode of the original Twilight Zone season?" That put it in a tie for 152nd place out of 156 episodes. So what's wrong with this episode? Many things. Some inferior acting—the lead (Howard Morris) isn't great, but he's somewhat likable. It's hard to judge without seeing him in something better. The writing in this one is mostly bad; it's unnecessarily belabored, as though writer John Furia seeks to pad out the length for its hour-long format. And that's the problem with most of the hour-long TZ episodes. It's why so many more of the episodes at the bottom of the survey are dominated by Season 4 duds.
The opening scene starts the ball rolling downhill with one of the hammier supporting actors working in television at that time: James Milhollin as an antique shop proprietor named Masters puts on his fey snobbish eye-rolling shtick when George P. Hanley (Howard Morris) enters the shop looking for a gift to give an office worker he says is a goddess. As least the casting got that right: the employee in question, Ann Alexandra, is played by Patricia Barry and she is indeed very believable as a woman that men would fall over themselves trying to impress.
Milhollin is the one single flaw in the classic episode "The After Hours"; he nearly ruins that fine episode with his breaking the fourth wall goofy look straight into the camera lens at that episode's conclusion. I'll never understand how that misstep got past anybody. So here he is in this episode and he's up to his old tricks again—mugging, pulling faces, a completely technical performance with no organic truth. Interesting that the camera pans right past a mannequin in the opening shot! They've followed poor Milhollin from the After Hours department store to this shop! Masters eventually foists an antique lamp on Hanley, the same lamp that he told his clerk he'd have to high pressure some sucker to buy. He tells Hanley "It's ideal, it's perfect, it's marvelous, it's romantic, but not forward" and he shows him the lamp, "Voila!', "a distinguished antique fit for a goddess." Without giving Hanley a chance to negotiate the $20 price tag (about $170 in today's economy) and hurries him over to the clerk. He found his sucker. In some ways, it's an efficient bit of writing—sets up Hanley's milquetoast character and the word usage of the magical "Voila" and talk of a "goddess" foreshadows what's to come.
Opening Monologue:
"Meet Mr. George P. Hanley – a man life treats without deference, honor, or success. Waiters serve his soup cold. Elevator operator close doors in his face." [This section is listed in imdb, but not actually said on camera by Rod Serling: Mechanics overcharge him for half-hearted labor. Novelty cake-bakers misspell his name. Gyms refuse him for membership on sight. Clerks roll their eyes at his questions. Shoeshine boys give him slapdash service, at best. Therapists giggle at him. Yoga instructors ceaselessly adjust him. Pledge-drive workers turn down his donations..] The on-camera monologue resumed with this: "Mothers never bother to wait up for the daughters he dates. George is a creature of humble habits and tame dreams. He's an ordinary man, Mr. Hanley… but, at this moment, he's the accidental possessor of a very special gift: the kind of gift that measures men against their dreams, the kind of gift most of us might ask for first and possibly regret to the last… if we, like Mr. George P. Hanley, were about to plunge head-first and unaware into our own personal Twilight Zone."
Back at the office, the gang comes back from lunch and the costuming indicates Hanley doesn't fit in; his bow tie and sweater feel wimpy while all the other fellas are in white dress shirts with neckties. Hanley's romantic rival for Ann, is also a rival for promotion: Roger Hackett, played by Mark Miller. His negligee gift for Ann on her birthday embarrasses Hanley out of giving her his lame gift. Hackett is rewarded with a kiss and clearly winning the competition. (Six years later actor Mark Miller would actually be cursed with having to act in another TV show playing with the title of Stephen Foster's 1854 song "I Dream of Jeannie." He would play Wild Bill Barrows in that show's episode "Ride 'Em Astronaut" opposite Barbara Eden and Larry Hagman.)
Back home, Hanley is greeted enthusiastically by his dog Attila, and then launches into a soliloquy about his state of being. That's another sign of bad writing—having characters deliver tons of exposition to themselves, for the viewer's benefit. That he addresses this monologue to his dog doesn't mitigate the offense. He wonders what to do with his lamp, ignoring the suspicious dog's warning barks. Hanley decides to clean up the tarnished lamp (wouldn't he have done that before giving it to Ann as a gift?). This of course, frees the genie.
The genie is played by Jack Albertson, and he's conceived in an unconventional way, which I'm still deciding whether I appreciate or not. He's a wiseacre, in a man's suit. He explains that a couple of thousand years ago he "used to wear those crazy silk balloon long johns with the wild turban….but today we dress like the times." And then he points to his shoes: "Except for these. Velveteen mukluks."
When Hanley balks at the one wish restriction, the genie explains that it's because people use to abuse the three wish privilege. Hanley asks the genie for advice about what to wish for…wealth? Love? With sourness, the genie explains why those two wishes hardly ever work out. "You don't wish for love, you find it.' That's not a bad line.
So the genie gives Hanley time to think it over and this sets in motion a series of fantasies that Hanley engages in, each one imagining the outcome of a different wish. You know that disappointment you feel when you watch a TV episode of a show and the big surprise becomes that it "was all a dream, just a dream"—Well, imagine watching three "dreams", only this time, you already know that each one doesn't happen? I suppose there's some satisfaction in watching to see how things don't work out, but still, come on.
So the first fantasy is of being married to Ann Alexandra, who is a big movie star—this way he's "killing two birds with one stone", wealth and love. Admittedly the frustration Hanley experiences with each of Ann's sexily prudish rejections of Hanley's physical advances is palpable: unable to kiss her because she's in make-up, or beauty cream, or learning lines. At a party, while Ann gallivants with paparazzi and admirers, George sullenly slumps down at a piano—this presents an interesting interaction with a starlet lying underneath the piano—a scene with some actual frisson. A starlet (Joyce Jameson) introduces herself playfully and George comes down to the floor to flirt back at her. It actually turns out to be an interesting scene, but it doesn't belong in this episode—it's too good for it. The dialogue is successfully whimsical, the actress is beautiful, and Hanley's character shows a hint of devilishness we haven't seen before. What's confusing to me, is that she says she's not allowed to drink because she's underage, which clearly, at least to me, she is not. Jameson is 31-years-old actually. Anyway, she flees when he tells her he's married. The big letdown comes when Hanley spies Ann canoodling with her leading man, played by Roger from the office. They apparently have been having an affair. So that fantasy goes kaput.
The next morning, Hanley is at the office and Morris's acting starts becoming a bit juvenile, with his hamming up his disdain for Roger.
He delves into his next fantasy—that of being terribly rich. Morris plays his millionaire role with too much clichéd archness, despite his penchant for generosity. And as Hanley's secretary, Patricia Barry even makes her uptight role in strait-laced business attire, eyeglasses, and hair in a bun look astounding. In his office, Hanley is visited by Dr. Watson, his college's president, played by Loring Smith. Watson has come asking for a donation, and Hanley writes him a check for the full amount—1 million 200,000 dollars! What follows presents an interesting philosophical philanthropic conundrum. Watson is flabbergasted by the generosity, but he can't accept it.
"But I want to give it" counters Hanley. Watson scolds him that "this isn't generosity J.P., it's ostentation!" Watson's reasoning is that thousands of alumni not as successful as George would like to donate: "Sharing the burden and the satisfaction, is the cement which binds their minds and hearts to our beloved institution. I can't let you deprive them of the great privilege of giving." What I don't understand though is: What's to stop them from giving? Wouldn't even more giving help contribute to a college's endowment for future use? So, I don't buy it.
George then asks him, what should I do?" and Watson instructs him "Send me a check. For the twenty thousand I asked for." Oh boy. If I were Hanley, after getting so snottily told off like that despite offering such a huge donation, I would've told him, "Gee Doctor you're right. Tell you what, I'll hold off on my donation altogether. How's that. Then you'll have room for plenty of people to experience the joy of giving. Meanwhile sir, have you never heard, 'From each according to his ability, to each according to his needs"?
And then with a smile I'd add, "Good day sir, thanks for stopping by."
After that fantasy deflates, Hanley is back at the office and discovers that Roger has won not only Ann, but the promotion as well. At home he commiserates with his dog and muses on his third possible wish: power. As such, he is President of the United States. Again, Morris overdoes the seriousness of his characterization. Sitting there in the White House, he is snappy and benevolent, organizing things in a top shelf efficient manner. Ann pays a visit, as an elderly lady begging him to pardon her son who is to be executed for falling asleep on guard duty. (Is Hanley punishing Ann in progressively greater steps for rejecting him? Making her his secretary, and then making her elderly?) He mercifully orders an order of executive clemency, and Ann is deeply grateful. Hanley then cuddles with his dog there in the Oval Office telling him that power isn't so hard to handle, one just needs to know how to do it.
Bursting into the office come a slew of Cabinet members with the shocking news that alien spaceships have come to Earth! Do we attack them or see what they want? They all bark out different opinions, and the pressure is too much for Hanley—he can't decide what to do, and tells them so: "Not me! Not me!" He quickly wakens from his imagination's downfall.
Finding comfort at home again with his dog, a quotation comes to his mind that he paraphrases: "Man at some time are master of their fates; The fault, dear Attila, is not in our stars, But in ourselves." Suddenly he is struck with a big idea! He grabs the lamp. "Get ready you bored old genie. I'm going to wish for something…original!"
Cut to a trash can in an alley perched next to a tramp who pulls out the genie lamp. The tramp rubs it with his dirty jacket to clean it and….the telltale smoke appears and from behind we see a genie! We can tell from his balloon genie pants and turban. "I am the genie of the lamp!" the genie intones. "You may have three wishes, and when you have made them you must return the lamp to this alley where others may find it!" The genie turns around to face us with a grin—it's Hanley!
So many questions. How does this ending address what has transpired in this episode? I think the writing should've had a much stronger correlation between the wish to become a genie that helps people, and the events that we witnessed beforehand. In other words, it wasn't clear from the episode that Hanley was the kind of man who desperately wants to give to people and help people, but is constantly thwarted. The writing comes sort of close to being about that in the scene where Hanley wants to give so much to his alma mater but is unfairly dressed down by the college president. That exchange bears a solid thematic link to his becoming a genie. But the third fantasy regarding power muddies that theme—that scene winds up being about his inadequacy at handling the pressure of holding a position of power. It would be better is we saw Hanley trying to enact some policy that would benefit a lot of people, but he's prevented from doing so because of partisan politics and red tape. That would make sense with the theme of wishing to become a genie. And as for the first fantasy, that one has even LESS to do with anything about giving. That one is just about love and lust, and has nothing to do with Hanley wanting to do something positive for somebody. If only that fantasy could also have managed to be about his generosity being blocked (instead of his you know what) well then, VOILA! PRESTO! SHAZAM!…we'd have an episode that was actually about something.
Closing Monologue:
Mr. George P. Hanley. Former vocation: jerk. Present vocation: genie. George P. Hanley, a most ordinary man – whom life treated without deference, honor, or success… but a man wise enough to decide on a most extraordinary wish, one that makes him the contented and permanent master of his own altruistic Twilight Zone.
I'll rate this episode a 2.8
Contact the Feature Writers