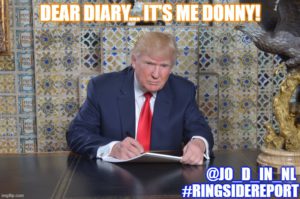 By Jo-Ann "Jo D NL" Duke
The diary scribblings of T4: Temper Tantrum Toddler Trump
Dear Diary,
Hey buddy, it's me again. Yesterday, I spoke to the "experts" about the wildfires, can you believe that they are insisting that climate change is causing the extra heat, and the fires as well, as if. Like I said yesterday, I don't think science really knows, you know.
I honestly don't know why they don't just listen to me about everything, after all, I know all about every single subject, cause, you know that I am the smartest person ever, no one knows more than me; I don't have to have studied something to know all about it. I just know everything, and it really does bug me when some so-called expert sits there and tries to make me look bad, like that could even happen.
You know that all of these people just want to be on camera, especially with me, and then can you believe it, they try to make me look foolish, like I told them, it will get cooler soon, and then the fires will burn out.
That guy that was disagreeing with me, did you see he had his mask, he must really believe all that stuff about the heat making the fires worse. He is going to feel, so foolish, you know, when I am proven right yet again. Not that it will be a surprise, because it happens so much.
It's crazy that people actually believe that the world is getting hotter, even if it was, but why would it be so bad, people pay all that money to travel somewhere sunny, this way they can get more of it.
Anyway enough of this "climate change", a more important topic, me; didn't I look just so smart and good on camera, looking large and in charge; they will definitely get me a lot more votes, not that I am worried; my people are going to make sure that I am re-elected; that's cause they know that they won't like it, if that other team wins.
Only about 7 more weeks, until everyone knows what I know, and that is that I am not going anywhere, I am going to be here for as long as possible. Wink, wink, of course, you know I mean that, we all know that I am going to win like I did last time. Why would the people want anyone but me; honestly, I can't see any reason why, can you?
Well, gotta go right now, be back later and we can talk. Bye for now.
Love you,
Donny T.
Contact the Feature Writers