[AdSense-A]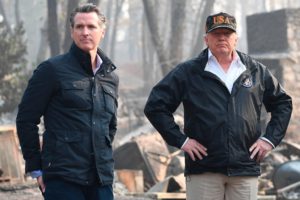 By Evan Shelton
As we near another Presidential Election, the reality is that most Americans have already decided who they will vote for (if they vote at all). The partisanship of the past three and a half years has been more intense than any other period of American history, with the potential exception of the three and half years leading up to the Civil War. Even so, there seems to be something new arising out west. Something that should send a chill through the spines of all progressives, particularly those living east of the Rocky Mountains.
Most west coasters can vouch for the increasing intensity of the yearly tragedy known as, "Fire Season". It is not new. Something worth mentioning is the past three years has seen fewer forest fires than the previous three years. However, while the number of fires has gone down, the acreage burned per fire has soared. Simply put, less fires but more damage. But what does this have to do with progressives living east of the Rockies?
First, let us discuss the west coast in general. Three of the United State most progressive states form the continental west coast. Washington, Oregon and California have been solid blue for decades. Further, their elected representatives have been intensely critical of Trump throughout his presidency. To put it in perspective, there is not a single GOP Federal Senator from the any of these three states. Even the Congressional Representatives skew left, with only 11 of the west coast's 68 Federal Congressional Representatives being members of the Republican Party. Needless to say, the progressive movement of the United States is extremely dependent on the voices of the west coast.
Perhaps this west coast progressivism is how we explain what is arising out west. Starting in 2019, Donald Trump began to make offhanded comments about how poorly the west coast, particularly California, was handling the yearly wildfires. As with most of his decisions, Trump's comments did not seem to stem from any sort of statistic but rather a general disdain for a region that feels the same about him.
Most west coasters can tell you that budget cuts (largely at the federal level) have heavily impacted our ability to combat forest fires. Poorly monitored National Forests have proven to be a fuel source like no other. For my east coasters reading this, please know that the largest landowner in the western states is in fact the Federal Government. So when budget cuts hit federal land it causes discrepancies in damage. For example, according the Congressional Research Service, in 2019, 81% of the acreage burned by wildfires on east coast (0.5 million acres) was on private land while 72% of the acreage burned on the west coast (2.9 million acres) was on federal land.
This statistical difference is alarming unto itself, especially when combined with the Trump Administration's consist and vocal cuts to the National Parks Service, US Forest Service and Bureau of Land Management. But in 2019, it escalated. Trump's offhanded comments became less "offhanded". Per Trump's usual MO, it all started with a Tweet stating:
"Every year, as the fire's (sic) rage & California burns, it is the same thing – and then he comes to the Federal Government for $$$ help. No more. Get your act together Governor."
An aggressive Tweet made tragically laughable considering that in 2018, the Federal Government provided nine million dollars less than California requested to combat their wildfires. Would that nine million have turned the tide? Perhaps no, but we will never know. Regardless, the relationship between Trump and the west coast forest fires seems to transcend natural disasters.
Here in 2020 we west coasters are facing another Fire Season. And while our brave firefighters fight the tireless beast that is forest fires, they do so while their President seeks to remove funding, again. The result is states helping states. Washington, Oregon, and California firefighters increasingly cross state lines. Washingtonians fly to southern California one week to defeat a blaze only to have Californians fly to Washington the next week for a different fire.
What does all this mean for progressives east of the Rockies? Well, besides having a climate denier as President who willfully endangers United State citizens for being members of a state that didn't vote for him? It means the progressive west is becoming disconnected from the rest of the country. It means that citizens of California watch as Texas is granted immediate federal funds without complaint for hurricane after hurricane but relief for fires is held up and poorly distributed (often at rates far lower than hurricane states). It means that the largest economy in America is starting to look around and wonder, what exactly does it need (if anything) from the federal government? A question that should terrorize anyone who depends on the progressivism of the west.
For if California reaches a logical cost-based conclusion and comes to notice how much more they pay into the federal reserve than they receive. For if this noticing comes at the same time as Trump successfully cuts off federal aid. The largest economy in the United States might become the largest economy in that west coast whispered dream country, Pacifica. And where would that leave the rest of you?
Contact the Feature Writers