[AdSense-A]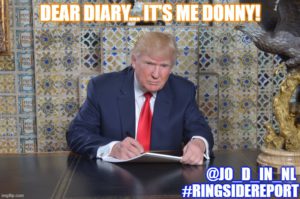 By Jo-Ann "Jo D NL" Duke
The diary scribblings of T4: Temper Tantrum Toddler Trump
Dear Diary,
Hey buddy, hi, it's me again. Did you see it? I had my Town Hall with George Stephanopoulos; man, that name is hard to spell; but anyway, it was so good, and I nicely allowed many of the ordinary people to ask me questions. Of course, I had lots of great answers ready for them, because lucky for me, they were asking about stuff that I knew all about.
I really think that they were very impressed with how ready and prepared I was for what they asked me. It was great and I got to use a lot of my usual answers that I love giving, showing people about all the good I have done since this thing has hit our country, you know the virus thingy.
Like I said, we have done a great job of controlling it, yes, some people have died, but really, it could have been so much worse. They should be so happy that they have such a great president like me, one who has done so much for them and the country.
I pointed out about my bans, and all the testing, and how close we are to a vaccine; I even told them that we might have one before the election, and how it was the old administration, I think that is the correct term, well, they would have had to wait so much longer, because they would not have pushed it to be done so quick as I have.
I pointed out that they would have actually done a lot of real long sets of tests, you know, they call them clinical trials, they wouldn't cut things out like I pushed for, just so that we could get it so fast, and then people will be so happy that you know that they will want to vote me back in as president.
Though, I didn't talk about the fact that to get a good and safe vaccine, it will take longer than I have been saying; my people don't want to hear this, actually I don't even know if any of them will even take the vaccine.
To be honest, the reason that I am pushing to get it out so fast is so that people who might not vote for me, if they get the drug to make them better, then they will think that I am great, and will vote for me, and get others to do it too.
It will be something that will help me get lots of extra votes, and oh yeah, it might save some people as well; that's if the thing turns out to be working right. Well, to get it fast, that meant that we didn't have enough time to make completely sure that there won't be any bad side effects; here's hoping, well, by the time anything bad might show up, I will already be re-elected, and to be honest, that's the most important thing, right, me keeping my job and staying here in this big house as president.
Well, for me at least, hee hee. Well, talk to you later, I have to get back to that old boring place, my office, where my staff will just be going on and on about boring things, well, until they start talking about me, then it becomes interesting, and I start paying attention; otherwise, I just think about what I will tweet next, that is so much fun.
Bye for now, love you.
Donny
Contact the Feature Writers