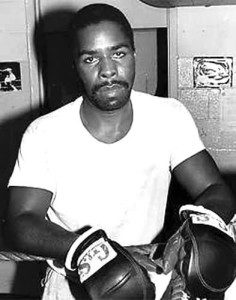 By Donald "Braveheart" Stewart
Anyone called Caveman, has to be the type of fighter that is rugged and determined to defy any form of sophisticated attack. Middleweight William "Caveman" Lee, 22-4, 21KO's, was a fighter who was such a man. A Kronk fighter who shared a ring with Marvin Hagler for the WBC and WBA middleweight titles, he was also a Philly fighter and we know how legendary they become. Early in his life he leaned towards other sports, but he was forced by his father, Rabbi Lee, to follow a career in boxing and once in that mindset, he certainly made his mark. His father certainly had his own pedigree as he had trained Michael Spinks and his influence over his son was never less than powerful, it was never matched by the love a father ought to show his son.
Lee grew up in a stable environment but by the age of 14 was searching for more adventure and found he went off the rails. Indulging in alcohol and drugs, needing much greater discipline he entered the Army at 18 but once out after a brief spell his father strong armed him into boxing.
Cementing his mark on the world of boxing came, not with that fight with Hagler but a much earlier contest and his abilities were noticed by the legendary Al Bernstein who was quoted at the time thus, "It was in the early Kronk Gym days, in the Twenty Grand Showroom in Detroit with no air conditioning. It was August and amazingly hot. In the fifth round, John LoCicero and Caveman Lee put on a round of boxing that was just beyond belief. First, LoCicero went down, got up, and hit Lee with like twenty-five unanswered punches. It was ridiculous. LoCicero ultimately got knocked out in that round and it was about as exciting as anything I've ever seen."
He was referring to a fight in 1981 between John LoCicero and Lee at the Twenty Grand Showroom Detroit where he knocked LoCicero out in the 5th round. Ring Magazine were so impressed that 5th was named round of the year. He was by now a 21 win, 2 loss, number 5 by the WBA and number 190 by the WBC ranked prospect. In a later interview, Lee gave some insight into that contest and it is perhaps remarkable that he won it when he admitted, "I didn't train right for the fight and I suffered for it. I was supposed to fight him a month prior but the fight got delayed and I stopped training right. I took him lightly and he surprised me."
The following year, in 1982 Lee was to replace a stablemate, Mickey Goodwin in a fight that would seek to define him; against Marvelous Marvin Hagler. If Bernstein was to wax lyrical about the fight in 1981, you will seek in vain for any such references over the Hagler fight. In Atlantic City, New Jersey, live on ABC, Lee was competitive: for 20 seconds. The fight lasted all of 67 seconds and when Larry Hazzard, the referee waved it off, Hazzard had to help a very wobbly Lee to his own corner.
In the lead up, there as some talk of Lee being knocked out in preparation for the fight by stablemate Tommy Hearns, but with the knockout, Lee continued to wobble straight into the press conference. In there he claimed that he got hit with "a lucky punch". Almost immediately after being questioned over his claim by a journalist, Lee, still woozy surely then recanted a little with, "Did I say that?" it was certain as he admitted that the blow from Hagler had "left me on queer street."
The road to Hagler had included a short amateur career with what he claimed were about 28 fights – he says he lost 3 of them. Turning pro, in 1976 with a first round knockout win at home to Wallace Smith, did not deliver fame nor fortune and perhaps this lack of financial reward led to problems later on, once he had retired. Spending a lot of time with tough guys as a sparring partner should have prepared him for the professional ring in a way that led to huge nights and rich pickings, but it was not to be. Some of the names he sparred included Hearns, Ron Johnson, Duane Thomas, Hilmer Kenty, and Jimmy Paul – the Kronk must have been one hell of a place to be at that time!
In the ring he was building up a real head of steam and according to him his 55 second win against Marcos Geraldo was significantly later claiming that "You saw the champ in me that night."
What he was later to admit to was that he was less than the dedicated boxer. In an interview he was to claim that for much of his career, he was to have "one foot on the street and one in the ring." Whilst not apparent in most of his contests, he had prepared for the Hagler fight, despite taking that at a couple of weeks notice. Mickey Goodwin was supposed to face Hagler but hurt his hand. Lee was only half ready as he claimed later, "I was in good shape physically but mentally no. I had just fought LoCicero and was still recovering from that. My plan was to see if he could take what I could give him. I was going to take him out. He allowed me just one mistake and that was that I hesitated."
That knockdown hurt Lee badly again as he described later, "I always thought I was just staggered, and I don't even remember hitting the ground. That was the first time I had ever been KO'd like that." Once again, the riches that he may have been seeking were there but not there as he cleared $60,000 for the fight and then disaster struck.
William "Caveman" Lee failed a drug test.
Positive for both morphine and quinine, both compounds of heroin, his defense was eventually that one of the promoter's employees took the test and not him. Though he was a habitual drug user he claimed he always laid off the drugs when fighting.
Unfortunately, no matter what his defense, his licence was revoked and he spiralled with cocaine and crack, then came the suicide of his brother.
There weren't anything going right for him.
Four years after the Hagler fight he returned to the ring, in Detroit and won with a 13 second first round knockout of Orlando Paulding. His final fight arrived in January 1988 when Yawe Davis knocked him out in the 3rd in Genoa Italy.
The trademark sideburns, which had earned him his nickname, may have gone by the time he hung up his gloves, and the discipline of his fighting career had also deserted him. Now I have written many times before that any boxer who finds themselves in trouble should not trouble us because people who earn a living by trying to render another man unconscious is likely to have been bad before, during or after their careers. And so, it proved with Lee.
Not once, not twice but three times he served time for armed robbery. The plight that led to his incarcerations was all too familiar: drugs and trauma. Rather than just over a minute with Hagler, it was this that was to sully his career. It was not, however, to encapsulate his entire career. In an interview online he has talked openly and honestly about his time and now he is in a much better place, a cleaner one.
I leave you with his own words, "By God's grace, hands were laid on me and God broke me of that habit. I've been free ever since. When I eventually got busted down in Atlanta the last time, I just wanted to get it started and get it over with… That I fell into the deepest darkness that anyone can fall into."
Contact the Feature Writers