[AdSense-A]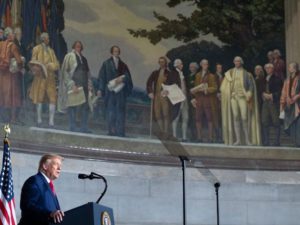 By Maya J. Carter
Finally! A school curriculum that will focus on the patriotic history of the United States! Our Führer…I am so sorry, I misspeak…our President Donald J. Trump plans to eliminate history lessons in our schools that "teaches our children to hate America". During the Republican National Convention, our stable genius Führer…oh man, sorry that keeps slipping out…our President Donald J. Trump stated he is all about "Patriotic education" and he in all of his majesty will bring it back to schools. "What we're witnessing today is a result of left-wing indoctrination in our nation's schools and universities," Trump said at a news conference.
"Many young Americans have been fed lies about America being a wicked nation plagued by racism." He proposes a "National Commission to Promote Patriotic Education" with the 1176 Commission, declaring that American history began in 1776, the year the Declaration of Independence was adopted into law. Because nothing happened prior to this year in America, or if anything did, it was not fundament to the historical portrait we paint of America!
He is fed up with this teaching about slavery – which only lasted for centuries in the United States and is not presented accurately in history lessons in the American curriculum. Instead, he would rather we not reckon with the racist parts of American history and the contributions that slaves made to this great country. And he is BIG MAD about the 1619 Project being taught in schools! He said that the 1619 Project erroneously teaches that the United States was founded on principles of "oppression, not freedom." We must remember that America is a beacon of hope to the world, with a perfect backstory, and we must support the narrative that all of United States history has been morally upstanding, especially for our international audience. We must eliminate any historical documentation or teachings that state otherwise. Blinders on (and masks off, of course)!
The Pulitzer Prize winning New York Times 1619 Project promotes a curriculum "challenges us to reframe U.S. history by marking the year when the first enslaved Africans arrived on Virginia soil as our nation's foundational date." As per the "The Idea of America" by Nikole Hannah-Jones presented by the Pulitzer Center, she laments the following about the lack of historical truths represented in the classroom: "I had been taught, in school, through cultural osmosis, that the flag wasn't really ours, that our history as a people began with enslavement and that we had contributed little to this great nation." Her research found that "before the abolishment of the international slave trade, 400,000 enslaved Africans would be sold into America." She further reports that slave labor, "laid the foundations of the White House and the Capitol, even placing with their unfree hands the Statue of Freedom atop the Capitol dome. They lugged the heavy wooden tracks of the railroads that crisscrossed the South and that helped take the cotton they picked to the Northern textile mills, fueling the Industrial Revolution. They built vast fortunes for white people North and South — at one time, the second-richest man in the nation was a Rhode Island ''slave trader.'' Profits from black people's stolen labor helped the young nation pay off its war debts and financed some of our most prestigious universities. It was the relentless buying, selling, insuring and financing of their bodies and the products of their labor that made Wall Street a thriving banking, insurance and trading sector and New York City the financial capital of the world."
"The Idea of America" portion of the 1619 Project curriculum has the gall to make students ponder such questions as:
What are the values stated in the Declaration of Independence?
In what ways can you see those values working in contemporary U.S. society?
In what ways can you see those values failing in contemporary U.S. society?
How has the interpretation of those values changed over time? Who is responsible for creating those changes?
What do you know about slavery, and where does that information come from?
What do you know about the contributions of black Americans to U.S. society, and where does that information come from?
What are the ramifications of slavery in contemporary U.S. life?
How does the origin story of the U.S. change if we mark the beginning of U.S. history in 1619 instead of 1776?
What is national memory? How do we create it? How can we change it?
The 1619 Project Curriculum dares to go further by linking slavery to mass incarceration we witness today. Bryan Stevenson reports in his essay "Mass Incarceration," published by the New York Times Magazine as part of The 1619 Project, "[C]entral to understanding this practice of mass incarceration and excessive punishment is the legacy of slavery." This part of the curriculum has the audacity to ask such questions as:
What facts and images does Stevenson use to show the similarities between slave plantations and Angola (the Louisiana State Penitentiary)?
What rights were granted to U.S. citizens by the 13th amendment? What exception is written into the amendment that can revoke those rights?
What were the Black Codes? What examples of Black Codes does Stevenson mention in his essay?
What was convict leasing?
What contemporary policies does Stevenson suggest have been implemented in the same way in which the Black Codes were implemented in the past?
By the way, have you seen the BAFTA Award winning documentary "13th" by Ava Duvernay? If you have not yet, be prepared for an overload of truth…which, I mean, why would we want more truth running roughshod over the American psyche? But that is beside the point.
And one lesson plan…get this…challenges students to "engage with the timeline [starting with the year 1619] and come up with their own connections between slavery and the larger narrative of U.S. history." Whaaaaaa??? Who does that??? Not our Führer…my bad…our President Donald J. Trump who wants American history curriculum to teach such important and positive historical lessons such as when the Continental Army "took over the airports" from the British during the American Revolutionary War in the 1770s.
Now, why would we wish to teach our youth about the contributions of enslaved people to the founding of this great nation? That is just plain unpatriotic hyperbole. After all, the slaves were not even considered to be full human beings, and how can a fraction of a person make a whole contribution to history? Despite the fact that students and teachers alike wishing to learn more about Black history and Black authors, our Führer…whoops…our President Donald J. Trump simply cannot have that. We must keep students from learning about the contributions of people who suffered back breaking labor, rape, destruction of the family, and legalized oppression, and instead wrap up history lessons in a pretty pink bow for easy consumption in the name of patriotism. Why bother learning that some of our Founding Fathers spoke out about freedom while owning people? Why bother learning additional lessons about Japanese interment camps, the Trail of Tears and decimation of peoples native to this land, and other misdeeds enacted and sanctioned by the United States government? That would be too upsetting for our nation that loves to gloss over history, meanwhile sanctioning leaders from other countries for committing crimes against humanity. Even Ben Carson agrees: he told an audience in 2014 that by the time students finish these lessons, "they'd be ready to sign up for ISIS."
It is bad enough that we have a global pandemic interrupting school participation, and we must get these kids back in school, despite them possibly becoming ill and infecting those in their homes and communities. Why not infect them with some good old fashioned racism through omission of learning crucial periods of American history, too?
Contact the Feature Writers