[AdSense-A]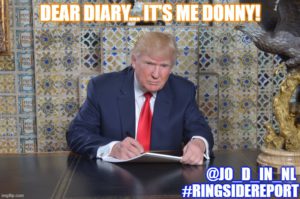 By Jo-Ann "Jo D NL" Duke
The diary scribblings of T4: Temper Tantrum Toddler Trump
Dear Diary,
Hey D, it's DJT again. I had a good talk today with Mark Levin from Fox News, it was all about how mean the media is to me, and about how the rest of the world tells me that it should be easy for us to fight those fires, you know, because it's not global warming like that Gavin guy said.
It's because, you know, that the trees just basically become explosive and then go boom after so long, and on top of all the really dry leaves. I keep telling him that the forest floor needs to be raked, but does he listen to me when I am talking to him, and being so smart as usual? Of course not, like I said, he doesn't understand me, and says about it being caused by global warming.
As if, how does the globe warm? Can someone explain that to me, seriously. And people are always saying that I don't understand, and that it's cause I am too dumb. Yeah right, well, anyway if they would just listen to me, everything would be fine, because of course I know everything about everything.
This place would be so much better if everyone just did whatever I tell them, and to be honest, it would make me so much happier, as well. It's so hard working with so many people who just don't see how good and smart I am. After all, I am the best, the brightest, and just the most wonderful thing that has ever happened to this country.
Imagine what it would be like if I hadn't run and won back then, hee hee, I made a funny rhyme. See, on top of everything else, I am even the most funniest person ever, all those mean people who say they are comedians would be like me, and then make fun of me; then they would have people lining up to see them; especially if all the businesses opened up like I said they should.
Well, I guess that's asking for a lot, cause how could any of them ever be as good as me, after I am definitely special and unique, and one of a kind. I just love being me, and everyone with good taste loves me too.
Well, all my followers do; any smart Republican does too. Those foolish Dems, they actually think they have a chance to beat me, yeah right.
Well, back to my main point, I showed today even more people just how smart and respected I am; and in just a few more weeks, everyone will see that when I win the big race. It's going to be so good and so much fun, because I will be able to say I told you so to so many people, especially all the stupid dems like Sleepy Joe and Nasty Mean Kamala,
They will see what I have been saying all along, that I am always right, and they are just so wrong. As if anyone wouldn't want me to keep doing the fantastic and amazing job I have been doing so far.
Well, buddy, I gotta go. I snuck out so that I could talk to you, and if I don't get back in a few more minutes, they will send the guys with the guns out to look for me, and then I get lectured about going places without letting them know. Seriously, they treat me like a child sometimes, and it drives me nuts. I think they forget who is the boss, yes buddy, and that's me.
Okay, talk to you later, bye for now.
Love you.
Donny J T (The Cool One)
Contact the Feature Writers