[AdSense-A]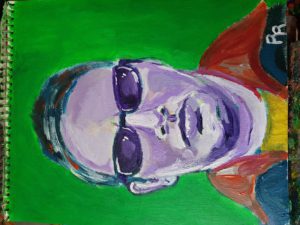 By Radical Rhymes
These past few weeks have been difficult for me. The dark side of the bipolar has been biting hard at my heels and the constant drip of bad news has taken its toll. Trump and his shameful and shameless shenanigans, Boris Johnson and his bumbling incompetence, the ongoing terror and trauma of COVID-19, and then the passing of Ruth Bader Ginsburg. Let's be honest, that's enough to be going on with, bipolar or otherwise.
But, there are things I can control. My diet, taking regular exercise, getting out into nature, there are a number of variables I am able to push in my favor. However, it wasn't until today that I realised just how much of an impact what I watch and what I read can influence my mood and take on life.
I am a big horror fan. Since I was an early teenager, I've been obsessed with horror novels and movies. Well, I say movies, I wasn't allowed to watch them until I was in my own space, but my family were less interested in my choice of reading. So, I read everything I could get my hands on by James Herbert and Stephen King. They teased and tormented me in equal measure, it was delightful.
My only foray into filmic horror at that stage was Salem's Lot. I saw it at a friend's house while his parents were out. It gave me nightmares for weeks, and every time I hear the whispered: Mark, let me in Mark', my insides turn to water.
It's a real love affair, I truly love horror. I have a vast collection of DVDs that I routinely watch, or at least, that I have on in the background while painting. Supernatural horror is my preferred genre, although zombies, slashers and mutants also keep me well entertained.
For me it's all in the build-up, that delicious slide from normality – whatever that means – to eventual chaos. It can be the family on a hiking holiday slowly coming to realise that they're not alone on the trail, or the gradual change in behaviour of a town, or the fairly rapid descent into anarchy, where expectations and laws become moot and mutable. That shift from the everyday into the 'No way!' is always a pleasure.
Dog Soldiers, Day of the Dead, 28 Days Later, the list is endless. Each one crafts that slide differently, each one presents the erosion of the safe and predictable differently. Choosing an outright favourite always seems pointless to me, your current context generally determines which movie, book, or song is best, though maybe that's just me?
Last night though something shifted. I was drawing a portrait of a pre-raphaelite model – Fanny Eaton, another black woman history has conveniently forgotten – when I had a major revelation. It isn't a cure for anything, nor the solution to an ancient mathematical conundrum, but it will help me going forward…
Let me set the context so that this minor insight makes sense…
The movie I had running as I drew was about a young woman injured in a bike accident who returns home with her boyfriend having lost her long-term memory. As it turns out home is a country pile, a fairly large mansion on a rambling and remote estate. Her 'family' are not really her family at all, but a sadistic bunch led by a violent patriarch. The boyfriend is quickly despatched, and the girl slowly drawn into a nightmare world she'd previously fled. I won't name it, or go into any further detail, because I don't want to ruin what was a good film of its type for any prospective viewers.
And it was good. The setting, the story, the acting, the effects (such as they were) were excellent, but, and here's the rub, it didn't excite me or leave me feeling challenged. It just made me feel empty. Lower. Buried in a dark pit. For the first time I could see that these horrific sojourns come at a cost. They have the power to take my low mood and intensify it.
As I said, I am not selling profundity here, maybe I am just stating the bleeding obvious, but I now appreciate that dark and scary stuff is just that. And when you're living in a world led by sociopaths causing real world horrors maybe what you need is a trip to Oz or Wonka's chocolate factory, or maybe a ride in Chitty-Chitty- Bang-Bang… The horror there is always candy-edged and always, and I emphasise ALWAYS, overcome.
Yep it's a walk along the yellow brick road for me, anyone care to join?
Radical Rhymes is a professional artist working with a range of media – predominantly animal/human portraits and landscapes – including, most recently, hand painted furniture. You can see his work on Instagram Radicalrhymes1969 or on Twitter @RhymesRadical.
For commissions, please contact him on Twitter via Direct Message or by email at: radicalrhymes@outlook.com His work is also available to buy on Etsy
Contact the Feature Writers