[AdSense-A]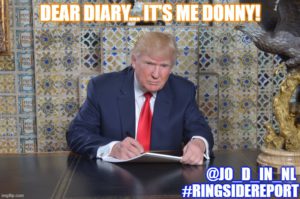 By Jo-Ann "Jo D NL" Duke
The diary scribblings of T4: Temper Tantrum Toddler Trump
Dear Diary,
Hey, it's me again, DJT, buddy. I am so bloody sick and tired of hearing about Covid, man, can't that thing go away like I keep saying it will. It's driving me nuts, people are constantly bitching and complaining about a couple of hundred thousand Americans dying, like it's my fault, really, right?
God, if I have to hear one more time that stupid word, I will just start screaming, and not stop for at least 5 minutes. It's not right, no one is paying attention to all my smart things I say, all my good words, all they are talking about is that stupid virus, and how instead of going away, now we are getting a new wave, an even worse one than what we had already.
If this keeps up, and we don't get that vaccine thing in time for the big vote in November, I might not win again. That can't happen, that stupid virus is ruining everything, especially for me. It's not fair, thanks to that thing, I am actually having to work hard to get back in, instead of just relying on my followers to get me to win again.
This is so horrible, just look at what that virus has done to me, it's been so bad for me, can you believe it. It has made such a wreck of my good plan for staying here being the best, like I always am, and not be able to just sit back and do nothing, and still stay president. It's just so not fair. It has really wrecked things for me, and no one even cares.
All I ever hear is about how so many American people have already died, and how many more might die from it. See what I mean, it's all about that, and nothing about me, and it's really hard to deal with that. Seriously, why can't people just realize how much more important I am, and how they have to fix this so that I don't have to deal with all this bad stuff, and be able to worry about myself again; especially with the big contest coming up in just a few weeks.
I swear Covid is just trying to ruin my life, it is just around to try and make me miserable; not that I ever let anyone know that's how I really feel. The most important thing is me winning the contest, and being around to continue all the good stuff I have already done, cause those other two could never do what I have done, because I am just special that way, you know what I mean right, buddy?
Well, gotta run, and get back to the Bore Zone with all the borons, before they find me, and I have to listen to another lecture about how I should not be wandering off, but staying at my desk and doing my work, as if.
Bye for now, love you.
Donny J, the cool one
Contact the Feature Writers