[AdSense-A]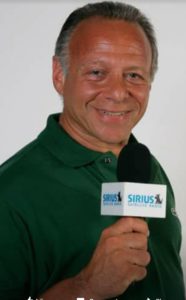 By Randy "The Commish" Gordon
There are just over three months remaining in this "Year of the Pandemic," this "Year From Hell." Cities became ghost towns. Businesses shuttered for good. The stock market tanked. Being a Bankruptcy Attorney became the new "in" job. Baseball, basketball and football featured empty stadiums became more about political statements than the games themselves. Rioters burned our cities and looted our stores. Racial tensions rocketed to new levels. Not much more can go wrong in 2020.
Unless, of course, the person most responsible for allowing and encouraging the spread of COVID-19; the person we can thank for a nationwide economic collapse; the person most responsible for months of race riots; the most un-presidential President ever to live at 1600 Pennsylvania Avenue, Donald J. Trump, wins re-election on November 3rd. At that point, my residence will change from an address on Long Island, New York, to a suburb outside of Toronto.
In that case, don't worry. I'll still be able to write for RingsideReport from Canada!
So, as the days melt away to the most important election in American history, I have—more than ever before—immersed myself in boxing. Why not? When you can't see your kids, family, friends and colleagues for most of the year on anything but social media, you can always have your boxing. That's what I've done. I talk about it twice a week on SiriusXM, and every day on "RANDY'S RINGSIDE," the Facebook Live show I host every day during the week. I read boxing books: During months of lockdown, I've read at least 10 books on boxing and boxers. I talk boxing, I read boxing and I write boxing, authoring columns like this and working on the sequel to "Glove Affair," called "Glove Story."
Hey, when you can't embrace your family, friends and colleagues, you might as well embrace boxing. That's what I do.
So, as this totally abysmal year heads into its final 100 days, I have immersed myself in the "Sweet Science." I eat it, drink it, talk it, write it, read it, study it, examine it, sleep it and dream it. You know the feeling. That's why you're here. You're as much of a boxing junkie as I am. With that, let's get our weekly fix of the sport.
In 2020's final 100 days, there are many boxing matches scheduled. Most—if not all—of them, will be contested in empty studios, empty ballrooms, empty mansion grounds and even empty stadiums.
There are lots of exciting fights on the schedule between now and the time we say "Happy New Year and Good Riddance 2020."
Here are the top 15 fights I most look forward to the remainder of this year. Of the 15, I most likely would have been ringside for 12 of them. Oh well! I'll get my "boxing high" even if I watch them on television.
15. Jaime Munguia Vs Tureano Johnson—Munguia went from being the guy the California State Athletic Commission vetoed from facing GGG in 2018 to being approved by the Oneida Nation Commission one week later to face Sadam Ali for Ali's WBO 154-pound title. Munguia crushed Ali in four rounds, made five successful defenses, then beat moved up to middleweight in January of 2020 with an 11th round stoppage of Gary O'Sullivan. On October 20, Munguia will face tough Tureano Johnson in a 10-rounder. Johnson, who is 21-2-1 with 15 knockouts, should make a good fight of it, but is no match for the 24-year-old powerhouse Munguia. This fight is on my "Must Watch" list, because I simply must watch Munguia in action.
14. Josh Taylor Vs Apinun Khongsong—It's two 140olb'ers against each other, both will 16-0 records. Only, Taylor's is a world-class 16-0. Khongsong's 16-0 is fabricated. In his last fight, Taylor beat 24-0 Regis Prograis. In his last fight, Khongsong beat 9-11 Yosmar Kefi. Half of Khongsong's wins have come against opponents with losing records or .500 records. It's always nice, though, to see a Top-10 PxP fighter in action. Taylor, indeed, is such a fighter. You can watch this one on ESPN+.
13. Oleksandr Usyk Vs Derek Chisora—October 31st is the date when the undefeated Usyk—the former WBSS Cruiserweight Champion—gets to show us if he indeed is a worthy heavyweight. Beating an out-of-shape Chazz Witherspoon last October didn't exactly prove Usyk was a future heavyweight champion. The 36-year-old Chisora—who is coming off back-to-back stoppage wins, is a fine test for Usyk. His plow-ahead style and vicious body attack should make for a very interesting fight. This one will be shown on DAZN.
12. Anthony Joshua Vs Kubrat Pulev—This is for the unified WBO, IBF, WBA and IBO Heavyweight Titles on December 12. It's 23-1 titleholder Joshua against his almost 6'5", 250lb opponent, once-beaten (by Wladimir Klitschko) opponent, Bulgaria's Pulev. Although Pulev is training under Joe Goossen and looks to be physically ready, he is 39 years old. My common sense tells me 39-year-old contenders cannot beat an in-his-prime 30-year-old champion. But it's a heavyweight title match on DAZN. I'm curious to see if Pulev will give AJ any problems.
11. Tyson Fury Vs Deontay Wilder—Much of the "I've gotta' see this one" feeling has dissipated. That's not because of what Fury did, but because of what Wilder didn't do. We all know what he didn't do. If I remotely thought he'd learned it all since last February 22, this fight would be at the top of the list. However, I believe it's once again going to be a well-conditioned, right-hand-bombing, once-beaten Deontay Wilder, whose wild, untrained style will fail to get the job done against his taller, unorthodox three-time foe. I'm still a Wilder guy, but I fear this one is going to be painful to watch. But, watch I will!
10. Daniel Dubois Vs Joe Joyce—This heavyweight matchup is certainly one to drool over. Because of COVID-19, this one was originally scheduled to take place in the Spring and then moved to the Summer. It was then moved to the early Fall. Then it was moved to the late Fall by promoter Frank Warren, who says it will go on, but only with a crowd. We'll know in just a few weeks. I believe this one could be like either one of the two Sonny Liston v Cleveland Williams fights (1959 & 1960) or the incredible rock-'em-sock-'em George Foreman-Ron Lyle fight (1976). We can only hope a crowd is permitted, so we can witness this one.
9. Luis Nery Vs Aaron Alameda—Two proud Mexican warriors against each other. Nery is 30-0 (24). Alameda is 25-0 (13). Nery is 25. Alameda is 27. This is a totally underrated fight. Quite frankly, I could easily move it up a few notches. Down the road, I think we'll see the winner face Naoya Inoue at 122 pounds. This is one of the five title fights on the September 26 card on Showtime PPV.
8. Ryan Garcia Vs Luke Campbell—Budding superstar Garcia, who is 20-0 (17), is just 22. He'll be facing 32-year old southpaw Campbell (20-3) whose three losses have been against Vasily Lomachenko, and by split decisions to Jorge Linares and Yvan Mendy. We'll see what Ryan Garcia is all about in this one.
7. Emanuel Navarrete Vs Ruben Villa—The 25-year-old punching machine from Mexico is abandoning his 122-pound title and attempting to win the vacant WBO Featherweight Title. This will be his third fight of the year. He takes a 31-1 record into the ring against the 18-0 Ruben Villa. Although a smooth, well-conditioned boxer, Villa's lack of power (five KO's) may not be able to keep the swarming, Aaron Pryor-like Navarrete off of him. But just to see Navarrete in action is breathtaking.
6. Gervonta Davis Vs Leo Santa Cruz—I don't understand this fight, but it matches two of the best. It's for both the WBA Super World Super Featherweight title and the WBA Lightweight Crown. I doubt Davis will make 130 pounds. LSC will. Davis will have to pay a hefty fine for missing weight. So what! He'll then make 135 pounds. The following day, he will have rehydrated to close to 150. The 37-1-1 LSC will try his hardest, but Davis will be too strong and too fast. I'm just curious what kind of opposition will LSC be for Davis.
5. Yuniel Dorticos Vs Mairis Breidis—How much better can a matchup be than this. Dorticos is 24-1 (22). Briedis is 26-1 with 19 stoppages. Both are in their mid-30's, but well-conditioned and loaded withg talent. They've lost only to the best: Dorticos to Murat Gassiev; Briedis to Oleksandr Usyk. This cannot be anything less than a "Fight of the Year" candidate. This one will be seen on DAZN on Saturday, September 26, and will be for theIBF Cruiserweight Title and the coveted "Muhammad Ali Trophy" in the finals of the WBSS Cruiserweight tournament.
4. Jermall Charlo Vs Sergei Derevyanchenko—This one is part of the Showtime PPV card from the Mohegan Sun Casino on Saturday, September 26. It's the 30-0 Charlo against 13-2 Derevyanchenko. The only two guys who beat Sergei were Danny Jacobs and GGG—both on hard-fought decisions. This will show exactly what Charlo is made out of. We know what Derevyanchenko is made of. This is another "Fight of the Year" candidate.
3. Jermell Charlo Vs Jeison Rosario—Charlo is 31-1. Rosario is 20—1-. Last January, Rosario took the WBA, IBO & IBF titles from J-Rock Williams in Williams' backyard of Philadelphia. In this one, you can add Charlo's WBC title into the mix. It's part of the Showtime PPV card, which is asking $74.99. I believe it's worth it. This one may be more exciting than the Jermall Charlo-Sergei Derevyanchenko In this one, you can add Charlo's WBC title into the mix. It's part of the Showtime PPV card, which is asking $74.99. I believe it's worth it. This one may be more exciting than the Jermall Charlo-Sergei Derevyanchenko fight. That, alone, says something!
2. Naoya Inoue Vs Jason Maloney—Over the last few years, "The Monster" has become one of my favorite fighters. How can he not be? He is devastatingly exciting! How many people do you know who have Muhammad Ali T-shirts? Or Mike Tyson T-shirts? Or Floyd Mayweather? Or Canelo Alvarez? Or Manny Pacquiao? I'm willing to bet the answer is "a lot!" While I have all of the aforementioned, I even have a Naoya Inoue shirt! It was bought by my pal, Jim Pepe, when he was in Tokyo a few years ago and attended an Inoue fight. How many Naoya Inoue shirts have you seen lately? Betcha' not many. Bethcha' you will before long. Inoue is on my Top-10 PxP list and deserves to be. He is 19-0 with 16 knockouts. He is a boxing phenom. He has already held the WBC Light Flyweight Title; the WBO Super Flyweight Title; and the WBA & IBF Bantamweight Titles. In the 21-1 Maloney, "The Monster" will be facing a lethal punching (18 KO's) opponent, who has stopped seven of his last eight opponents. This one will almost certainly be a "Fight of the Year" candidate.
1. Vasily Lomachenko Vs Teofimo Lopez—V-Lo v T-Lo. This one is scheduled for October 17. It's site is going to be "The Bubble" at the MGM Grand in Las Vegas. It's V-Lo's 14-1 record against the 15-0 record of T-Lo. Without a punch being thrown, the chances are great that this will be "Fight of the Year" and the winner the "Fighter of the Year." Can V-Lo, "The Matrix," keep T-Lo at bay and off-balance? Can the explosive-hitting T-Lo land one of his bombs—especially early—and pull off the major upset. There is no fight I want to see more than this one. I've been clamoring for it since this time last year, when T-Lo was calling out V-Lo. That's when V-Lo said, "Go win yourself a title, then come see me." On December 14, 2019, T-Lo got his title fight, challenging Richard Commey for the IBF Lightweight Title. T-Lo knocked him out brutally at 1:13 of the second round, then did his familiar post-fight backflip. Will be be doing a backflip after this one. Watch for FREE on ESPN.
If you're thinking that I forgot to put such fights as Mike Tyson v Roy Jones Jr. and other "Pet Rock" fights on the list, I did not forget. Those matches were made to vacuum in parts of your Stimulus Checks, I did not forget. The list above are the 15 fights I am most looking forward to.
Those, and the big one on November 3!
Randy "The Commish" Gordon is the Author of the hit book, "Glove Affair". Order your copy by clicking HERE.
Contact the Feature Writers