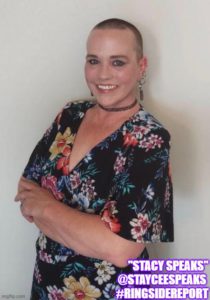 RSR Press Release
Ringsidereport.com is delighted to announce a new column for our ever-changing world, "Stacy Speaks". "Stacy Speaks" is a wrinkle on a familiar theme: You ask, she answers. No topic is out of bounds and with a life of experience, Stacy Koruba offers a unique perspective to provide the answers you need.
Dealing with life's traumas? Marital or relationship issues? Need career advice? Seeking calmness in a dark storm? Looking for a delicious recipe? Just need an unbiased opinion from a nonjudgmental human. Stacy Koruba is a life coach, and a fertile mind to offer guidance when you need to know.
Stacy will take the time to answer each question as if she is answering a friend and will give the best advice possible, if she does not know the answer, she will research it until she does. Kindness and being able to help others are what brings her happiness in life. If you have question that you would like to ask, please send her a direct message at: Twitter – @stayceespeaks or use the form box below by selecting her name and submitting your question.
Contact the Feature Writers