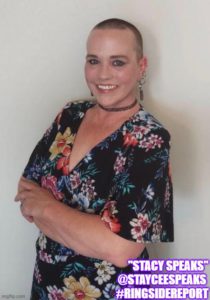 Hosted by Stacy Koruba
Becoming a Better Ally
Stacy,
How can someone become a better ally? For woman, for LGBTQ, for Native people, For POC, For Single parents etc.
Bella, TX
Hi Bella,
Thanks for sending in this question! I think there are many ways to become a better ally. We all need to vote in all elections so that issues for these communities are addressed properly. Taking time to educate yourself on the history of the issues people face, the difficulties they experience now, the proper terms to use and the best ways you can help them is a good way to begin. Acknowledging and accepting that you are privileged is so important, understanding it is a necessary part of dismantling it.
Use your voice loudly as an ally, speak up when you hear someone spreading false information and tell others about the work that you are doing and share all the knowledge that you have learned. Donate money, time, clothes or household items to nonprofit organizations that are set up to help. Support small businesses owned by these communities. Join in peaceful protests as an ally, not to lead. If you can't protest be an aid to a protestor, offer to babysit for them or be their emergency contact, provide snacks and drinks.
Use your voice and spread the knowledge that you have learned. Volunteer for nonprofit organizations. Accept that you will make mistakes along your journey, we all do, do not make this about you, people are understanding. Learn from it and move on. Listen without judgement or without worrying about what you are going to say next. Sometimes the only thing a person needs is for someone else to listen to what they need to get off their chest. Thank you for being an ally! The world needs more people like you!
Trump Flees
Stacy,
When Trump loses the election when will he flee the country? Immediately, Thanksgiving , Christmas, New Year's, or just before Biden gets sworn in?
Anonymous, Anywhere U.S.A
Come on, you know who we are talking about, right? He will not flee the country. He has no shame and is sore loser. He will be standing there with one hand on the Bible and the other gripping a hamberder, fighting his hardest to be sworn in as well. Or him and all of his cronies will barricade themselves in the White House bunker and refuse to leave, praying Putin or Kim Jong-Un send in secret spy guys to extract their slimy asses like the pus filled boils on society that they are.
Help Coming Out
Stacy,
My 17-year-old child just came out to me as transgender, but she does not know how to tell her mom. She is not a bad person, just very set in her ways. Any advice on how to break the news?
Thanks, Rob Boston
Hi Rob,
It is wonderful that you have such a great bond with your child, and that they felt comfortable enough to approach you. Many children do not have this support at all, so I want to commend you! I think if you and your child approach your wife together, as a team and present her with all of the facts and information, ready to answer all questions or ease any doubts she may have that things will be alright. Letting her know that your child is still and will always be the same human being she has always loved and that your child needs their Moms support now more than ever is a good idea. There are some really good resources that can be found online to help guide you all. No one can predict how your wife will accept the news, especially me, so it is going to be your job to defend your child and lead the way in a very loving manner. Wishing you the best!
Changing Careers
Hello Stacy,
I took up guitar six months ago, and I've fallen in love with music. Is 45 too old to make an abrupt switch in careers, especially during a pandemic?
George, Des Moines, IA
George,
It is never too late to make a career change and follow your dreams. The important question that you need to be asking yourself is do you have enough money set aside to get by if you do not find a new job right away and after six months of playing the guitar, are you ready for a solo career? Unless you are a musical prodigy you many need more time to develop your skills. Perhaps it would be a good idea to stick with your current career while you search in the new field as well. Many musicians start out this way and it will give you some time to get your feet wet first without completely committing. Freddie Mercury continued working as a second-hand clothing salesman after the bands self-titled debut album charted in the US Billboard Top 200 and Art Garfunkel worked as a math teacher for 2 years after splitting with Paul Simon. For some reason it is always easier to find a job while you are already employed, so don't quit anything until your dream job is offered to you! Best of luck.
I'm Going Stir-Crazy
Hi Stacy!
Covid-19 has left me cooped up in my tiny, one-bedroom apartment since May and I'm going stir-crazy. I'm immuno-compromised, so my doctor says I should avoid contact as much as possible. I've read every book I can get my hands on and watched every TV show ever made. What do I do now?
Lynn Savannah, GA
Lynn,
Now that you have all of the TV shows and books out of the way it would be the perfect time for you to think about any hobbies you have always wanted to start but haven't had the time. You could a learn new language online or take some free college courses that are offered online at Harvard.edu.
Beginning an exercise program could be great for your physical and mental health. Pamper yourself, have a spa day once a week, learn to cook a new recipe on another day of the week, catch up on connecting with family and friends another day. Spending time getting to know yourself is also a great idea, taking a mental inventory of the things in your life that you would like to work on or improve and then moving forward from that point is a great first step.
Making one positive change in your life can make huge changes in other areas of your life. Covid has had a positive effect on my mental health because I have been able to focus on issues that I have been avoiding for 40 years. It may be difficult at first but becoming better acquainted with yourself is a beautiful process. Do all the things that bring happiness to your life!
Contact the Feature Writers