[AdSense-A]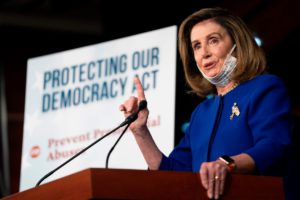 By Jim "Giacomo" Gatto
What do you do when you have a rogue president? In 1974 Richard Nixon resigned the presidency after a two-year Watergate investigation left him with no choice. In the aftermath, The US Congress passed many resolutions to protect against any such abuses by a future president. Those resolutions are still in effect today. But there's a new set of offenses perpetrated by President Trump and his administration. At long last, the US House of Representatives introduced a bill to address the abuses by our current president. On September 23rd, 2020 the House introduced a bill entitled "The Protecting Our Democracy Act." One that house Democrats are sure will die on the Senate floor. So why now?
The bill seeks to address, amongst many other issues, presidential abuses, including the abuse of the pardon power; to restore checks and balances, strengthen accountability and transparency, including the enforcement of congressional subpoenas and security from political interference in our justice system (DOJ—Bill Barr), whistleblower protection, Hatch Act enforcement; and finally, to ensure reporting of, and protection against foreign interference in our elections. The 158-page bill, Nancy Pelosi stated, "is a compliment to" bill HR1, passed in the House of Representatives in 2019, and which was DOA in the Senate. The House Democrats are not fooling themselves into thinking this bill will go anywhere, but there's a very good reason to get the bill moving right now.
We're just around six weeks away from Election Day, and timing is everything. In my opinion, this bill serves two purposes: The Democrats are telegraphing what they plan to do if and when Joe Biden is elected president, and to expose the Republicans as cooperatives and enablers of the current administration's abuse of power. Knowing full well this bill has zero chance of being passed in the Senate, and even on the off chance it does, it is sure to be vetoed by the man in the White House. But it will be highly publicized in the weeks leading up to Election Day. And when it is killed in the Senate, Mitch McConnell and company will take the hit. There's no denying that Democrats and Republicans alike can't argue against a reform bill that would ensure checks and balances are restored and that our politicians are being held accountable. Of course, Trump supporters wouldn't see too much value in such a bill, but they are not the audience the Democrats are trying to reach. They're trying to reach the swing voters. Those voters in the swing states, many of which will be highly contested by the Democrats. The traditionally red states which have a good chance of being flipped. Many of those red states are starting to lean blue already. Negative publicity of this magnitude against the Republicans may be just enough to turn a few blue.
In Kentucky, Amy McGrath is making a solid bid for Mitch McConnell's seat. Likewise, in South Carolina, Jamie Harrison has his eye on Lindsey Graham's seat. There are a few other Senate seats that will be highly contested as well. When this bill dies in in the Senate (and it will), it could spell the end for a few Republican senators. In the six swing states, a bill which seeks to clean things up in Washington that is killed in the Republican Senate may likewise be enough to tip those states a nice shade of blue. If the Democrats can flip two or three swing states, that may be enough for a landslide victory for Joe Biden.
This is a smart political move by the Democrats, the party that has been accused of "playing too nice." Looks like they took the gloves off–finally. If the democrats play it right and hammer away the bill may prove to be a nightmare for the Republicans. A political football that McConnell's team would just as soon punt. It's going to put them in a serious bind. And they know about putting things in serious binds. They've been doing it by handcuffing the Democrats for the past 3 1/2 years. While nothing is going to change in the way our government is run in the immediate future, the bill, for now, will serve to expose the corruption in the Republican Party by virtue of shedding light on the major problems for which a bill package such as this is even necessary. Again, the target audience is not the Trump supporters, but it's the fence-sitters, especially in swing states and in states with Republican senators whose seats or up for reelection. Of course, the mission is to eventually get it passed, but that can only be accomplished after Biden is elected and the Senate is flipped. Good work Dems. It's a start, but there's plenty more work to do.
So, PLEASE VOTE!