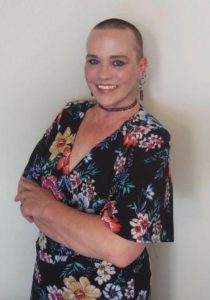 By Stacy Koruba
I was discharged from prison on August 8th, 2020. I served a 50-year sentence for a crime I did not intentionally commit. Perhaps there were ways I could have secured an earlier release, but I had no good team put together in my early days to help me out. After being locked up for a bit you adjust and comply. Do as your told, keep your mouth shut, eyes down and don't cause trouble. Thinking that will make the punishments less frequent or perhaps you will get special dispensation if you do everything accordingly, which I tried to do. I don't remember much about the first 3 to 6 years, cobwebs in the corners of my mind keep some of the dark twisted events of those years buried. I behaved back then as far as I recall. I remembered being told I was a "good girl" pretty often. Because I truly did not comprehend what the future had in store, or what was occurring in the present for that matter just being a good girl was enough to stomach the situation.
It was all so new to me, so what was happening just seemed "normal", I suppose. I remember if I smiled and did as I was told men would pay extra special attention to me, stroke my long pretty hair and tell me how I was their little doll. They really loved my big blue eyes too. After they were done with me, they would give me gifts but the "big boss" would tell me I did not deserve anything special and would keep the good stuff for herself. I don't recall exactly what bad behavior I did one particular day as an inmate, but the "Big Boss" got really pissed off at me, held me down and cut off all of my long wonderful hair and told me no one would ever find me beautiful again!
As the years went my situation became more difficult. I got moved around, A LOT. Being woken up early in the mornings with doors being taken of the hinges and everything you own being tossed outside the cell, being left homeless for a minute. The same way people are when their parents are drunks and do not pay their bills. These situations left me feeling unstable for the rest of my life. The constant turmoil and upheaval made it impossible to ever make any sort of close friendships. Till this day I still do not know how to do that. I was moved 14 times in the first 12 years. The 10th year was an extremely traumatic experience for me. Someone broke into my cell, stripped naked and got in bed with me, held a knife to my throat and tried to slit it and rape me. I was never provided with any of therapy and the person in charge acted as if the violent crime happened to her! I was being housed in the belly of Satan and no one around me noticed.
I was put on a diet for being too fat, food was restricted from me for 2-3 days at a time. I had cupcakes smashed in my face and up my nose in front of other peers. Military exercise was demanded for hours a day. I was told I was worthless and ugly and would amount to nothing. I was beat, often. Most of the time I was slapped in the face or had my head punched and knocked off walls so that others could not see the bruising. I was mocked. My abuse was mental, emotional, psychological and sexual. In between all of that there were times when the person in charge still gave me hope, made me feel like even though I was so horrendous I was worthy of some of their time and attention, tiny flickers of hope. I really loved those moments the most and did my best to please her.
After 13 years I got lonely and craved affection and attention. I started seeking it from anywhere I could get it. I mean those men used to give it to me during the 3rd – 6th year just for having nice hair and big eyes. Any attention was better than the daily beatings and mental and emotional abuse. I would do anything for anyone, if they were focusing on me for small amounts of time. It did not matter that they ignored me after or talked about me behind my back. The rumors caused extreme amounts of bullying from my peers. Seeking and getting that attention didn't work anyway, I still knew I was worthless and would amount to nothing. I was serving time in this prison because I was the most horrific person ever and deserved everything I was getting. I started looking for ways out. I could not take it anymore. I would cut myself; I do not really know if I was trying to end it all or if I was trying to draw attention to myself. I learned that somewhere along the line I did not feel physical pain any longer so I would injure myself just to try to find where those feelings went.
I had the chance to get out after 18 years. At that time, I was so dependent on the system that my views changed, and I felt like I could not make it on my own. In fact, to be very honest, I loved the "Big Boss" and the place I was. I had developed a deep seeded bond . I did whatever I had to in order to stay – for 32 more years. The crime I committed was being born or being born to an abusive narcissist. She offered me up for sex to her boyfriends from the age of 3-6. By the time I was 18 I thought she was the best Mom ever, and no one could convince me otherwise. I married a man just like her and was abused by him for 8 years. He beat me relentlessly.
He sexually abused me and forced me to have sex with his friends, allowing that to rape me almost every weekend. He demeaned me and took away any self-respect I may have had left. He told me the only reason he married me was because I was a nice person and he was doing me a favor because I was so ugly no man would ever want to be with me. I believed it, because my Mom beat it into my head daily for 18 years.
I married the love of my life 22 years ago. He has stuck around through all this dysfunction with the narcissist. He sat by and watched her abuse. Watched me do everything in my power to please her, and then consoled me when she told me how rotten I was. Watched every single year as she forgot my Birthday, then tried to be the one to make up for her evilness. He moved across country with me because of my addiction to her. I took off the rose-colored glasses last December and finally realized all this time SHE has been the monster, not ME. I have been in therapy and it has been helping. I felt okay. A lot of her abuse centered around my looks. My hair. It was too thin, too short, too long, not blonde enough, not brown enough. Nothing was ever good enough. That combined with the memories of the abuse from the men that molested me at a young age and focused on my hair made me also feel self-conscious about everything about me. I was gross, ugly, not good enough.
I decided to shave of all my hair at 8:30PM on August 8th, 2020. That was the EXACT moment I released myself from this prison I have been confined to all my life. I don't know what made me do it. I did not connect all of this. I just had the urge to do it and thought now would be the perfect time with Covid, because if I hated it, I could stay inside, and no one would ever know. As the shears went over the first piece of hair, I felt a huge sense of relief and joy. With each chunk that came off I felt more freedom. Honestly, it was like a rebirth. I was cutting off an anchor from the weight of the control she has always had over me. I was severing all ties to my abusers and how filthy and disgusting they have made me feel about myself for all these years. My jailers consisted of family members, people I loved. Depraved child molesters, and for many years, myself. I now had the power to expose my true self to the world. I was not doing it in a timid voice either.
It was bold and loud "HERE I am, no hiding, this is all there is for you to see." I am emancipated from the chains and cuffs she so tightly bound me in. There is not one ounce in my fiber of being that gives a rat's ass what another living human thinks about how I look, and that was the major thing I worried about every moment. I do not care because I am BEAUTIFUL on the inside. I am covered from head to toe in scars from my abusers, I am a survivor, I am a warrior. I am unbreakable yet I am one of the kindest people I know and do not judge others or think poorly of anyone until they give me a reason to. I have been shown so much of the ugliness that lies beneath other people's skin and none of that has ever, not even for a second sullied my soul.
The prison part is a metaphor about my life. Up until recently I have felt confined, trapped and had no control. I am finally free to live…Find your FREEDOM how ever YOU can.
Contact the Feature Writers