[AdSense-A]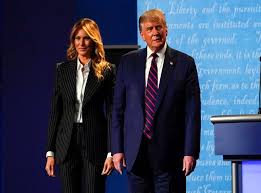 By Nikki Slusher
My, my, my karma is a bitch. It seems to keep coming too. After President Donald Trump took to Twitter on Thursday to announce him and Melania Trump had been tested for COVID after Hope Hicks was positive for the virus. The test results are back *drum roll* – both Donald AND Melania have tested positive. So, I guess the slowed down testing is only for us little people who are deemed irrelevant peasants in Trump's worldly perspective.
At 74 years old, Trump falls into the high-risk category of for having serious complications from coronavirus. Ironically, the president had mocked his Democratic rival Joe Biden for wearing a mask at the presidential debate this week. The disease has already killed 200,000 Americans and one million people globally. But the president's confirmation of his infection with the virus could prove to bring trials and tribulations for his administration as well as the country. It could possibly destabilize the already volatile political climate. The stock market's future is also looking grim after the announcement came out.
The President took to Twitter on Thursday night saying that he and the First Lady were planning to quarantine after one of his closest aides, Hope Hicks, tested positive this week. "Hope Hicks, who has been working so hard without even taking a small break, has just tested positive for Covid 19. Terrible! The First Lady and I are waiting for our test results. In the meantime, we will begin our quarantine process!" Trump tweeted.
Following Trump's tweet, White House health officials confirmed the president's diagnosis. "The President and First Lady are both well at this time, and they plan to remain at home within the White House during their convalescence," the president's physician, Navy Commander Dr. Sean Conley wrote "The White House medical team and I will maintain a vigilant watch, and I appreciate the support provided by some of our country's greatest medical professionals and institutions," Conley added. He did not elaborate on what assistance was being provided to the White House.
Hicks' positive test provides White House staffers with a unique challenge face as they try to keep the pandemic out of the West Wing as the President continues to push for reopening the country. Previously, President Trump had expressed concern that if aides contracted coronavirus it would undercut his message that the outbreak is declining and that states should accelerate reopening.
To no one's surprise, this outcome has been coming for quite some time. And this might be a long shot, but I think it is safe to assume the rallies he has been holding along the campaign trail could have contributed to this. After the statement on the President's official diagnosis was released, the White House provided a new schedule to reflect several canceled events in the upcoming weeks, including a fundraiser in Washington and a campaign rally in Florida. Something tells me an attitude shift is on its way that the hoax may not actually be a hoax.
At least there's a couple of solutions to recover quickly from the virus, right? Just as he previously recommended, the president can wash down his daily dose of hydroxychloroquine with some Lysol on the rocks. Maybe now we will finally witness the President lead by example for once. One positive besides their test results is that the First Couple will be quarantining for two weeks – meaning Cheeto head won't be holding conferences and popping up on our TVs every day. It will be a nice test run for what a Biden presidency will look like.