Justice for Civil Rights Activist Jimmie Lee Jackson
[AdSense-A]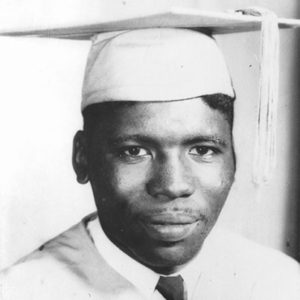 By Marlena Ryan
What would you risk to protect the lives of your loved ones?
On the evening of February 18, 1965, in Marion, Alabama, Jimmie Lee Jackson attended a peaceful protest over the arrest of James Orange, a field secretary for the Southern Christian Leadership Conference (or SCLC). Orange was arrested for recruiting minors to work during voter registration drives and singing freedom songs. He was charged with disorderly conduct and contributing to the delinquency of minors. Out of fear that James Orange might be lynched while in police custody, civil rights protestors decided to march towards the city jail in order to show their support. Around 500 protestors gathered at the Zion Methodist Church. But as the activists left the church and started to march, police officers and state troopers declared the gathering to be an unlawful assembly and ordered the protestors to disperse. After three warnings, the officers and state troopers began attacking the protestors with clubs, causing many to flee.
Jimmie Lee Jackson along with his mother, Viola Jackson, and his 82-year-old grandfather Cager Lee, entered Mack's cafe seeking refuge from the attacks. But state troopers entered the cafe and began attacking the protestors inside. When the state troopers started attacking Jackson's mother and grandfather, he tried to protect them. Jackson was hit repeatedly by a state trooper with a club. Then, a second state trooper named James Bonard Fowler, shot Jimmie Lee Jackson in the stomach. Jackson was taken to a local hospital. But after being denied treatment there, he was taken to the Good Samaritan hospital in Selma, Alabama. He died eight days later. State Trooper Fowler was not punished nor faced criminal charges for his actions.
The death of Jimmie Lee Jackson motivated activists to march from Selma to Montgomery, Alabama. On Sunday, March 7, 1965, four days after Jackson's funeral, around 600 civil rights protestors marched across the Edmund Pettus Bridge. But the march ended in heavy violence as demonstrators were attacked by police officers with tear gas, batons, and whips, marking the day as "Bloody Sunday".
The following year, on May 8, 1966, Nathan Johnson Jr., a 34-year-old black man, was arrested on suspicion of drunk driving. He was shot and killed by State Trooper James Bonard Fowler at the Alabaster Police Station in Birmingham, Alabama after reportedly attacking the state trooper with a billy club. James Bonard Fowler was the same state trooper who shot Jimmie Lee Jackson the year prior. According to a statement given by Fowler, while Johnson was trying to make a phone call at the police station, he got into an argument with the operator and with Fowler. Johnson then picked up a billy club that was lying nearby and hit Fowler with it. James Fowler shot Nathan Johnson Jr. in the chest, killing him instantly.
At the time of his arrest, Johnson had a history of mental illness, a long arrest history, and a manslaughter conviction for killing a 14-year-old girl with his car in 1955. An investigation into the shooting death of Nathan Johnson Jr. found that State Trooper James Bonard Fowler had acted in self-defense. Two years later, in 1968, Fowler would be fired by the Alabama Department of Public Safety after being accused of violently attacking superior officer T.B. Barden.
In 2007, 42 years after Jimmie Lee Jackson's death, James Bonard Fowler was arrested and charged with his murder. He was 74 years old. According to statements given by Fowler on March 2, 1965, he claimed that on the night of the incident, a group of protestors were throwing bottles and bricks and using profanity at the officers. When the crowd dispersed, some of the members ran into Mack's cafe and continued to throw bottles and other objects at the officers. Fowler along with other state troopers entered the cafe to arrest the protestors who were throwing bottles. Fowler was helping a state trooper who had been struck by protestors when Jimmie Lee Jackson hit him with a bottle. Fowler claimed that he shot Jackson only when he tried to take his gun.
In 2010, James Fowler accepted a plea bargain for second-degree manslaughter and was sentenced to six months in jail. But he only served five months due to health problems. "It was the killing of Jimmie Lee Jackson that provoked the march from Selma to Montgomery. It was his death and his blood that gave us the Voting Rights Act of 1965," Representative John Lewis said after hearing about Fowler's indictment. In 2011 the FBI opened an investigation into James Fowler's involvement in the shooting death of Nathan Johnson Jr., but no additional charges were made. James Fowler died of pancreatic cancer on July 5, 2015 in Geneva County, Alabama. He was 81 years old.
Jimmie Lee Jackson was laid to rest in Heard Cemetery, a former slave burial ground in Marion, Alabama. His gravesite lies below tall trees down a long country road. His headstone has been vandalized with bullet holes more than once. Below his name reads: "He was killed for man's freedom". On March 2, 2016, 51 years after his death, a historical marker in honor of Jimmie Lee Jackson was set outside the Perry County Courthouse in Marion, Alabama.
[si-contact-form form='2′]