[AdSense-A]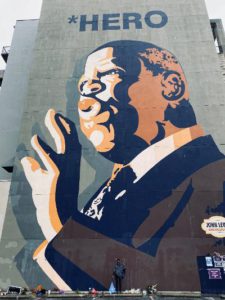 By Maya J. Carter
"United States Representative John Lewis still has the scars from the beatings he took for civil rights half a century ago. But the more telling mark on the longtime congressman, whose life traces the movement that brought America out of those dark times, is in his undiminished capacity for hope, faith, and love. He is our apostle of quiet strength. His eyebrow raised or finger wagged carries more weight than a hundred bombastic speeches or clever pontifications." – Foreword to "Across That Bridge" (John Lewis) written by Douglas Brinkley
After the Civil Rights Act of 1964 and Voting Rights Act of 1965 passed due to the valiant efforts of civil rights activists, John Lewis continued to make inroads through his work with the Student Nonviolent Coordinating Committee (SNCC). The mission of the SNCC was to increase and advocate for voters rights for disenfranchised Black people and uphold laws whose provisions mandated equal rights, and the SNCC prevailed in their efforts. Demonstrable societal changes occurred as a result of the activism of John Lewis and his cohorts of the SNCC. Political power was transformed in the South, and by 1966, over half a million Black southerners were registered to vote. By 1968, almost four hundred Black people were elected to office. Just as remarkably, President Johnson appointed the first black cabinet member, Robert C. Weaver, as head of the Department of Housing and Urban Development, and appointed Thurgood Marshall the first African American Justice of the Supreme Court in 1967. Black people joined the Democratic Party, as White southerners began to switch to the Republican party during what was known in politics as the Southern Strategy by appealing to racism against Black people.
The SNCC expanded their advocacy of nonviolence into opposition of the Vietnam War. Ever the pacifist, John Lewis reflected in "Across That Bridge": "War that is waged for power or dominion over other human beings obscures the inevitable truth that we are all members of one family, and no matter who has conquered whom, who now resents whom, who holds bitterness against whom, the only way we can have true peace is to set aside our injuries and our dedication to revenge and accept our equal divinity."
Unfortunately, as the members of the SNCC continued to practice nonviolent forms of protest, they continued to be met with acts of violence. Some members of the SNCC felt the need to adapt to defend themselves against the brutality. Some younger members became disappointed with the two-party political system due to disagreements that involved the Democratic National Convention. Organizational change in leadership arose as Stokely Carmichael succeeded John Lewis as the SNCC Chairman in 1966-1967. An emphasis in activism was placed on Black identity which unnerved some members of the White community. As strategies for demanding equality grew more radical and aligned with the ideology of groups such as the Black Panther Party, who became influential within the organization, the SNCC eventually disbanded in the early 1970s.
John Lewis would find work in the presidential campaign of Robert Kennedy in the late 1960s. Lewis had formed a bond with Kennedy during his activism with the Freedom Riders, and Kennedy requested that Lewis assist with organizing the Black community in Indianapolis, Indiana. Lewis wrote "I loved Bobby Kennedy. I loved him for his ability to be vulnerable, to be touched and moved, for his ability to throw open his heart and discover a connection to all humankind."
History teaches us that turmoil would be an undeniable feature of the sixties – protests and racial discord would define the prevailing times. What would come next would leave the nation at a standstill. The nation suffered collective loss after loss of national heroes, all held in high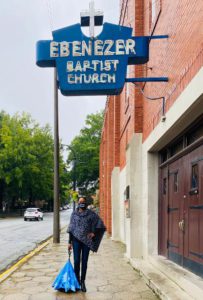 esteem by John Lewis. One of those drastic turning point in the Civil Rights movement, and for the world, occurred on April 4, 1968. The "simple preacher from Atlanta, Georgia" who had "transformed an entire nation by standing on the power of the truth", as remembered by John Lewis, had been fatally shot at the Lorraine Motel in Memphis, Tennessee. Dr. Martin Luther King, Jr. had been the preeminent leader of the Civil Rights movement, a recipient of the Nobel Peace Prize, and had now been assassinated. The anger of the country was palpable, and John Lewis convinced Robert Kennedy to speak to the Black community to help quell the outrage, which Kennedy did. Kennedy asked Lewis to help organize the return of King's body to Atlanta, and Lewis arranged for Kennedy to meet Coretta Scott King before the funeral. After King's funeral, Lewis continued to campaign for Kennedy, and met up with him in the Ambassador Hotel in Los Angeles, California on June 6, 1968 during a campaign event. It was a fateful evening and unbeknownst to all, more tragedy would follow. Robert Kennedy, age 42 years old, would be assassinated that evening in the hotel on his way to make a speech.
A reflection from John Lewis in Across That Bridge:
"They threw everything at us in the sixties in an attempt to deny the validity of our reality. They called us Communists and hippies, outside agitators and troublemakers. They infiltrated us and investigated us. They floated false rumors and negative propaganda. They ran us down with horses and bludgeoned us with billy clubs and baseball bats. They jailed us, they beat us, they bombed us, and sprayed us with tear gas and fire hoses. They even assassinated a president, a candidate, and a King. President John F. Kennedy, Robert Kennedy, and Martin Luther King, Jr. were three symbols of hope. They were three men, three leaders who were sensitive to the truth."
"Despite everything that has happened, regardless of the pain of their loss, despite all the other nonviolent peaceful warriors who suffered and sometimes fell, I have never once considered giving up or giving out. I could not let myself get lost in a sea of despair, because I had faith that the truth is bigger than all humanity. The tragedy of their loss was a crisis of faith, but in that struggle I discovered that you can Medgar Evers or a Jimmie Lee Jackson. You can kill three civil rights workers named Chaney, Goodman, and Schwerner. You can bomb four innocent little girls in a church on a Sunday morning. You can even kill three of the finest leaders of the twentieth century, but you cannot kill the truth they represented. The truth marchers on; it is not connected to the life of any one individual. When a person dies, the dream does not die. You can kill a man, but the truth that he stood for will never die."
He did get to experience joy earlier in 1986, as Lewis met Lillian Miles at a New Year's Eve party, whom he went on to marry that year. They had one son, named John-Miles Lewis. Even in times when they were in separate states, he would recount how they made their marriage work despite the long distances. Lillian died on December 31, 2012.
Robert Kennedy had been influential in Lewis's political aspirations. He continued activism as the director of the Voter Education Project, and then in 1977 by urging of President Jimmy Carter, led 250,000 volunteers of ACTION, a federal volunteer agency that included the Peace Corps and Volunteers in Service to America (VISTA). By 1981, Lewis would become a city councilman in Atlanta, Georgia. Then, in 1986 following a difficult race, Lewis would win a Georgia Congressional seat in the United States House of Representatives. The many lessons learned in activism during his youth translated well into political advocacy for health-care, gun-control and anti-poverty legislation within the halls of the United States Congress, where would face the same people who opposed him in his nonviolent protests for racial equality. In serving Georgia's 5th Congressional District, he would have to come face to face with some of the same people who opposed him during his time fighting for racial equality – much like the people he faced when he crossed the Edmund Pettus bridge that Bloody Sunday in 1965. In this case, he built bridges.
John Lewis never tired in his 33 year long service in the United States House of Representatives. He described himself to be a strong and adamant liberal. He co-sponsored countless bills. Several bills passed into law sponsored by John Lewis addressed healthcare and fair employment, implemented tax policy, honored Civil Rights heroes and the military, and led to the creation of national historic sites. These include the Taxpayer First Act (HR 3151, 2019-2020), the Great American Outdoors Act (HR 1957, 2019-2020), the Martin Luther King, Jr. National Historical Park Act of 2017 (HR 267, 2017-2018), the Gold Medal Technical Corrections Act of 2014 (HR 4488, 2013-2014), the Medicare and Medicaid Extenders Act of 2010 (HR 4994, 2009-2010), a bill to designate the annex building under construction for the Elbert P. Tuttle United States Court of Appeals Building in Atlanta, Georgia, as the "John C. Godbold Federal Building" (HR 4275, 2009-2010), the Civil Rights Act of 1964 Commemorative Coin Act (HR 2040, 2007-2008), the Emmett Till Unsolved Civil Rights Crime Act of 2007 (HR 923, 2007-2008), the National Museum of African American History and Culture Act (HR 3491, 2003-2004), the Martin Luther King, Junior, National Historic Site Land Exchange Act (HR 1616, 2003-2004), the National Museum of African American History and Culture Plan for Action Presidential Commission Act of 2001 (HR 3442, 2001-2002), the King Holiday and Service Act of 1994 (HR 1933, 1993-1994), the African American History Landmark Theme Study Act (HR 904, 1991-1992), a bill to authorize the National Park Service to acquire and manage the Mary McLeod Bethune Council House National Historic Site, and for other purposes (HR 690, 1991-1992), the Selma to Montgomery National Trail Study Act of 1989 (HR 3834, 1989-1990), a bill to designate the United States Court of Appeals Building at 56 Forsyth Street in Atlanta, Georgia, as the "Elbert P. Tuttle Court of Appeals Building" (HR 801, 1989-1990), and a bill to designate the Federal building located at 50 Spring Street, Southwest, Atlanta, Georgia, as the "Martin Luther King, Jr. Federal Building" (HR 3811, 1987-1988).
Lewis's commitment to his beliefs and his positions on issues reflected a man who cared deeply for all Americans. He supported gay rights and national health insurance. He opposed the Gulf War, the North American Free Trade Agreement and welfare reform. He famously boycotted the inaugurations of George W. Bush and Donald J. Trump. He strongly endorsed Barack Obama for the presidency, which helped to seal his nomination and election. He was particularly proud to live to serve with the first African American President of the United States, having been the last living "Big Six" member in attendance at his inauguration. In 2016, true to his roots, he led a sit-in in Congress demanding gun-safety legislation after the Pulse nightclub massacre. For 15 years, he repeatedly introduced bills to create a National African American museum in Washington, D.C.; the National Museum of African American History and Culture was finally built, opening in September 2016. Annually, he would make a pilgrimage across the Edmund Pettis Bridge and the 1965 March from Selma to Montgomery, Alabama which would later become a National Trails Program and monumental fundraising effort, garnering support of many politicians. Following the protests for George Floyd, he visited and stood with Mayor Muriel Bowser at the newly renamed Black Lives Matter Plaza in Washington, D.C., where he gazed upon the Black Lives Matter mural, referring to it as "a powerful work of art." In April 2020, he endorsed Joe Biden for President and recommended that Biden choose a woman of color as his running mate.
As a political leader, Lewis served on the Committee of Ways and Means and the United States Congress Joint Committee on Taxation later in his legislative career. In all, he was a member of over 40 caucuses, including the Congressional Black Caucus, Congressional Progressive Caucus, and Congressional Structured Settlements Caucus. In 1991, Lewis became the senior chief deputy whip in the Democratic caucus.
In his words:
"I go home to Atlanta almost every weekend, as well as during recesses and between congressional sessions. When I do, I go into the streets, neighborhoods, into the projects. I see the homeless, the helpless, the anger and the violence, the drugs and the despondency. It is real, it is pervasive, and it cannot be ignored. Some people were shocked by the explosion of rioting in Los Angeles in 1992. They asked aloud, "Where did that come from?" It came from the same place as the rioting in Watts in 1965 and in dozens of other neighborhoods in the quarter century since then. The stew of poverty and despair simmers and cooks in the grimmest parts of our cities, and it will not go away. We who do not live in these places might close our eyes or our hearts, we might pretend it does not exist or that it has nothing to do with us, but it will not simply go away. And it has everything to do with us. We have a choice. We can look and listen and respond in constructive, creative ways to our places of poverty, or we can be forced to respond by outbursts of violence such as these riots." – John Lewis, "Walking with the Wind"
Contact the Feature Writers