[AdSense-A]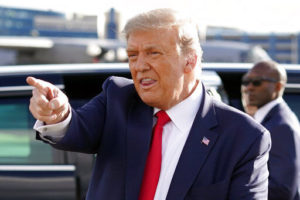 Publisher Note: Since Nikki submitted this article for publication another Trump QVC House top official has tested positive for COVID-19.  Kayleigh "Lying Her Ass Off For Trump" McEnanay his rude QVC House Press Secretary now has it!
By Nikki Slusher
It took less than a week after the Rose Garden ceremony for SCOTUS nominee Amy Coney Barrett for the inevitable to finally happen. Over the last 72 hours, name after name of the event's attendees – predominantly all Republicans – have come out as testing positive for coronavirus. In just a few days we have jumped ship from the Trump Admin's "it is what it is" attitude to rushing off to Walter Reed for a stay to monitor the president's health. While President Trump remains under the care of the country's top medical professionals and receiving treatments not yet available to the public, like Remdesivir that costs over $3,100, the rest of Washington is quickly blossoming into the District of Corona.
So far, the list of those who are among Trump's closest confidants that have tested positive includes: First Lady Melania Trump, Sen. Mike Lee (R-UT) and Sen. Thom Tillis (R-NC), both are on the Senate Judiciary Committee which is in charge of the SCOTUS nomination hearing; Rev. John Jenkins, the president of the University of Notre Dame; Kellyanne Conway, former counselor to the president and a regular White House spokesperson; Chris Christie, former Governor of New Jersey and Trump debate prepper; one unnamed journalist who was in attendance; and Hope Hicks, a close advisor to the President who did not attend the Rose Garden event. It is safe to assume that this list will most likely double by the middle of next week.
It was only a few months ago in March (which honestly feels like 84 years ago) that this same group of MAGAs were perpetuating a message that the virus wasn't serious, it would just disappear, or that we would be willing to sacrifice our lives for the economy. The overall message of each of these fools and fooliettes was the same – that some Americans were just going to have to die but the economy will have survived. Simultaneously, the Trump Admin joined by Texas Republican officials pushed through a case in front of the Supreme Court to repeal the Affordable Care Act. If successful, the decision would result in almost 30 million Americans losing their healthcare coverage during a pandemic. Some of you may agree with repealing aspects of Obamacare, but as clarified in the first presidential debate there is no new healthcare plan developed yet to replace it. So basically, millions would just be unemployed and uninsured; a major win-win for the Trump WH and GOP.
Meanwhile, as each of these characters comes back positive, we are seeing these long-time anti-maskers immediately begin quarantining and seeking medical attention for even "mild symptoms," per Gov. Christie's own words. This is imperative to emphasize because currently hospitals across the nation are at maximum capacity; therefore, having to turn down sick Americans while healthcare professionals work endlessly to treat as many patients as possible. But of course, none of these D.C. elites will experience any issues like insurance coverage or denial for admittance into a hospital. No, they get the luxurious COVID-19 VIP package. Multiple doctors to themselves, treatment from drugs not yet FDA approved nor available to the public, and excellent health insurance through the federal government which is funded by our taxpayer dollars. The president who paid $750 in income taxes received a $3,100 medication and full treatment paid for by the 95 percent, including the 206,000 who have passed so far. Those people did not get the same options.
What is perplexing about this entire scenario is the fact that people still support the Commander in Grief. After everything, even catching the virus that did not exist, are now not denying its existence but sending their thoughts and prayers for Trump & Co. How can anyone even send get well soon wishes to the man who said "it is what it is" about Americans who died from the virus due to his failures in addressing the pandemic months ago? Remember, it was okay for us to die. Now they are afraid and trying not to die. No surprise there considering this is not exactly a group that leads by example.
To top it off, Trump is having a struggle fighting the virus. He reportedly had to be given supplemental oxygen, and his oxygen levels have fluctuated throughout the last few days. Obviously, this means he is not doing well. But Donny, I thought it was only as bad as the flu? Oh, it is worse? Dr. Fauci could have told you that but you mocked and belittled him nationally. Time to reap what you sew. On the bright side, China's president has now dubbed it as the "White House virus" #ROLLINGLMFAO.
The best part was the fake photoshoot of him getting work done from Walter Reed's presidential suite; *cough* cause he definitely works so hard for us on a regular weekend and isn't out golfing *cough.* Sorry, my 'rona was acting up again. The images show the president signing his name on a blank sheet of paper about three-fourths up the page with a sharpie. We have never seen anyone sign a piece of paper better than that before.
Most of America is speculating on the president's current condition. Reports from his physicians and WH staff contradict each other, meaning he is either doing well or really fucking bad. From the way those surrounding him are acting it is more than likely the latter of the two. Trump is high risk for complications from the virus due to being overweight and 74 years old. And as the country questions the severity of the president's infection there have also been a lot of talk on how he has gotten what he rightfully deserves.
I cannot say I believe he got what he deserves, but I won't say he didn't either. What I can say is how ironic this entire shindig has become. After minimizing COVID19 and disrespecting the late Ruth Bader Ginsburg, it seems like karma has come full circle to the biggest liars of 2015 to 2020. Personally, I believe RBG had a hand in all of this. Once she heard of this Rose Garden event for her possible replacement, I imagine she turned to Justice Scalia and said, "hold my beer and watch this."
This story will continue to update by the hours, yet it is important that the hypocrisy and ass-hattery that led us to this moment are highlighted. Election Day is less than a month away and Trump is out of the fundraising and campaign rally circuit for at least two out of four of those weeks. Cancelled ads, cancelled rallies, cancelled fundraisers. All that is left on the list is a cancelled Trump presidency.
Some think this may be a farce for a pathetic debate performance. Others believe this may be the end we have been anticipating for years. Most of us can agree we are Susan Collins concerned over Comrade Trump's current condition. Regardless, this diagnosis will most definitely impact the election's results and not in the Dorito Gambino's favor. Recent polls are showing Biden with a 14-point lead over Trump now. But no worries folks. Like he said, "It is what it is."
Contact the Feature Writers