[AdSense-A]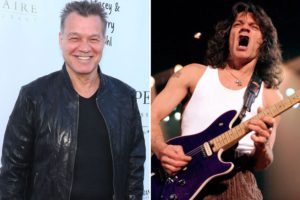 By Geoffrey Huchel
Tributes are pouring in to remember Rock legend Eddie Van Halen. The guitarist and co-founder of the band Van Halen passed away October 6, 2020, of throat cancer, in Santa Monica, California. He was 65.
Van Halen was born on January 26, 1955 in the Netherlands, however, the Van Halen family moved to the United States, settling in Pasadena, California. Eddie and his brother, Alex, formed a band in 1972, and in 1974 they changed the name to Van Halen. Van Halen became a staple of the Los Angeles music scene during the 1970s.
In 1977, Warner Bros. offered the band a contract. By the 1980s, Van Halen was one of the most successful rock acts of all time. The album 1984 went five times platinum after a year of release. The lead single, "Jump" became the band's first and only No. 1 hit. Van Halen has sold 56 million albums in the United States and 80 million worldwide. Van Halen recorded 12 studio albums and had a total of 56 singles including "You Really Got Me", "Runnin' with the Devil", "Jamie's Cryin'", "Panama", "Hot For Teacher", "Best of Both Worlds", "Runaround" and "Right Now".
Eddie Van Halen was voted number one in a Guitar World magazine reader's poll for "The 100 Greatest Guitarists of All Time". He was an inventor of three patents related to guitars: A folding prop to support a guitar in a flat position, a tension-adjusting tailpiece, and an ornamental design for a headstock.
Eddie Van Halen's legacy and his contribution to music will be an inspiration for generations to come.
Ringside Report sends our condolences to Eddie Van Halen's family during their time of grief.
Contact the Feature Writers