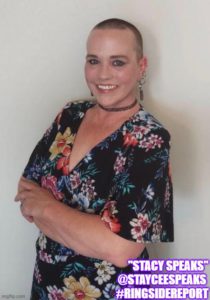 Hosted By Stacy Koruba
Stacy
I like to practice yoga every day in my backyard. My neighbor is really messing up my Zen flow. It seems like any time I'm out there I have to listen to him playing with his bratty kids or laughing with his wife, hear his noisy dogs fetching their balls or some sort of other racket coming from their full house. Why can't they just go in? I would like to enjoy peace and quiet outside and connect with nature, and I can't do it with them! Should I tell them directly or contact the HOA?
Thanks in advance!
Sandy
Panama City Beach, FL
Sandy,
I am not sure you are getting the true meaning of Yoga. It teaches us to forgive ourselves and others. The fundamental purpose of yoga is to foster harmony in the body, mind and environment.
Before Covid, I used to love going to baby goat yoga. You do a session with incredibly young goats all around you. They walk on you, some even poop or pee on YOU or your yoga mat. They bleat or maa constantly. They jump and suck and play and it is FUN! At the same time, you can still get a great yoga session in. The universe was not created strictly for you to enjoy alone. It is here for all of use to enjoy together. Get some headphones and listen to meditation music while you are doing yoga outside. Set up a nice peaceful space inside you house where you can relax and be uninterrupted or realize that laughing kids and barking dogs are all a wonderful part of this beautiful thing called life, and learn to open up and enjoy those things as part of nature's noises as well.
Stacy,
Do you think that society engages in ageism by being more approving of older male/younger female relationships than older female/younger male ones? If so, why do you think this way?
Lynne, Warrenton, MO
Lynne,
This is a tough question for me to answer. I think that many in society engage in getting involved in things that are none of their business. In the case of older men with younger women, I am not so sure that was always acceptable, at least not for the younger women. They were gold diggers or trophy wives, and it was difficult for society to believe that there was any love in a relationship like that. In my personal experience I have to say that women with younger men has seemed more acceptable. My Mother in law has been married to a man 16 years younger than her for the last 17 years. She is 78 and he is 62. They started dating when she was 48 and he was 32. No one has ever seemed to question it or even look at them differently. There is not a huge age difference between my husband and me. He is 4 years older than me. When we were younger, and even now there were times that I looked 15-20 years younger than him. We have gotten dirty looks many times, like he is a filthy man, and I am a poor stupid woman being taken advantage of. I believe society needs to care more about what is going on in their own lives and more about what is taking place on bigger levels like world issues and on Government levels. Worrying about who loves whom really is not anyone else's business.
Stacy,
My son is 16 and I think that he may be having sex with his girlfriend when I am at work. His Dad is not in the picture and I don't know how to talk about this with him. I don't want to embarrass him, but I also don't want to be raising a baby in 9 months. HELP
Marge,
Brockton, MA
Hi Marge,
Talking to your son openly about all topics should never be embarrassing. He needs a parent and a role model, someone that he feels comfortable enough to discuss anything with. If that is not you, who will it be? I know sex can be a difficult subject IF you allow it to be. However, it is something that most people do, and he needs to know ALL the facts, and not only the ones about pregnancy. I am sure you want him practicing safe sex for his own protection and his partners against STD's as well. There are so many great resources for you to share with him that are available on the net. Just do a google search for talking to your teenager about safe sex and many things will come up. Make the conversation as easy going as possible. Let him know that it is normal for him to have sexual interests, but that he should be certain that he knows what he wants and that he is prepared. Also let him know that he can discuss anything with you, without fear of being judged. I have had this agreement with my daughter since she was 12 and she has come to be many times with questions that I do not think many kids are comfortable asking parents. I am happy she is comfortable doing so because it is easier to make decisions when you have opinions from people that love and care for you the most.
Hi Stacy,
That picture you posted of the pulled pork looked good, can you share the recipe?
Frank,
Las Vegas, NV
Frank, I thought no one would ever ask! I love cooking and sharing my recipes! This one is a favorite of mine, is super easy to cook, can feed a large group and is one of the most affordable things you can make.
Barbecued pulled pork
8 – 10# pork shoulder or butt roast
1 tablespoon cumin
1 tablespoon paprika
1 tablespoon chili powder
1 tablespoon dried fennel seed
1 large onion – sliced
1 tablespoon minced garlic
1 tablespoon brown sugar
1 can rotel tomatoes
2 ounces dark chocolate
Preheat oven to 325 if your oven has roasting or convection option, use it. Using a large disposable metal tin is the easiest. Add all the ingredients to the bottom of the pan. Next, add the roast. Fill the tin with water about 1 inch deep. Allow to cook 6 to 7 hours. Flip over every 90 minutes. It is easiest to flip with 2 large forks. You will know when it is done when the meat shreds easily with 2 forks. Drain the excess liquid or move meat to another pan, start shredding meat. Remove bone. I just use new vinyl or latex gloves and pull the meat apart and then add your favorite BBQ sauce and mix!!
Hey Stacy,
I've lived with my roommate for 3 years. Everything was copacetic up until Covid when we both started working from home. Now I am with him 24/7 and a lot of things he does are beginning to wear on my last nerve. The biggest thing is the fact that he thinks because he paid for the TV in the living, he gets to decide what is on that TV every minute of the day. Sure, I have a TV in my room, but there are times I'd like to watch something in the main part of the house, like when I am preparing dinner for the two of us or on a Saturday evening, for example. I pay the electricity bill as part of the living arrangements, and like I mentioned, do the cooking. I don't say "you can't watch your TV, Bro, on my electricity." The inequities are starting to get to me, and I don't know how much longer I can take him. Any suggestions?
Vince,
Albany, NY
Vince,
I know I have said this before, but it is worth repeating. Every great relationship is built on open communication. This applies to work relationships, marriages and friendships. You need to talk to your roommate and let him know about the things that are bothering you. I would wait for a time when you are not so frustrated, but do it without distractions , so that it can be a serious conversation. He needs to know that things must be equitable in the home that the two of you share, right down the middle. If the TV is in the main area, you both should get to decide what is watched equally. These are things grown ups do when they share homes. I do not believe you are asking for anything out of the ordinary. Perhaps he isn't aware that you feel this way or even that he behaves the way he does. Three years is a long time to live with someone, and you say that things were excellent beforehand, having an open conversation about changing things sounds like a great place to start. Hoping you to get to watch your favorite show this Saturday!
Contact the Feature Writers