[AdSense-A]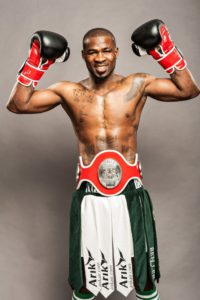 By Donald "Braveheart" Stewart
The natural assumption for most of us in the UK is to think that we, as the former colonial power are the masters. It is after all what we have been brought up to believe. Take the fact that maps in schools throughout the United Kingdom that hung on the wall of our classrooms continued to show that Britain had an Empire long after the sun had finally, and rightly settled upon its breakup.
From the Empire came the Commonwealth.
In boxing the British Empire belt became the Commonwealth belt.
Former colonies and countries we used to take false pride in subjugating, had a new found sense of purpose called independence and our domination was on the wane.
It has left us with both a curious mix of continued pride over what countries are now part of the Commonwealth and how we continue to try and dominate any game or sport that includes Commonwealth in the title.
It also means that many boxers from former colonies or ruled over countries can find themselves in the UK battling for their new and adopted home as well as being recognised for their own country. It is natural for some to feel a sense of conflict and pride in equal measure. As a spectator and follower of the sport, I too root for the British guy in any fight but also have a sincere appreciation of how some men and women from the Commonwealth have managed to grace the ring.
One such welterweight still active in the UK, and based in Stoke Newington, London is Larry Ekundayo, 16-1, 3 KO's, who was born in Lagos, Nigeria.
Straddling both communities of his, he was the African welterweight champion from 2015 to 2016 and the IBF European welterweight champion, 2018 to 2019.
Ekundayo's boxing story starts in Nigeria at the age of 12, where he took up the sport to stop being bullied. I believe he was so good that he managed to win the national bantamweight championships there before he went to the All African Championships in South Africa in 1999.
International competition featured again in 2002 when he travelled to Manchester, to compete at welterweight in the Commonwealth Games for his home country; he was unable to get past the quarter finals.
Moving to the UK brought the London regional version of the ABA championship in 2006 and 2007 and his amateur career is reported to have seen 110 wins out of a possible 125. Due to immigration issues his turning over to become professional was delayed and as he sparred and waited he picked up a new nickname, The Natural, due to a successful spar he had under the watchful eye of his colleagues. Itw as a nickname he didn't want but was now stuck with.
Ekundayo made his professional debut in a fairly unusual manner – with only two professional contests to his name, the first in Limehouse where he stopped Ben Deghani in the 3rd round – he joined the light middleweight prizefighter tournament which was above his fighting weight, and as well as being the first in the history of the competition to win the £2,000 knockout prize – he won it. On the way he left Craig McEwan – quarter final, split decision win, Kris Carslaw – semi final, points over 3 rounds, and Terry Carruthers – final, 3rd round stoppage, in his wake. He was 30 at the time, in 2012.
The victory allowed his promoter at the time, the highly knowledgeable and experienced Spencer Fearon to claim, his fighter was "brilliant" suggesting that Ekundayo would go on to do "great things" in boxing.
From there he went on to pick up the African welterweight title in by beating Ghanaian Joseph Lamptey, back in Limehouse, on the 30th October 2016 by a very wide points margin, and the IBF European title on the 13th July 2018 when he beat John Thain on points.
With a lesser known belt – the International Masters Silver title in October 2014 when he outpointed Stanislav Nenkov and a failed WBO intercontinental title attempt when he lost a split decision to Gary Corcoran – whom he credits as his toughest opponent – Ekundayo was getting the right kind of attention.
Then a form of tragedy hit. Ekundayo's daughter was diagnosed with cancer just at the point he was due to enter the ring for a British title eliminator. His energy, passion and attention were needed in a far more important venue than a boxing ring. It led to inactivity which was compounded by also being injured he took time out, his daughter is better and he returned.
Ekundayo last boxed in February – just before lockdown hit the sport. It came after he had a year out due to injury. In York Hall he was able to beat Nathan Hardy on points over 6 rounds and then we got lockdown.
There is little doubt that a future return to the ring will be on his mind and that would be nothing short of a bonus to any small hall bill or pay per view offering. He is filled with battling qualities that we adore but the opportunities he needs are just right now hard to find. His ambition? Speaking to Rob Lancaster of Bleacher Report, he said, "every fighter wants to be a world champion—that is obviously one thing I'm looking to achieve in my career. But, as shown with the example of my daughter, you never know what will happen. You can have a setback. Fingers crossed, I can get to the top. You just never know what comes tomorrow."
Given where we are just now, as well as being a boxing prospect, Ekundayo is clearly a prophet!
Contact the Feature Writers