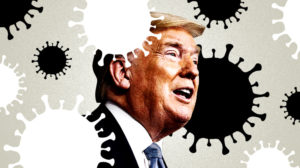 By Maya J. Carter
One of the most important topics covered during the Vice Presidential debates was the coronavirus epidemic. Not enough time was spent on this topic, which was probably favorable for the current administration given that they are currently responsible for the largest COVID-19 superspreader event Washington, DC and the surrounding communities have seen in months. Despite the orange monstrosity claiming that Regeneron is a cure for COVID-19, no cure exists to this day for the pandemic that has affected the lives of 7.5 million Americans and the cause of the deaths of 213,000+ American citizens. The past week alone has seen an average of 47,000+ cases per day, an increase of 12% from the average number of cases seen compared to the average two weeks ago. More devastatingly, over 36.7 million people worldwide have been affected by the virus, and there have been over 1 million deaths. The world has been awaiting for a vaccine to provide immunity and lessen the spread of this deadly disease.
The moderator of the Vice Presidential debate, Susan Page, asked the Democratic candidate Senator Kamala Harris whether she would take the coronavirus vaccine if the Trump administration approved one. Harris's reply: "If Dr. Fauci, if the doctors tell us that we should take it, I'll be the first in line to take it. Absolutely. But if Donald Trump tells us to take it, I'm not taking it." The Republican candidate incumbent Vice President Mike Pence retorted: "The fact that you continue to undermine public confidence in a vaccine, if the vaccine emerges during the Trump administration is unconscionable. Stop playing politics with people's lives." He is ever the lickspittle for his Dear Leader who said "Don't be afraid of Covid. Don't let it dominate your life," callously ignoring the fact that those who have succumbed to coronavirus are unable to heed such advice.
During his "Remarks by President Trump on Vaccine Development" conference held on May 15, 2020: Today I want to update you on the next stage of this momentous medical initiative. It's called Operation Warp Speed. That means big and it means fast. A massive scientific, industrial, and logistical endeavor unlike anything our country has seen since the Manhattan Project. You really could say that nobody has seen anything like we're doing, whether it's ventilators or testing. Nobody has seen anything like we're doing now, within our country, since the Second World War. Incredible….Through Operation Warp Speed, the federal government is providing unprecedented support and resources to safely expedite the trials, moving on at record, record, record speed….Typically, pharmaceutical companies wait to manufacture a vaccine — a vaccine until it has received all of the regulatory approvals necessary, and this can delay vaccines' availability to the public as much as a year and even more than that. However, our task is so urgent that, under Operation Warp Speed, the federal government will invest in manufacturing all of the top vaccine candidates before they're approved. So we're knowing exactly what we're doing before they're approved. That means they better come up with a good vaccine because we're ready to deliver it." Since his remarks, he has continued to apply pressure on FDA officials and the CDC to speed up the approval process for vaccine development in order to keep one of his promises for the coronavirus pandemic, not because of the need to help the public, but to give him a boost in his failing political campaign.
On a side note, we should take a look at the orange monstrosity's recent statements which have [absolutely no] political connotations with regards to the vaccine. "New FDA Rules make it more difficult for them to speed up vaccines for approval before Election Day. Just another political hit job! @SteveFDA" (October 6, 2020) However, according to NPR, "Moncef Slaoui, chief adviser to the Trump administration's Operation Warp Speed program, has sketched out the timetable for when he thinks a COVID-19 vaccine could be ready, at least for some people living in the United States. And Election Day doesn't figure into his forecast."
The steps required for the approval of a safe and effective vaccine include an exploratory phase (usually takes 2 to 5 years), pre-clinical phase (usually takes 1 to 2 years), clinical development (usually takes 1 to 2 years), regulatory review and approval, manufacturing, and quality control. The clinical development phase consists of 3 phases: Phase I involves 20 to 100 healthy volunteers and proves to demonstrate whether a vaccine is safe, seems to work, has serious side effects, and determines a safe dosage as it relates to side effects, and usually takes 1 to 2 years; Phase II involves several hundred volunteers with the goal of determining the most common short-term side effects and how the volunteers immune systems respond to the vaccine, and usually takes 2 to 3 years; Phase III involves hundreds to thousands of volunteers and determine how people who receive the vaccine compare to those who do not, vaccine safety, vaccine efficacy, and the most common side effects, and usually takes 2 to 4 years. FDA licensure is only granted when a vaccine is proven to be safe and effective and the benefits outweigh the risks. After a vaccine receives FDA approval it must be made into lots by manufacturers who must test the lots for safety, purity and potency and reviewed by the FDA. In total, it usually takes 10 years to develop a safe and effective vaccine. The worldwide rush to develop a safe and effective vaccine within one year is due to the need to save millions of lives due to the unprecedented COVID-19 pandemic.
As per the FDA, "The SARS-CoV-2 pandemic presents an extraordinary challenge to global health. There are currently no FDA-licensed vaccines to prevent COVID-19. Commercial vaccine manufacturers and other entities are developing COVID-19 vaccine candidates using different technologies including RNA, DNA, protein, and viral vectored vaccines." Companies included in the race for a vaccine include Moderna, Pfizer, AstraZeneca/University of Oxford, Johnson & Johnson, Novavax, and Sanofi/GlaxoSmithKline, all competing yet months away from the production and distribution of a safe vaccine after obtaining FDA approval. The orange monstrosity is attempting to speed up the timeline by applying pressure on vaccine manufacturers, and this added pressure is essentially disregarding protocols in place to guarantee the safety of the billions of American and global citizens who will likely receive the vaccine.
Luckily, there are still medical and scientific associations and groups that are pushing back against the political pressure. According to the American Medical Association, "Extensive checks and balances that include independent data analysis and a host of advisory groups staffed with career scientists will likely shield the Food and Drug Administration (FDA) coronavirus vaccine approval process from political pressure, according to Anthony S. Fauci, MD, director of the National Institute of Allergy and Infectious Diseases and a member of the White House coronavirus task force." With regard to the FDA's independence from political pressure, Dr. Fauci states, "The big elephant in the room is: will somebody try to make a political end-run to interfere with the process? …So, if you look at the standard process for how these things work … it is really unlikely that this is going to happen. Each of these vaccines has a data- and safety-monitoring board that is not beholden to the administration … They are the ones that get the data."
In bold letters on the FDA website reads the following statement:
"We are committed to expediting the development of COVID-19 vaccines, but not at the expense of sound science and decision making. We will not jeopardize the public's trust in our science-based, independent review of these or any vaccines. There's too much at stake."
Stephen M. Hahn, M.D., FDA Commissioner, and Peter Marks, M.D., Ph.D., Director, Center for Biologics Evaluation and Research
The orange monstrosity claimed that the White House can override the FDA if the agency continues to promote tougher standards for the licensure of a COVID-19 vaccine, and has pushed back on FDA guidelines from the Center for Biologics Evaluation and Research's (CERB's) Office of Vaccines Research and Review (OVRR), particularly through Emergency Use Authorization. The Emergency Use Authorization "tougher standards" by the FDA include review of standards addressing regulatory; chemistry, manufacturing and controls; and safety and effectiveness information. These are in place to prevent serious adverse events in the general populous receiving a vaccine.
Another consideration is the COVID-19 Vaccine Global Access Facility, known as COVAX, is headed both by the World Health Organization and Gavi, an alliance promoting access to vaccines. Even more embarrassing to the United States, due mostly to the infantile pettiness of the orange monstrosity, "The Trump administration has refused to take part in COVAX, partly because the effort is co-led by WHO, which the White House describes as 'corrupt' and has accused of initially aiding China in covering up the scope of the pandemic" according to NPR. "Bruce Aylward, senior adviser to WHO Director-General Tedros Adhanom Ghebreyesus, said the more participants in COVAX, the better. 'The more countries that participate, the greater the opportunity of being able to roll out vaccines as rapidly and as fairly as possible,' Aylward told a news conference Friday when asked how China's involvement might change things." So, not only has Dear Leader Trump alienated the United States from the global stage which is leading the charge in the development of a COVID-19 vaccine, he has likely increased the timeline by which a vaccine will be developed for the country by isolating US scientists from the global scientific community.
The question during the Vice Presidential debate should have been, "if the Trump administration approved a COVID-19 vaccine before the election, would you trust it
Contact the Feature Writers