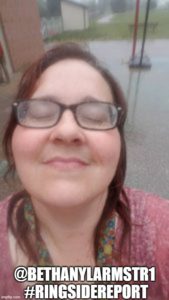 By Bethany "BST2" Armstrong
I am a traveling special education teacher. I have taught primarily in the mid-west. I have taught in urban, suburban, and rural districts. I have taught grades kindergarten through 8th. The journey so far has been perilous, but I learn more about how to navigate it every day. This is my special education.
I understand human behavior; I have compassion for those whose only tools are anger and rage. I make it my mission to be an ally to my fellow teachers, to give as much of my light as possible, to equip them with the tools they need to be successful in a hellish career path.
No one listens when I tell them I am a behaviorist. I know exactly what they are doing and why. I know how to rearrange the environment to change their behavior. It's not magic or hypnotism or witchcraft like some believe, it's simply psychology. I use what I know to build people up, to show them how much I appreciate the beauty behind their behavior. I do not use these tools I have against people unless… unless….
Once they have hurt me to a degree that is intolerable, and I can take a lot of pain, they have made a very potent compassionate enemy indeed. That is called natural consequences in behaviorist terms.
There have been two major lessons that are repeated in every school I have worked at. I have learned that kids are kids no matter the age or environment or level of need. I have learned, the hard way, that some adults just cannot be trusted. To protect the dignity of this so called "man", this contemptable untrustable, I'll use the initials MM.
When I enter a new school, my objective is to build relationships as quickly as possible. I do this by drawing attention to the amazing things people, both students and staff, are doing. I never lie or deceive. I just look deep into them and acknowledge the beauty of their soul. It is such a rare thing to have somebody see your soul and gasp in awe of you. I do it frequently, for many people.
My brain latches on to their radiance and magnifies it for them to see. When they see themselves for who they really are and for just how much potential they have, their brain focuses on it, craves it, pushes them to be more of who they are. I'm essentially a Dopamine dealer. Brains and behavior are delightful.
It has its downsides. Most think I am deceptive because they have not yet acknowledged their own beauty. Some wonder what my angle is; I don't even know most of the time, it's pretty intuitive and probably trauma related. I do not have much control over who I see and how I see them. The control is in their hands. What they let me see, who they really are deep deep down, that is all in their control.
MM showed me some very interesting things on day one. As I ticked red flags off on my mental list, I made him aware that I am a behaviorist and that my training does not only apply to children. He continued to tick things off in my head, but I persevered. I acknowledged how well he managed the digital classroom, I offered assistance. MM brushed me off. Noted.
Moving along, I continued to offer support and take note of aberrant behaviors. I learned very young that the way people behave is directly linked to my safety. I was certain that MM was not safe, but I couldn't quite finger how he was a danger, a threat.
I can tell you what I noticed from his clothing choices, his posture, his tone, his music… but it is so much data, so I'll just share my conclusions. Mama's boy recently rejected by mother (or mother died), no father in picture (or negligent father), came from affluence but recently lost status, deeply misogynistic (love/hate relationship with mother), no confidence in ability, passive aggressive, wants to be tough but is very soft, dislikes and is jealous of children in general (middle schoolers in particular), likely oppositional defiance disorder, likely food addiction, likely substance abuse, bullied in school (definitely middle school), victim of racism and homophobia, and being a little bitch boy who's scared of anything with a vagina. None of the above is unsurmountable. I have guided far worse trauma into healing. But then…
My classroom (if you can call it that) is essentially a modified closet located in MM's classroom. I have to go through his room to exit and work with my students. I have a lot of students so I'm in and out all throughout the day. MM began trying to lock me out, but alas, I have a key. MM put up a nasty sign on the door and locked me out, but alas, I give no fucks. MM started exaggeratedly sighing and groaning when I came in and came out of the classroom. Uh oh. That is a tipping point. The behavior accelerated too rapidly which means an outburst is imminent.
My ex-husband was super abusive, I know all the signs that a man is about to blow a gasket. I started putting safety plans in place. I notified other male teachers that I was afraid (to counter MM's misogyny and my own. I did not trust a woman to safely resolve the issue). I went to my teacher leader who suggested I document it and tell our principal. I expressed worry over sending in a female and he scoffed. She has a reputation as a badass. I emailed her as the behaviors continued to escalate. I sent a text to my fiancé that I was going to get this mother fucker fired and to be prepared for lash back. But even an expert in behavior is caught off guard on occasion. I was not ready for the rapidity of MM's behavioral escalation.
I am grateful every single day for the training I received from the Crisis Prevention Institute and I will go on record as saying it has saved my life multiple times. This day was one of those times.
I walked on eggshells out of my class when he rose and moved towards me. I took in his stance, the tilt of his head, the vibrations in his muscles as he geared into a fight response. Questioning the why behind his aggression became secondary as I moved into my own stance, supportive and non-threatening. He started yelling. I can't remember much of what was said but I know "disrespectful" and "unprofessional" and "get out of my class before my students get online" were hollered.
I don't remember much of my response either. I recall saying "I need to be able to access my students. How can I make that happen while respecting your boundaries?" I recall having a calm and even tone. I remember thinking "I have to keep control of myself… he has no control."
There was more yelling on his end and he moved closer to me. We were both shaking by this point, him with the desire to cause me bodily harm and me with the desire to be anywhere else but in that moment. Fight and Flight trauma responses dueling between us.
I waved my white flag as hard as I could, and I left him with the kindest of ultimatums. "if we can't resolve this without raised voices, I will take it to *redacted* (principal) and *redacted* (special education administration)." He let out a defiant "YEAH. Let's!" He clearly believed that what he was doing was right, so I added potential narcissist to my mental list of his disorders and left the room.
I left the room calmly and with dignity only to nearly collapse under the weight of my fear and flashbacks. Somehow, I ended up crying in my principal's office, sputtering out my story, my fear, beseeching her to not be ashamed of my weakened state, trying to reassure her that I was strong enough to deal. I wasn't.
I could not work up the nerve that day to return to MY CLASSROOM, MY OFFICE. I let him have that victory and it tastes sour in my throat even now. I had to face him in a meeting the next day and listen to him try to throw me under the bus. I calmly countered every single thing he said. He kept making himself look worse.
The Truth will Come Out.
After our meeting, MM's late arrivals to class became call-ins due to illness – distance to balm his self-inflicted wounds. When he returned to work, he sat with his students around one table with no masks (tsk tsk tsk that's against the school's covid policy)! I reported the incident because it was a severe safety issue. Anyone else I would have approached like an adult, but MM is no adult.
When the principal arrived to investigate, I was in my closet classroom. She saw first hand the lack of safety. She also saw they were watching The Smurfs rather than doing math. The kids were sent to a different classroom and she put the fear of God and womanhood into MM.
After she exited, I gave him a few minutes to pull it together and then I had to go get more students to work with. His head was down on his desk, his shoulders were shaking. I stood outside my classroom and waited for him to feel my eyes on him. He slowly looked up, tears streaming. I let our gaze meet and lock, let him slide into the empty places that live in me before I turned away to attend to my students. I wanted him to know: You could have had an ally, now you have only enemies.
No one listens when I tell them I'm a behaviorist.
Contact the Feature Writers