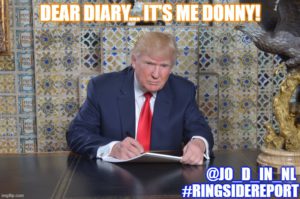 By Jo-Ann "Jo D NL" Duke
The diary scribblings of T4: Temper Tantrum Toddler Trump
Dear Diary,
Hey, big guy, it's me again, Donny. Oh my God, it was so bad tonight, that awful girl Sandy or Sara, well, whatever her name was; she was so completely mean to me tonight at that stupid Town Hall thing.
This was supposed to be good and easy, a chance for me to get more people to want to vote for me. Yeah right, as if, after how she acted with me, she kept asking me questions, over and over again, just like that nasty guy from a couple of months ago, do you remember?
Well, anyway, she kept asking questions that I did not want to answer or really couldn't; cause if I did, then a lot of my followers would turn against me, and not vote for me next month.
She wanted me to denounce white supremacy, just like that guy Chris did at the stupid debate thing with Sleepy Joe. Then she wanted me to say that Q-Anon was a bunch of people with really weird and untrue ideas.
I just can't; even if I don't like them or really believe what they think, they are so behind me that I can't afford to offend them, and have them stop supporting and voting for me.
Doesn't that woman, nasty she was, oh so nasty; doesn't she understand that I can not do that; not if I want to win this stupid election, and keep being the president. I need all the votes I can get, so how can I just reject two such large groups of followers who are loyal to me right now.
Come on, you know, that they would turn against me on a dime if i started saying that they are horrible or crazy, just as an example of something all those nasty fake news people are wanting me to say.
They don't understand how much I need such strong supporters going into the big vote on November 3; and that they may actually be the ones who will swing things my way, and give me the win.
Honestly, though, the truth is that like I said to Sammy, well, you know who I mean, how do we really know that everything they are saying is so wrong; or that those groups are really white supremacists, right? Why should we ban those groups for expressing what they think and feel, isn't that the wrong thing to do? I'm sure that some of them must be right about some things, and a lot of people believe them, so it can't all be bad.
Anyway, they really like me, and that's the most important thing. They are willing to do anything for me, especially to keep me as president, so they must be good people, right? After all, I am such a good judge of people, I mean, just look at all the amazing friends I have made over all these years.
Well, bud, gotta go now, I have to be there when the borons are planning my rallies because I have to make sure they are as good as my other ones, getting all my supporters hyped and ready for voting day.
Bye for now, lots of love, and talk to you later.
Donny
Contact the Feature Writers