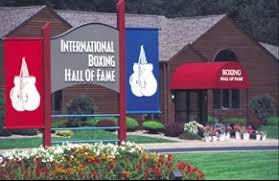 The International Boxing Hall of Fame was hit with a devastating punch in the form of the overwhelming economic impact of the COVID-19 pandemic and recently released a letter of appeal to the boxing community and friends and supporters of the Hall from around the world to consider making a donation during the most challenging time in the Museum's 31-year history.
The Hall of Fame Museum was closed to the public from mid-March until early July and is currently open under limited capacity in accordance with COVID-19 safety protocols. With Museum visitor traffic projected to continue being drastically reduced for the foreseeable future and on-site fundraising events limited, we are asking supporters to kindly consider making a donation to the IBHOF. With your support, we know that the IBHOF will be able to keep swinging strong and win this fight.
To view the letter and learn how you can support the Hall of Fame, click the link below:
"COVID-19 has affected everyone around the world," said Hall of Fame Executive Director Edward Brophy. "The Hall of Fame is asking for support to keep the magic alive in 'Boxing's Hometown' of Canastota, NY and much needed contributions will allow the Hall of Fame to maintain its mission to honor and preserve boxing's rich history."
Donations can be made via check or money order made payable to International Boxing Hall of Fame, phone order with a charge card (V/MC/DISCOVER/AMEX) or via PayPal on the Hall of Fame's official website www.ibhof.com
A not-for-profit organization, the International Boxing Hall of Fame opened to the public in 1989 in Canastota, New York and is located at Exit 34 of the New York State Thruway. Hours of operation are Monday-Friday 9 a.m. to 5 p.m. and Saturday 10 a.m. to 4 p.m. The Hall is closed on Sundays.
For more information please call (315) 697-7095, visit online at www.ibhof.com, on Facebook, Twitter and Instagram .