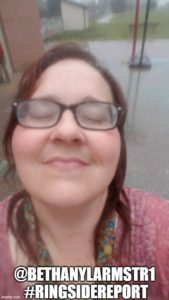 By Bethany "BST2" Armstrong
My hands were around Karen's throat and I looked into her eyes…. I saw red. Both of us enraged and swollen with a flood of mutual loathing, I finally felt I had a chance to end this, to end her.
I learned long ago to hide my inner struggles with my demons, to appear as if everything were normal. My sweet son Scottaboi climbed into my little red car, affectionately named Ole Leroy Jenkins, and we started driving, my hand still around Karen's throat I wanted to complete the kill, to stop the incessant voice in my head telling me I'm bad once and for all.
I left my phone in the car and went inside of Penguin Point to wait for fresh chicken. I unknowingly missed a vital call due to my desperate desire to disconnect from my cell phone addiction.
We loaded chicken and mashed potatoes and French fries and green beans into Ole Leroy. I buckled my seat belt and I noticed my phone had a voicemail notification. I hate voicemails. I hate phone calls. I want human connection as much as I fear the inevitable rejection that comes with it. But this voicemail was different. This was from the sister of my soul, my sweet Stacy.
Though Stacy and I were separated by miles and DNA, we instantly recognized each other when we reunited. We could be twins;, our wounds, and our trauma mirror so closely. The first time we chatted, it felt like when I met my Russell, an instant knowing of safety and love, like souls melding and merging via words. I did not feel worthy when Russell found me, I felt even less deserving of the serendipity of finding my soul sister.
I had always wanted a sister, an ally, a BFF. I have never had a sister, not really. I had two darling daughters that were supposed to be my sisters and I would not change that for the world… but… the idea of a sister. Someone to share secrets and giggles. Someone whose wounds I could bandage but also someone who I could trust to triage mine. Someone to hide with me under the blankies when the monsters came in the night. My soul ached for the sister born to another family.
Stacy's voice shook in the voicemail. I immediately went into warrior mode. Who hurt you?? Who do I need to murder?? No one hurts my sweet sister Stacy. When I realized she was hurting for me, for my pain. She was experiencing empathy so deep she could not bear it a minute longer and she had to love me.
Wow… just wow. Who woulda thunk I could be loved so fiercely? I was certain I would exhaust my Russell's love eventually. Surely her love is finite as mother's?
She begged me not to kill Karen. She told me the story of her inner child and how she lashed out her pain in horrible inner words. She urged me to love Karen and not kill her. To teach her how to behave.
And immediately it clicked. I teach children with behavior disorders. They say horrible things to me and the only hurt I ever feel is for them, for the immensity of their pain. I give them a safe space to unload that pain, I give them infinite love.
I read somewhere that to be an excellent teacher, you must be the teacher you needed when you were younger. I am the teacher I needed. Quirky & Compassionate.
What would I do if one of my students was behaving this way? The answer is always love. Love them harder, love them gentler, love them sillier, love them the way they need love. And so it began, the rescue of Ren.
When Stacy speaks, I listen. She told me to love my inner child and so I did. I played with my sweet Sophia, with Ren in tow. Soph did not know. She just knew I was willing to color and picnic and tea party and watch cartoons with total engagement rather than half-listening to the ghost voice of mother. Ren had a blast but she was still Karen to me.
A couple weeks later, on the long commute home from work, with my Scottaboi as my co-pilot, I navigated Chicago, dodging in and out of traffic. We were listening to Last Podcast on the Left talk about Rasputin when mother's voice popped up. "You're a bad driver. You're going to kill your son. Russ said you shouldn't drive in Chicago. He knows you're bad…"
In my head I said "Whoooaa Karen… calm your titties and help me focus or shuddup." And then I heard, loudly & boldly, "I'm NOT KAREN!!!!" and then in a much smaller voice "I'm Ren."
Nothing pisses off a child with trauma as much as getting their name wrong… It is one thing that they OWN when they have no privacy or safety or love, they have a name. No wonder she was upset. I apologized…. and from that day forward, Karen has been no more. I finally defeated her, just not in the way I thought I was supposed to.
Ren is one of mine now., Like my emotionally impaired students she is hurt, traumatized, and angry, oh so angry, but still worthy of love and compassion. I will love her, my fragment, my past self, my inner child… until she heals enough to love herself and let go of ancient history. Unlike my plans for Karen, I will make Ren's tale a happy ending.
Contact the Feature Writers