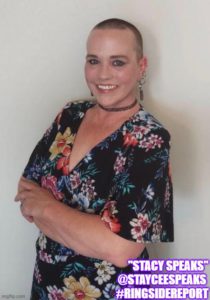 Hosted By Stacy Koruba
Hi Stac,
As an overweight person, I have personally witnessed & been subjected to fat-shaming & outright discrimination in society & the job market. Why is this still acceptable? What can we do to communicate how unacceptable this kind of discrimination is?
Lynne, Warrenton MO
Dear Lynne,
As a person that has eating disorders and has struggled with weight issues from the age of ten, I can tell you that I have personally witnessed and been subjected to fat-shaming and discrimination myself. Many times, I was my worst critic. I believe it is still acceptable because the bullies are uneducated and believe that being overweight is simply caused from overeating and being lazy. The truth of the matter is there are far more many reasons, including genetics, hormones, medical issues and mental health issues. It is a vicious cycle because fat shaming can cause a person to feel terrible about themselves, lower their self-esteem and cause them to seek comfort in food. I believe things are not going to change until society is made aware of all the reasons behind why a person can be overweight to begin with. Doctor's need to be educated in how they talk to their patients, many times fat shaming takes place in their office, with the only advice given being "lose weight".
Bullying in any form is not acceptable, and when it is done to us or we see it happening to someone else we need to speak up. We need to speak about all the reasons why a person may be overweight, including the fact that perhaps they are comfortable with themselves. Developing a positive body image can help as well. Be proud of yourself regardless of the number on the scale, and love who you are. Let the world see that and do not allow them to intimidate you. When something is said directly to you be prepared to have an intelligent response that they can not debate.
Dear Stacy,
I was with my ex-boyfriend for 4 years. I recently started dating someone new 6 months ago. He resembles Aaron, my ex, a lot. Now, when we are having sex, I find myself drifting to thoughts of times that me and Aaron were intimate. I have even slipped several times and called him Aaron when we are in the middle of sex! I feel so bad and don't know what to do! I really like the new guy, Josh! What do you think?
Kelsey, Sioux City IA
Kelsey,
It sounds like you still have feelings for Aaron. You started dating someone that looks like him. Perhaps that is just the look that you are attracted too, but if you are calling out his name during sex with Josh there might be some unresolved feelings for your ex. I can understand you having them and do not think you are wrong. 4 years is a long time to spend with someone, and love does not go away just because a relationship ends. It takes time and personal growth. I think taking a step back from Josh could be the best thing for the both of you right now, until you can sort out your feelings. I know you said you like him a lot, and I am sure he feels the same about you. I just do not think he would like to know that you are not present while you are in bed with him, and that Aaron is coming into your mind to join in.
Stacy,
I've been married to my husband for 26 years. He is the bread winner in the family, I worked the entire time our son was little but have made about 25 percent less than Scott does. Since getting married he has always overseen our finances. He pays the bills and takes care of the finances and bank accounts. I have never had access to any of this information. My checks are deposited directly into the account and that is the last I see of it. We are both frugal, and I can buy something but always discuss it with him first. I know we have money invested and 401Ks. At 64 I have zero idea of our net worth. In the past if I have asked about it, he says that he has told our son where to find all the information if he were to pass away first, and that we are "comfortable". Well, I am at the point where I am not comfortable with this arrangement.
Lori, Baltimore, MD
Lori,
Things must change for you. Put your foot down and do it immediately. Scott is not in charge of you just because he has been handling the finances all this time. Do not ask him questions, demand to see the information. This is not something you should be in the dark about. Knowing what is in the future for you financially should not be a secret. At this point you do not know when you can retire, if there is money set aside to care for you if he were to pass away or even in case of an emergency. Open communication is important and the fact that he has shared this information with your son and not you is unacceptable. Speak up for yourself, you have been earning right along with him. You matter as much as he does.
Hello, Stacy,
I started college last month and made a group of friends fast. We hung out together along with my roomie several times. Last night they all went out and didn't ask us! I'm freaking out! Do you think they hate me know? Making friends in college is rough, do you think I should make a new friend group? I'm freaking out and sad!
Asia,Eugene, OR
Asia,
I think you are getting upset over something that could be very innocent. They could have gone somewhere in a car and there was not room for 2 more people, or maybe someone invited them out and did not extend the invite to you and your roommate. Perhaps they are not fond of your roommate? Without asking them you will have no idea. Friends do not always do things together and asking this early in the relationship may make you seem clingy. Enjoy the time you are spending with them, and finding more friends is never a bad thing, leaving old ones behind because they did something you did not like without knowing the reason why is not wise. Remember, college is new to all of them as well.
Stacy,
I hate to even say this out loud, but you cannot judge me because you don't know me so here it goes! I feel like sometimes I am going to lose my mind due to covid and all the life changes. Working from home has become the norm for myself, my husband and my adult son. Online schooling is taking place for a teen and a kid in 6th grade. I NEVER get a moment alone and I feel like the damn entertainment committee. I feel ashamed admitting this, but I'm now a professional at work from 8-5, a teachers aid, a house keeper at night because the house gets dirtier with more people home and everyone expects since I am here and I am Mom that I will get them breakfast and lunch as well. They get bored during the day, so my office is the place for them to come and complain or hangout. I LOVE my family, I REALLY do. I just feel like I don't even know myself anymore and I want to run away for a night and stay at a hotel!
Madonna, Albuquerque, NM
Madonna,
Everyone in your household is old enough to fix their own breakfast and lunch. There are 4 others in the house that can even chip in and do dinners sometimes. They all should be cleaning up after themselves as well, unless you are also the maid, in that case, they can pay you. Setting boundaries was one of the most difficult things I have never had to learn to do, and I just started doing it last year. You need to take care of you before you can take care of anyone else. It is natural for everyone to want and need Mom to comfort them and take care of their needs because you are home. You must tell them to pretend like you are at work. Your office hours are 8-5. Keep your office door shut during that time. Take breaks when you want to and join them then. If they need to reach you then can text or leave a voice mail. Set aside some alone time for yourself as well, or time for you and your husband. Do things you used to enjoy doing. This is not only healthy for you, but for your kids as well. They should be doing things on their own as well, and then you can have nights where you do things as a family, game nights or cooking a meal together or going for a walk together.
Contact the Feature Writers