[AdSense-A]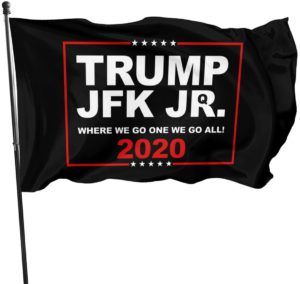 By Nikki Slusher
This past weekend marked a devastating blow to QAnon conspiracy theorists living in their mom's basements across the nation. Saturday, October 17, 2020, has been a significant part of the JFK, JR. portion of QAnon believers. For those unfamiliar, it is the date that President Donald Trump would hold a re-election rally on Dallas where John F. Kennedy, JR. was supposed to be announced as VP Mike Pence's replacement and become Trump's running mate. After he resurrected himself to join forces with, out of everyone in the world he could chose, Donald Trump, the QAnon Messiah would then step into the role of President and fulfill the prophecy of him destroying the satanic cabal of pedophiles running the government.
When no sign of JFK, JR. did not come back to life Saturday, QAnon believers were quick to blame the Deep State and fake news media for getting it wrong. Afterall, JFK, JR. will rise again and defeat those plotting against Donald Trump, it just isn't today. Considering they postponed the savior's revival multiple times before we are currently waiting for "Q" to inform us on the 2021 date. I will keep you all posted on the correct date once announced.
Also, it's even more curious that most far-right conspiracies involve some focus on pedophilia. Sex rings out of non-existent basements of pizza shops, specifically accusing top Democrats and liberals of awful child-abuse; these types of stories that were considered preposterous until the Trump-era of Washington. This same group has already been labeled by the FBI as a potential domestic threat, but Donald Trump could not disavow them to Savannah Guthrie during his town hall in Miami last week. Of course, the chances are that because QAnon depicts Trump as a hero protecting us from the real villains – aka satanic Democrats – so these are the exact 'very fine people' he has always been referring to.
When one unhinged door closes, another one bursts open with another has-been celebrity declaring their allegiance to Trump this upcoming presidential election. Kirstie Alley, notorious for being relevant 15 minutes every decade since the 1970s, made her 2020 debut and finale when she tweeted her reason for voting for Trump a second time.
"I'm voting for @realDonaldTrump because he's NOT a politician. I voted for him 4 years ago for this reason and shall vote for him again for this reason. He gets things done quickly and he will turn the economy around quickly. There you have it folks there you have it," Alley tweeted Saturday night. I don't know about everyone else, but I'm sure as hell sick of receiving political advice from failed spokespeople, businessmen, and criminals.
Not a complete surprise to see Alley back onboard the MAGA train. Alley is quite familiar to cult-like beliefs as she is an active member in the Church of Scientology since 1979. It is unknown what economy or universe Alley lives in, but experts have stated the US will take time to recover economically, politically, and socially because of Donald Trump and his administration. It's astonishing that a man who has potentially over $1 billion in debt to multiple entities has actually convinced people he is the key to saving the economy. Also, filing bankruptcy six times previously doesn't exactly scream "huuuuuuge genius" to me either.
The president isn't one to care much about fiscal policy anyways. In a time where the pandemic shows no end in sight and the economy still reeling from major rises in unemployment and business closures, the president is obviously focused on more pressing issues. At his latest super-spreader rally in Michigan on Saturday, Trump continued to encourage the crowd as they chanted 'lock her up' about Governor Gretchen Whitmer. Earlier this month, Gov. Whitmer was the target of a kidnapping plot by far-right domestic terrorists who were going to liberate Michigan by kidnapping and taking government officials hostage. The FBI released video footage taken after the arrest of seven individuals last week showed the men practicing their plan. The men can be seen carrying assault-style firearms while decked in head-to-toe Amazon military gear. A PT Cruiser was identified as the terrorist's choice for their getaway vehicles. It is believed the group selected the Cruisers for its comfort and excellent gas mileage. It was also the only one their moms would let them borrow until curfew.
And although while Trump continues to push his base's bizarre conspiracy theories –- from QAnon's satanic pedophiles to Hillary and Hunter's "emails" — one threat becomes closer to a reality every day. The president has continuously stated in recent weeks that if he loses to former VP Joe Biden, who he said is "the worst political candidate in American history," then he may have to flee the country. Currently, he has promised states like Minnesota, Iowa, and Michigan, that if he loses the vote there that he will never visit again. We can only hope that all of us can be as lucky and never see or here from him again next month.
We are close to what is hopefully the last two weeks of a nightmare that went on four years too long. A Biden presidency will definitely be the start to the end of the conspiracy theory presidency we've endured throughout the Trump-era. But just to be petty, I am also looking forward to a new age of conspiracy theories whose time to shine is coming, including my own. "NAnon" involves a Florida man with over $1 billion in debt who fled the country when faced with charges for fraud, abuse of office, aiding a foreign entity, etc. after losing his presidential re-election bigger than anyone had ever seen before.
Contact the Feature Writers