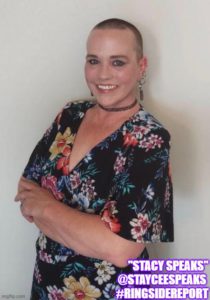 Hosted By Stacy Koruba
Hello Stacy,
I am in desperate need of some advice. While putting away my daughter's laundry I discovered an adult toy in her armoire. We have raised Abby to be a nice girl, and I would not have believed in a million years that this would happen. She is 19 and now has ruined herself for her future husband. Obviously, I have not shared this disappointing news with her Father, as it will break his heart. How do I get her to change her ways and respect her body?
Sincerely,
Suzanne, Athens, GA
Hi, Suzanne,
You are in desperate need of help, Abby is a grown woman that should be doing her own laundry and who should have privacy to own what she wants and do as she chooses with her own body. The only thing that has been ruined here is your acceptance of who your daughter is, as a human being. You are more concerned over a "future" husband than the needs and desires of your own child? Sexual desires are influenced by androgens and estrogens in women, along with other hormones. This is all normal and a natural part of being a human being. Just because it goes against YOUR beliefs does not mean it is what Abby has decided to do with HER body. Sharing personal information about her sex life with her Dad is unacceptable, because as I mentioned before, it is her body. Your behavior in the situation is what is disappointing and if she knew that you sought advice from a stranger it would break her heart. The real question you need to ask yourself is how you get yourself to change your ways and respect your daughter, and her body.
Dear Stacy,
My boyfriend and I have been together for two years and I am realizing that we do not share any of the same interests. I will do things that he likes but anything I am interested in he seems to hate and lets me know he thinks it is boring, stupid or childish. Most of the time we hang out we just stay at home, hanging in my room and watching a movie, that he picks out. I am 18 and I want to try new things or would like to do the things I once loved. How do I get him to join me?
Thanks!
Mandi Peoria, IL
Hi Mandi,
When people are in a relationship they should compromise, otherwise it is not going to work out. Your boyfriend cannot expect you to participate in all the activities that he enjoys and then refuse to do anything you like. On top of that, by calling you hobbies boring, stupid or childish he is putting you down. You are 18 and now is the time that you should be enjoying life, not hanging out in your room all the time watching movies. Try new things, with or without him. Time goes on, with or without us participating. Do what you want now before you regret it later. You cannot force anyone to do something they have no interest in doing. You can let him know if he has an interest in you, he will do things that you love simply because he enjoys spending time with you.
Stacy,
Every time my Mom comes to my house, she manages to make me feel like a total piece of crap. I have cats and she hates animals. She will point out that the couches have hair on them or that the litter boxes are out in the open and company doesn't want to see them. She says very hateful things about how disgusting cats are and how they scare her. I dread having her visit, by the time she leaves I am in tears. What do I do?
Andi, Livonia, MI
Hi, Andi,
You can stop asking her to come to your house, that would stop all the stress that she makes you feel. I know that she is you Mom, and you love her, but her disrespecting your home is unacceptable. If she feels the need to be so outspoken, she can enjoy your company at her house. You can also create strict boundaries for yourself and your home. Let her know them in advance. You share your home with cats, it is their home too, if she does not like something about that situation you understand but she must keep her opinions to herself, because they are nasty and hurtful. Sometimes people are not used to others creating boundaries but once the are spoken they will be respected. If she can't find it in her heart to do so you have to find it in yours to be strong enough to protect and defend yourself from her abuse and not welcome her into your house any longer.
Dear Stacy,
About 3 years ago my brother asked me to hold onto $1500.00 for him, he was in the middle of a nasty divorce and wanted to try and save money for a rainy day. Years have gone by and the money hasn't been brought up again. I lost my job 4 months ago and began using some of that money here and there to pay bills or buy food. At first it was just a little, before I knew it, I had spent it all. I plan to pay it all back when I get back on my feet. Do I tell Joe I spent the money? I feel like a thief over this and it makes me sick whenever I think about it.
Doug, Duluth, MN
Hi, Doug,
I am sorry to hear that you lost your job and are struggling. It has been a tough time for many people this year. I do not know what sort of relationship you have with your brother, but if he trusted you to hold on to his money than I think he loves you. I believe you should have asked him up front if you could borrow it. I can also understand you taking a little, believing you would replace it and then having things spiral out of control. The best thing I think you could do is explain what happened and make an agreement to pay it back. Dealing with your actions up front is the honest thing to do and it ill take the guilt away and ease your mind. He may not like it, but he will appreciate you talking to him about it and hopefully the two of you can come to some sort of agreement on a payment plan. Good luck.
Stacy,
My coworker talks about everyone else we work with behind their back. She does it none stop, in emails and texts and even calls me after work to bitch about them. She's nice as can be to their face, acting like she's their best friend, getting them to trust her and then spreads the gossip on to me. I am sick of hearing about it and wonder who she talks to about me. I avoid the convos as much as possible with her, but then if she doesn't hear back from me, she gets all clingy and panicked, asking me if I'm not her "best friend" anymore. She holds a higher position than I do, and I am a little nervous that if I ignore her completely, she may stir the pot and try to get me fired. How can I get her to lay off?
Maggie, San Marcos, CA
Maggie,
People like her just like to hear themselves talk and they are not happy unless they are causing trouble for everyone around them. If you are afraid that she will help get you fired if you are not her "friend" then I suggest you just listen to what she has to say or you start over powering the conversation and make everything about you. She is not interested in hearing about you and will get bored with you quicky. When she starts to bad mouth someone else quickly change the subject to anything you did recently, real or made up. She will get tired of you and by the end of a few weeks someone else will become her new best friend. If she were sane I would tell you to have an adult conversation with her, but people that like to talk about everyone behind their back and cause chaos for others have something wrong mentally and are better off being left alone.
Contact the Feature Writers