Donald Trump's Friday Private Thoughts That He Doesn't Tweet
[AdSense-A]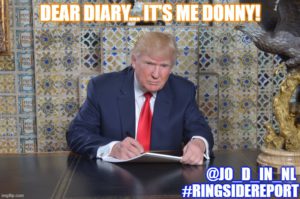 By Jo-Ann "Jo D NL" Duke
The diary scribblings of T4: Temper Tantrum Toddler Trump
Dear Diary,
Hey, big guy, it's me again, your buddy Donny. Tonight was the last debate between me and Sleepy Joe, and I totally owned that debate, and I know that people loved my answers to all the questions, and that they were just right for what the woman who was asking; they really were amazing.
I know that thanks to this that a lot more people are going to vote for me, because I showed them again what I have been like as president, by going over everything I have done since I was elected.
That's all I need to do, because you and I both know that all the people love me so much, and they hate the thought of having to see me leave in four years' time. Well, really, who can blame them.
After all, I am the best, nicest and greatest president the country has ever had. I mean, if I wasn't me, I would want to be around me all the time myself; but since I am me, I'm just that lucky; everyone just wishes they were me or could be with me.
Anyway, back to the debate, I was so good, and got all kinds of good hits on Sleepy Joe. I said enough that I know that the people who were watching are not going to want to vote for him, so it was a good night.
This showed the people who's the right choice in the big vote coming up, and I am so stoked, cause I know that this helped me get even more voters, not just my regular followers, and I so have this election thing in the bag.
I am definitely winning this, and I'm sure that I will be back in January getting my big ceremony and party again. For once, I'm really happy, cause everything went great and my way, you know.
I can't wait to see all the reports about the debate, because even the fake news people will have to admit just how good I was, and let's be honest, I was great, but you know how modest I am, so I was trying to be humble; but like that song, it's just so hard, especially for me.
Everything SJ tried to say to me, I was able to turn back at him, and got some good hits in at him. I also proved to people how not racist I am, not that I had to do that, because everyone knows that I am so kind and accepting towards all the different people, that I like everyone and would never be mean to them, especially not for their race, that's just so wrong.
Well, buddy, time to get back to the big old house, and get comfortable, after tonight, we don't have to worry about packing up after November 3, cause I am so winning this thing, and so we won't be going anywhere.
I can't believe that the people who are always talking at me were actually right about how to act, and it worked out so good for me. I am totally shocked but after this, I might actually listen to them a bit more often; well, maybe, I'll have to think about it, after all, I always know the best thing to do, and I always do what I feel is the right thing.
Bye for now, talk to you later, and love you.
Donny
[si-contact-form form='2′]