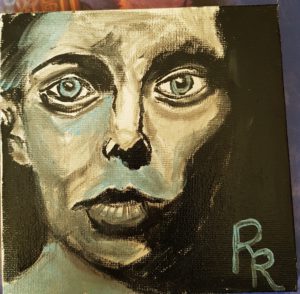 By Radical Rhymes
Wrestling. That's how I would describe my inner existence. It's a constant struggle against despair and self-destruction. And it's a battle fought across minutes not hours or days or longer. The mood swings can be literally instantaneous.
Following an upsurge of good feelings or even joy, the downswing can be immediate, violent, and you must just cling on and hope against hope that the light will reappear.
Success can be seismic or completely anticlimactic. A triumph will turn suddenly to ash. Sadly, when things are going well that, in itself, can prompt the anxiety, the anguish. Guilt. Feelings of unworthiness, all of it smashes into you like a locomotive. Or, the opponent, the wrestler.
Unlike wrestling, however, there are no clear rules, no referees, and certainly no cheering or baying audiences. You are on your own, even the ring is cast in a deep gloom and you cannot discern where the next attack will come from.
You feel alone, vulnerable, paranoid. The whole world is against you, so you clam up, refuse to let anyone in, doubt their good intentions. It's a scary and terrible place, the ring.
Sometimes, when the shadows are deepest, you do things, stupid things, self-destructive things, just to reassure yourself that you are still alive. The repercussions are often calamitous but, in that moment, you know that the bout is still on and that you are still breathing.
Meds! That's the answer. I get that a lot. It's just a chemical juggling act until you get the right cocktail. But that hasn't been my experience at all. Either they've made me physically sick, or, which is worse, they've hollowed me out, suppressed me so much that I cannot think or produce. The highs that feed my desire to create are squashed and all I have is the numbness. I may not feel the opponent's grip, but the flatness is total, it is a negation
And then there's the incomprehension all around you. The well-intentioned attempt to understand, the sympathy. The management of the wrestling team assure you of their backing and their support. But they don't really mean it, they can't. The understanding is momentary, the sympathy fleeting, because you have to keep on wrestling, entertaining the crowd lurking in the background.
And it isn't because they don't care, it doesn't stem from inhumanity, it's due to their need for you to be normal; for the struggle to be locked within working hours or bound to deadlines. The world just will not bend to meet the needs of every wrestler. Fight or die.
But the real fight is within, to haul yourself off the mat over and again, to wrench yourself out of the opponents arms just to make another round. And no matter how they try, no-one can really comprehend it, not unless they're engaged in their own battle.
For me, the contest is eternal, and, for now, I choose to keep wrestling…
Radical Rhymes is a professional artist working with a range of media – predominantly animal/human portraits and landscapes – including, most recently, hand painted furniture. You can see his work on Instagram Radicalrhymes1969 or on Twitter @RhymesRadical.
For commissions, please contact him on Twitter via Direct Message or by email at: radicalrhymes@outlook.com His work is also available to buy on Etsy
Contact the Feature Writers