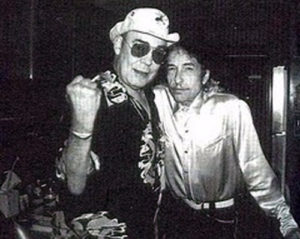 By Bethany "BST2" Armstrong
"Music has always been a matter of Energy to me, a question of Fuel. Sentimental people call it Inspiration, but what they really mean is Fuel. I have always needed Fuel. I am a serious consumer. On some nights I still believe that a car with the gas needle on empty can run about fifty more miles if you have the right music very loud on the radio." ― Hunter S. Thompson
Dr. Thompson was a self-proclaimed "music freak" who waxed poetic on the parallels between Bob Dylan and Ernest Hemingway. Hunter believed music was the New Literature, the voice of the people on record rather than print. I think he would have been Quite Smug if he had lived to see Dylan win the Nobel Prize in Literature in 2016.
As election day closes in, the bile of uncertainty rises as swiftly as my faith in humanity falls, music is the only thing keeping my spirits up. Some music provides peace, some nostalgia, some a deep bass rhythm that allows me to continue the monotony of the routine of living.
But some music… some… provides a level of solace unheard of in the twerk yo ass generation. Epic heroism, bravery, battles for a slice of hope, fighting against your own cowardice as well as the most difficult of enemies… the expectations of loved ones who just want to keep you safe, keep you down in the batshit bunkers with them.
TWRP (featuring Dan Avidan) has a song called Starlight Brigade that is all these things and more. It is my anthem, my story, my song. I play it before I have to do something difficult, like speak with my mother or move to a new state to provide a better life for my family. I listen to it when I lose faith in myself, my humanity, my ability to resist Trumpelstilskin and his Trumpeteer minions. In my darkest hours, like the night RBG passed, this story consistently pulls me into the light.
It's more than the lyrics that make this song literature… it's the way the music carries you through each arc of the story. It's Dan's beautiful voice, blessing you with dulcet tones. It's the animation of the music video, an entire anime series in a single 4-minute vid. Everything works together to convey that you are the hero of this epic tale.
But the lyrics man… "I'd gladly give my life…. for one night as a justice acolyte" "Halfway between the black and gray… is no place for a life to waste away… I'll take the road with all the stakes."
And the lines that make me think of my resister family: "Arrays of enemies await… but fears allay… we stand as one… a bond beyond the vast wave… until the last grave."
I'll leave you with the outro: "Black knights and dark side battle cries…. All die, once they're in my line of sight…. This fight, is all I know that's right…. No fate, but that of which we make…. Noble as the oath we undertake…. We are the great Starlight Brigade!" New Literature indeed.
Contact the Feature Writers