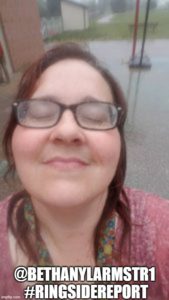 By Bethany "BST2" Armstrong
"These Kids Ain't Your Friends" I hear this phrase with disturbing regularity, I want to ask why they think that is the aim? Do I look desperately friendless? Do I appear to be a predator? Why do you care so much about teacher relationships with students when you don't care if these kids are scared to sleep at night or are juggling their 12 month old sibling during school hours while mom is at work and dad is dead?
How do you respectfully say "fuck you" to an inferior superior?
My aim is never to "make friends". I want to help. I want to listen. I want to hear. I want to make certain that they know that someone believes in them and sees their beauty. I want to put bridges in place for them to overcome their trauma and/or their disability.
Tonight, I went to 5 different stores looking for candy corn. Why? One of my students, a precious young man, mentioned in passing that he hadn't had candy corn in years. The boy was getting candy corn if I had to figure out how to make it myself. Thankfully, I didn't have to…. I only have a microwave to work with currently.
Tomorrow, when he tastes candy corn again, his face will light up. He will feel heard. He will know I care. He will not call me friend though. Mizz A or Ma'am the only things he calls me.
I do not provide friendship; I provide an ear. I am not their buddy; I am their champion. I am the ringmaster, the safety net, and the cheering crowd in the circus of education. I want nothing more than to see them soar. Friend is superfluous. Teacher is fundamental.
Contact the Feature Writers