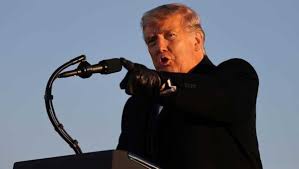 By Ron Signore
What are we doing? When did our country become passionate about the practice of voting between the lessor of two evils? We have consistently shown that we are asking the wrong questions and settling for results below acceptable for our country.
I do like Joe Biden. He is not perfect and was not my first choice for the Democratic ticket. His history in politics reflects the consistent change of views for the party and his constituents during his tenure in politics. Whether that hurts or helps him in one's mind is up for debate. I can live with ideology differences in anybody, as long as it does not become personal. Mainly for the position that they are individuals in politics, which in it's own state of existence is arguably a model for corruption. Unspoken quid pro quo negotiations for policy and passing or blocking is where we have gotten to, which is distinctly away from the representation of one's constituents.
We are in a different era. One that brings more trouble than any of us could have imagined. We have come to find a lack of trust in every aspect of information as the days push closer to the election. There is pushback in every area from both sides about what to believe is true. One day we observe the right telling us the world is out to get Trump, aligning with his victim mentality, because the mainstream media elects to dampen coverage on truths about Joe Biden. Pushing more and more on this topic of Hunter Biden and his business dealings with foreign entities signaling corruption.
First and foremost, we are not voting for Hunter Biden. Second, Cheeto Man's lackies are pushing any volume of noise possible to allude the stories of Deadly Don's missteps during the COVID era and handling the pandemic, and his legal problems that also may end up including more investigation upon his tax circumstances. The unbearable measurement of how unlikeable Trump is as a person was already low, but like the true moron he is, he doubled down on his self-described keen business sense this week on how only paying so much in taxes is not a bad thing. There is not one person in this country who would love to pay less in taxes in any arena. The fact that he caters to these multi-billion dollar corporations and international business associates that pull his strings like the Corleone's in the Godfather, and is not impacted by the taxation laws is unacceptable. It is just another example of the conman this jerk is. Bragging how you cheat the system when you are the head of the system for lack of a better image is despicable.
As we get closer and closer to election day, the release of complete falsehoods becomes more apparent to anyone who has the ability to think on their own. The battle has become more about the disbelief in what each candidate is campaigning on instead of the platform of how they or their agenda can help the country. Which has brought some interesting observations to mind:
Each day over the past week, it has become more recognizable that Donald Trump is pushing harder to get attention. Images of a lunatic dancing in a style similar to Elaine's in Seinfeld, make one ponder what he really is in a celebratory mood for? The lives of 225,000 people lost over his incompetence should be the direct motivating factor to hunker down and drive a focused plan to rectify any missteps. Pride is the biggest barrier for him to back down and become a real leader to anyone. Granted he didn't have those skills prior to his Presidency, he could have gained some respect from people if he actually took the image of serving the people who both did and didn't elect him. Instead, putting on displays of joy during one of the worst periods our nation has endured only makes him look like a moron, highlighting his incompetence.
I know, I am biased to the left in my actions and words. However, with the exception of Fox News, I try and gather my real facts with as little spin as possible from sources that really do not include the commentary of the mainstream media. I have some conservative views and gather things from sources like the Wall Street Journal or The Economist just to get that worldly view from what is really happening. Two things come to mind as I observe my everyday readings: It is not that people are out to get Trump, it is that he makes it so obvious that his unlikeable arrogance during a term of failure in office is the obvious news story in every view; and his latest ongoing campaign strategy is all devised out of panic.
The old adage of the loudest guy in the room is probably the weakest just keeps coming to mind every waking day. So far, the worst I have seen from Biden (which does not mean much when you have Apple TV, so commercials are few and far between) is attacking the handling of the pandemic and encouraging a hateful America. Both sides of the coin may have differing views on whether they agree or disagree, but I haven't felt like there have been cheap shots. If I were on Biden's campaign team, I would guess they are just letting Trump look like the loudmouth he is which exposes his narcissistic and immature bullying style help dig his own grave. If that is the case, they are in the right mindset because the less Biden fights at a personal level, the more we see Trump attack Biden at the level of his family, name call politicians he disagrees with and throw out pleas that include the idea of changing an already placed vote. He is spreading information that he is ahead in the polls in certain battle ground states, of which every major poll I tend to see has him neck in neck or behind. Would it not be hilarious, by the way, if Nebraska turned Blue after the events of the rally this week that left many stranded and some hospitalized? This is how much your President cares about the people he represents. You cannot convince me that it is anyone's fault but his own, it should be common sense to take care of the people who support you; delegating that responsibility to campaign people is irresponsible, yet par for the Trump course.
The most troublesome piece between both candidates is that we will likely not have a winner on November 3rd with so much attention drawn at the fraudulent and suppressive voting conditions we are all being made aware of. It is not the scenario in which a Trump loss and having that turd in the punchbowl refusing to flush without a good plunging that worries me. The scenario that worries be is the reactions of the radical constituents from both sides rioting and drawing violence in the process of getting the results finalized. We have come to a rebellion possibility that is nothing more than disgusting. Me, I would be angered no doubt. I would spend the next four years complaining, but I would move on and know America made the wrong choice if Bunker Boy gets re-elected. However, I would not come to blows with anyone over it. I would not incite a violent reaction. That said, we live in a very messed up world right now. Others are not so levelheaded and are on the brink of America's inevitable destruction from a political passion, and that is on both sides. We have to vote for the world we want that is fair for everyone, the second that one group of people is not accepted in that category of everyone is the second that we have injustice and a failure of justice everywhere. I am sure I heard a quote similar to that nature, but it's concept rings true here as we consistently find ourselves in a world of fear and hate that continues to grow farther away from human harmony. Trump is just a major contributor to that ever-growing divide and we need to start righting the ship with course correction by bringing the Blue Tsunami to the polls!
Contact the Feature Writers