[AdSense-A]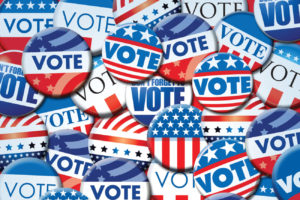 By Nikki Slusher
To my fellow Americans,
We have finally reached the last 24 hours of the most exhausting spectacle the world has ever seen. Most of us are going into these final hours anxious, preparing for the worst and hoping for the best. As we begin this final summit, we must remember that not only is the nation going to be watching to see who our next president is, but the entire world is also waiting to see what Americans will finally decide.
History will forever remember our choice. More importantly, the future of our nation and its people will also be defined by the election results. While it is still unknown what the future holds for us, one thing is certain: we will either prevail or fail.
Prevail or fail. These two words reflect the feelings either side of the partisan line are feeling right now. For most Americans, prevailing means their candidate wins the electoral vote while the other sides loss brings great failure in their fight to hold power and develop policies that are aligned with their ideology. Each side is praying for the others failure; each side believes they are the ones who are going to protect and enhance the country.
Four years ago, most of us went to bed and woke up to a shocking result. With most national polls showing a tight race, we must prepare for the likelihood that the results will not be known immediately. In fact, we may see for a second time in this century where the Supreme Court determines who will be our next Commander in Chief. Although this is not ideal for any of us, most just want this election to be done and over with, it is crucial that "we the people" support counting every eligible vote and waiting until a clear winner is determined. We can not and must not declare victories prior to the election's official end. No candidate should declare themselves victorious either before the final results. That means no candidate – incumbent or challenger.
The United States is undoubtedly in its most contentious election thus far. We have a leader who has already begun claiming the election results are rigged, accompanied by many of his fellow party members also looking at a possible defeat. While this is a surprise to none of us, we must acknowledge that nothing is set in stone until we actually go out and vote.
It is imperative to understand one thing about the soon-to-be outcomes we will see. The results of the election are not an end point, but merely a beginning to a long fight that will continue way after November 3, 2020.
There are multiple issues we will need to continue to address that will not end for at least the next decade to come. Our institutions have been compromised, trust in our government and leaders is minimal to put it nicely. Our allies are afraid of us and will stay weary of us; our enemies have no fear of us and will continue to damage and delegitimize our democracy and systems. Our constitutional framework also needs revision to ensure that future generations do not repeat the same mistakes.
The damage from our 45th President's rhetoric and actions will be a permanent stain on the United States. Division, hate, and fear will be forever ingrained on the walls of the Oval Office.
Our country has endured four years of what many will say was one, if not the most, tumultuous presidencies America has ever survived. A small portion of us will continue to say he was simply "draining the swamp" while the greater majority will remind them that the "swamp" was actually filled up. Regardless of what side of the aisle you stand on, it is important to acknowledge that we cannot – and will not – be able to sustain another four more.
But after four years of constant barraging, fueled by division and hate, we the people are determined to take back our nation and rebuild our democracy. The only way to do so is by standing together, differences placed aside, and demanding that the country we call home is salvaged so that we can finally start making America great again.
We must celebrate the wins, accept the losses, and extend an olive branch to each other. We must heal so that we can forgive. We must respect our differences, but also stand in our truth. It is okay to disagree. It is not okay to demean and destroy others for one's personal benefit. All of us are Americans. All of us believe we are patriots. Now it is time to act like it.
United we stand as one nation, under God, indivisible with liberty and justice for all.
Be smart, stay safe, and get ready for a huge change America.
Contact the Feature Writers