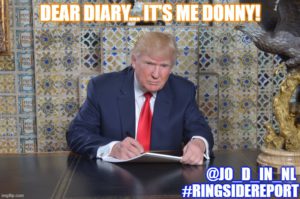 By Jo-Ann "Jo D NL" Duke
The diary scribblings of T4: Temper Tantrum Toddler Trump
Dear Diary,
Hey big guy, it's me again. Yay, it's so great to be me. I won, I did it, not that I thought that I had anything to worry about; it's not like I didn't know that everyone was going to vote for me.
We both know just how much everyone loves me, so of course, they would vote me back in, and that's what happened. I am going to be the president for the next four years, and if I can do it, much longer than that.
After all, why would they want me to leave in just four short years; I mean, they love me so much, they will want me to stay as president as long as possible; well, who wouldn't?
On top of that, I have done such an amazing job these past four years, just look what I have done with the pandemic thing, and now we are basically almost finished with that.
This proves that all my followers and a lot of people believed me when I told them, because like I said, it's going to disappear soon; which of course, it's going to do. It has to, and before I am sworn in, so that I don't have to hear about that stupid virus ever again.
Having to listen about it day in and day out, it's just about enough to drive you nuts, right? Well, anyway, like that song says, I am the champion, I am the winner, so there, Sleepy Joe, see I told you there was no way that you and that nasty woman could beat me and Malcolm.
Now, I just have to keep doing things the way my friends V and K have been telling me; they are so good to me, and they have been so good to me ever since I won last time.
Once I get my party for me winning the election, you know, the inauguration; then I can get rid of all the people who doubted me, or were mean to me. I can do that since I am and will again be the president.
Hah, that sounds so good to me. I just can't wait for that day; and it will be such a great party; with everyone being so nice to me, and telling me what a great guy I am and what great things I have done over the past four years; which is right for them to do, I deserve all of that, since I am the greatest president they have ever had; and will be even better during my second term, I think that's what they called it. Can you picture just how much more I can do to the country, I can do way more than what I did the first four years.
Think about it, it will be amazing, it will be like nothing they have ever seen before, I will be remembered forever for all the things that I have done in the past and will do in the future.
No one will ever forget me, or the name, Donald Trump. The history books will always write about me being president and how I treated the country; it will be so great.
Imagine that, kids will learn about me in school, and I will be known about forever. That's the coolest thing ever, right? Can you picture the faces of all the people who never thought I could win once, but then to do it a second time; I am so freaking amazing; and this place is so lucky to have me. I showed them all.
Well, buddy, gotta get back to my office, and now that the election is over, we can start planning my huge party, woohoo, can't wait.
Love you, talk to you later, bye for now.
Donny
Contact the Feature Writers