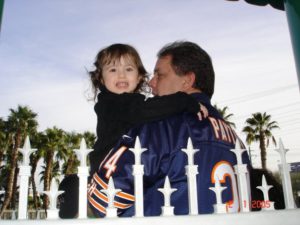 By Mark Koruba
Jaden was born on a rare rainy Nevada morning. We all held, fed and cared for her that day. Three months later her mother, my wife's niece, packed her up and moved her off to Boston. In my head I knew it was inevitable, my broken heart did not care what my head thought.
After two years of estrangement Jaden returned to our lives. I was guarded. I attempted to build a wall around my heart to protect myself, she tore down that barrier within days. She was a happy, inquisitive and talkative child. She was already speaking in complete sentences and forming cohesive thoughts. She was also cuter than a box full of puppies.
As time passed, my wife and I became more than just an aunt and uncle to J, we were her defacto parental units due to her mother being a drug abusing absentee landlord. J spent almost all weekends and entire summers with us until she was seven. As her mother went off to rehab, we became her temporary legal guardians with a hope that her mother could get the necessary assistance and become the person she needed to be to mother her child.
J remained with us for the next two and a half years. She flourished in school, had an artistic bent and contemplative mind. I made her breakfast every morning. My wife made her lunch every day. We helped with her homework except for that dot math that would confuse Neil deGrasse Tyson. At the conclusion of those 30 months the court deemed her mother fit to care for a child again. I saw through the facade and remained vigilant.
J continued to spend weekends and school breaks with us. We remained as one of the primary providers for her household over the next 3 years. J's mom was never clean or sober and her ineptitude as a caregiver manifested yet again, but this time she had birthed a son, in an effort to hang onto a man. Her mother failed and lost her man, her son and eventually her daughter.
J has been with us for the last five years. We adopted her three years ago this month after two years of endless bureaucratic bullshit. She is legally our daughter now, but we have always felt as though she was ours in spite of the legalities.
J graduated high school this year at the top of her class. She earned a full ride scholarship to a major university based on her academic achievements. She aspires to become a doctor. J also still produces art, but generally prefers to keep it to herself despite what we, and others, see as budding brilliance.
Bob Dylan is arguably the best songwriter of the twentieth century. He has been covered by many and has influenced far more. This particular piece is what I think every father wishes for his child.
Contact the Feature Writers