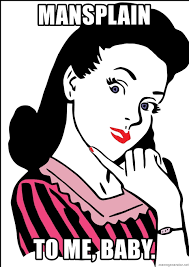 By Bethany "BST2" Armstrong
Google's Dictionary says mansplaining (/ˈmanˌsplāniNG/ ) is "the explanation of something by a man, typically to a woman, in a manner regarded as condescending or patronizing." – I'd remove "regard as" because it's straight up patronizing.
Merriam-Webster explains "Mansplaining is, at its core, a very specific thing. It's what occurs when a man talks condescendingly to someone (especially a woman) about something he has incomplete knowledge of, with the mistaken assumption that he knows more about it than the person he's talking to does." – I'd add "or the assumption she/he/they give a fuck about his tiny penis energy opinions"
The Urban Dictionary version comes close with: "When a man explains something to a woman in a patronizing tone as if the woman is too emotional and illogical to understand.". – I'd add "If he cannot dominate her with his dinky winky and he tries instead to subdue her with his minuscule wit"
I would call it "covert bullying under the guise of helpfulness" or "I'm scared that I may not be as good as you mentality". It could also be called "look at me! I'm an intellectual!" It should never be called "funny" or "smart."
Mansplaining pits him vs. her and him vs. them. It encourages men to look for the flaws in women and other gendered individuals, however minute they may be, and not the bigger picture.
That's the shit of bullying, whether it be racists, misogynists, or Karens, it's a learned behavior, a reinforced behavior. Everyone snapping at each other like dogs over the bone of their souls, not realizing it was just a chewtoy, a distraction from the thing they should be mauling., what is REALLY hurting. Mommy issues, Daddy issues, poverty issues, go to fucking therapy and sort it out. Bullies straight up suck but mansplainers in particular piss me off. Probably because I'm smacked in the face with their insecurities…
If your sentence starts with: "well actually…." "Not ALL…." "Everyone knows…" you're mansplaining and you need to shut your insecure infant ass the fuck up. Whether you are accurate or not doesn't matter, you're a feedback fascist. Your social IQ is so fucking low, your pseudo-intellectualism is repellant. No one with any self-respect is going to give you a blowy or any real validation. Sort yourself out mansplainers.
Well actually… (see what I did there?) I'm going to do the sorting. This has been a documented issue in America for well over a century, you guys have had plenty of time to figure it out.
First to take some baseline data, a short quiz. Answer honestly.
What is the best response to this statement? "We need to hold men accountable for child support."
Is it:
A: Not all men fail to pay child support.
B. Well I take care of my kids…
C. There are women that fail to pay child support too!
D. I agree or keep silent. I don't always have to have my opinion known and validated at the expense of others.
If you didn't answer D, go fuck yourself. Next question.
If a female expert on a topic gives a fact you don't agree with, do you:
A. Argue…. vehemently.
B. Criticize any flaw in logic or invent a flaw if necessary.
C. Mock her directly. Find any imperfection or mistake ever made by her and put it on blast.
D. Ask for clarification on the points you don't understand. Admit, at least to yourself, that you are not the expert and take the opportunity to learn from someone superior in that particular subject while realizing not being a master of every topic does not make you weak or invalid.
If you didn't answer D… Jesus what is wrong with you?
Enough questions. Take a deep breath. The next time you see a woman make an error, think about how you want to be perceived. A covert bully? A misogynist? A know-it-all? A rude piece of human feces? I hope you'd rather be an ally to the women in your life rather than participating in something that brings them down. A gentleman in the truest sense… If that is you, if you answered D or now want to, then call out yourself and your friends with a "not cool bro" or whatever and let's end this bullshit.
Contact the Feature Writers