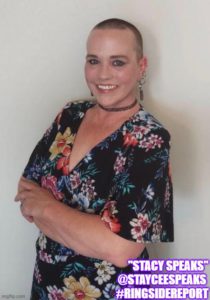 Hosted By Stacy Koruba
Dear Stacy,
My BIL is a nasty guy, I have seen him treat my sister poorly a lot of times. He talks down to her, makes fun of the way she looks or what she wears right in front of family and friends and demands that she wait on him hand & foot. Amy has really low self esteem & I feel he uses that against her. She seems scared of him, I'm afraid he may be violent with her. I feel like if I try to talk to her about my feelings, she will shut me out of her life. Any suggestions?
Carrie, Schererville, IN
Hi Carrie,
You certainly have a right to be concerned about Amy, I would try talking to as a concerned sister and friend. Don't make accusations, try asking how they get along or when you see him talking down to her ask her later how that makes her feel and let her know that she doesn't deserve to be treated that way. I have been where Amy is before and if my family approached me in a way that felt threatening or accusatory I would shut down immediately, I was ashamed that I allowed my ex to treat me that way and at the same time felt as if I deserved it. Building a bond with her where she feelings like she can talk to you about her relationship and you are not going to judge her will help. Build up her self-esteem, give examples of ways men treat woman in healthy relationships and if you can try and spend more alone time with her. Also, it is acceptable for you to defend your sister if he makes nasty comments about her in front of you.
I would love to hear back from you so I can see how things work out!
Hi Stacy,
I borrowed my sisters ring and ended up losing it! She made me promise that I wouldn't and like an idiot I did. She will never trust me to borrow anything again. I know where she got it, do I buy a new one and not tell her? That makes me feel sorta bad.
Marissa,
Fresno, CA
Marissa,
I believe you already know the answer to your question. If just buying a new one and not telling her makes you feel bad than that is not the thing to do. We all make mistakes; it is important to on up to them and do what we can to correct it. I think you should buy the replacement and tell her that you are sorry for losing the other one while giving her the new one. She may be angry with you but at least she will know that you are honest and that she can trust you and were responsible in buying another one.
Hi Stac,
My husband went and bought a new paint color for his office and I am awfully upset. We've been married fifteen years and I have always picked out the colors for the house. He had the gall to tell me I'm overreacting! He left me out of the decision and I'm furious. This color doesn't match the rest of my color scheme. I want to hire someone to repaint the room when he's at work!
Jill,
Tucson, AZ
Hello Jill,
I am going to go ahead and take your husbands side on this. Maybe go ahead and read your question to me again and see how it sounds. It is HIS office. A place he spends time. He has let you pick every color in your home for 15 years. I think that is great!! Why not let him decide the color of the room he spends his time in now? Since it is a separate room from the rest of the house, I really do not thing that it is going to interfere with your color scheme at all. Marriage is about compromise and it seems like he has been doing that for 15 years, if you do not like the new color because you did not pick it out then stay out of his office.
Dear Stacy,
I'm feeling pressured by my siblings and parents to host Thanksgiving dinner. There are 16 of us total. Covid is still an issue but they all seem to think since were family nothing is going to happen, it's not easy for me to say no. Whenever they mention it, I feel sick. My house is the only one large enough to host. I don't want to let everyone down.
Patricia,
Missoula, MT
Dear Patricia,
Please do not allow anyone to make you feel pressured into doing anything that makes you feel uncomfortable, especially something that can cause illness or death. Your family may not have the same beliefs as you about Covid and you cannot change that, what you can do it stick to your decisions regarding what you are willing to do in order to keep you and your family safe. Keep reminding yourself that you would feel much worse if someone ended up sick from your get together and keep saying NO. Let them know that they are welcome to get together without you if that is their decision. This is not something you want to be pressured into doing. Stay strong, Patricia, in the end you will feel much better on Thanksgiving knowing you made the right decision for you and your family!
Stacy,
I was wondering what you think about this situation. My buddy Mike is seeing this woman named Tammy and she hardly ever has time to see him. She cancels on him 3 out of 4 times, always making up excuses not to be able to get together yet has one tragedy after the other where she needs him to financially rescue her. What I mean is they might have a plan to get together on a Friday and she will call and say sorry I can't see you tonight, my son is sick, but I need 75 dollars for his meds, can you drop it off? Mike will give her the $ every time she asks. This has been going on for over a year now and I hate seeing him getting used like this. Should I say something?
Ed
Hi Ed,
If you are worried about your friend you should say something. In the end what he does in his relationship and with his money is his decision. If you notice this happening, I am sure Mike does as well. Perhaps this is the arrangement they have, or it is the way he likes it. If you feel Mike is just a really nice guy and doesn't know that he is being taken advantage of then try to point this point to him gently and be prepared to be there for him if he realizes that what you think is happening is really the truth. If he does not take your advice, please respect his decision to be in this relationship and know you did your best by talking to him about your concerns.
Contact the Feature Writers