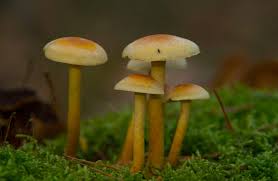 By Janet Grace
Aside from medical marijuana to treat PTSD, Anxiety, Depression, a persistent Sleep Disorder and whatever has ever been legally prescribed to me, I am one who can raise my hand and honestly say, I've never done drugs. Hell, no. Of course, I've been offered tons throughout my long life but "Homey don't play that", never have, never will.
My daughter was shocked when I put my lips to a bottle of Heineken at her H.S. graduation celebration. "Mom! That's beer! You don't drink." 'I sure do now, My Darlin', you are done and off to college n I'm not even forty, yet. This calls for a celebration!'
Magic Mushrooms were one of those drugs offered back in the '70s. I value my brain. There was no way on this green earth, I was going to ingest poison. I left parties for less. No, thank you. Yet, I have been reading articles all night, looking for something other than the obvious to write about. When I read an article by Miss Katie Hunt, a CNN writer, on this subject, it intrigued me.
Psychopharmacologists have a thankless hit or miss job of prescribing medications to millions of mental health recipients which will cause more good than harm. There are not that many drugs allocated for mental health that don't come with a barn yard full of precautions and disturbing side effects.
My favorites (not) are the sleep medications which state that they "may cause drowsiness" on the warning label. That one has always made me chuckle. Duh! One of those drugs knocked me out within minutes of taking my first one. I took the pill, fixed my coffee, took a few sips and walked into my bedroom. That took less than five minutes, yet, the result was my waking up with my head on the dogs bed and the rest of me askew on the floor. My favorite angel coffee mug was smashed to smithereens, along with its contents.
Another medication, also for insomnia, had me get in my car, get gas, return home unharmed, make a pizza from scratch, eat a slice, put the rest away, tidy up and awaken sitting at my computer posting doggie pics on Facebook, having been completely asleep. Zombie, much? Now, we're adding Magic Mushrooms to the mix. My head is shaking like a bobble head doll as I read this report, thinking, this is insane. This can cause irreversible damage. What are they thinking?
One of my friend's nephew's was taken by ambulance after ingesting a piece of said mushroom, during a 4th of July family shin dig, five years ago. He's still in a hospital. It seems he had a schizophrenic tendency and this drug, woke it up, kick started it and ruined the rest of his life. In those five years, his cousins have graduated, passed their bar exams and are succeeding in their lives whilst this man is in a rubber room since 2015 because of a stupid decision on a hot day.
Naysayers of the whole "legalize weed" world, have been saying the same "no way" thing of marijuana, especially given that plants have been scientifically engineered to produce three times the amount of THC, since the '70s.
THC, or tetrahydrocannabinol, is the ingredient that gives you pain, nausea relief, increases appetites, relaxes anxiety and PTSD's 'stop, drop, take cover' instinct at a car backfiring or a loud unexpected sound, which is why I can be found under the dining room table during the day and blissfully watching Netflix at night. It stops those recurring thoughts that sneak up and have you biting your nails. It also puts you to sleep without the zombie effects or sluggish persistent hangover the following day. In fact, so much has gone into studying the different strains of marijuana that at this point, you can walk into a legal store selling medical marijuana, i.e. "curaleaf", a few blocks away from me, tell the pharmacist your symptoms and receive the strain that will energize, relieve pain and or relax you, depending upon your needs.
Miss Hunt states that these mushrooms would have a role to play IF they weren't illegal. While Oregon just voted to make them legal, I urge you, if you're not familiar with this plant or its effects, please, proceed with caution. These are the same mushrooms mixed with who knows what, given to those on spiritual quests. I'm sure you'll be "in the white room with black curtains at the station" for a few hours and may even have received the answers sought, but you may also lose your mind for the rest of your life. Is it worth the risk? Personally, I don't think so. I witnessed the effects of too much sugar on the brain causing dementia. Can you imagine the damage a known hallucinogen might bring to a compromised mind?
Miss Hunt's report begins with a study of two dozen adults with two years of major depression in their charts. The studies "found that two doses of psilocybin led to a large reduction in depressive symptoms." Katie Hunt, CNN.
"The magnitude of the effect we saw was about four times larger than what clinical trials have shown for traditional antidepressants on the market," Alan Davis, an adjunct assistant professor of psychiatry and behavioral sciences at the Johns Hopkins University School of Medicine said. He went on to say that most of the other depression treatments may take weeks or months to show any signs of their working.
This is true. This is the first thing you're told by the prescribing physician or psychopharmacologist. Take your medicine. Do not skip doses. It may take several weeks before you begin to experience results. They don't say positive or negative because they're aware that it is roulette in the mental health medication industry and just as WB's "Bugs Bunny" sings: "you never know where you're going till you get there." What IS known by those seeking mental stability, is that many times, the side effects of these treatment options are so disabling in other ways and they may cause other irreversible issues.
So, because of the fact that this hallucinogen works within hours of ingesting, Dr. Davis says: "this could be a game changer if these findings hold up in future 'gold-standard' placebo-controlled clinical trials."
I'm not buying it. Big Pharma has been known for putting out medicines that sooner or later get pulled for causing more harm than good. Ask Merck. They're probably still litigating over a few faux pas. Ask them all. What's being said is that the drug could help in the treatment of addictions, anorexia, obsessive compulsive disorders.
I know that penicillin began with mold. I know that science has made great leaps and bounds with medicines. I know that much good can come from this, but I have yet to see enough proof and I've yet to see an epilogue. Yes, that's right. What are they going to do when, while meddling with a compromised mind, they trigger someone else's psychosis? How are they going to remedy that? I know one young man's family that would love to know. Until they can pull someone out of a "bad" trip they shouldn't be sending people on them.
Any medication studies for mood disorders, depression, bi-polar disorder, anxiety, etc. should be handled with kid-gloves. These studies only last as long as the studies do, which are far shorter than the lifetime care needed for these symptoms, diagnosis and treatment. Even if the patient has a wonderful response to two treatments of hallucinogens, and is bippy, skippy, happy for two or three weeks afterwards, what happens beyond that, when there are no more tests? What if they seek the same type of relief and eat a mushroom that gives them a bad trip? Who is going to pull them out? Will they recover? The effects of these mushrooms cause people to see and hear what's not there. That doesn't sound like fun or healing to me. It sounds like: 'lets mess up a few disabled folks, they were disabled to begin with. Don't blame us in our quest to find yet something else to exploit'.
This is my own view. If you're all about mushrooms and the like, go on with your bad self, but remember that your mind IS truly, a terrible thing to waste.
It's been four days since Vice President Elect Biden was elected. Thus far, the current POTUS has begun erecting a new wall to keep American's from dragging him out by his heels, or so it seems. He's yet to concede. He will. He may ask Jared to do that for him, but, he will. Have Faith in Joe and Kamala to do what's right. My Own Humble Opinion.
If you've enjoyed this article or care to share your thoughts, please do comment and thank you. I will respond.
Peace n Restful Sleep to all.
Blessed be. )O(
JG 😀
Contact the Feature Writers