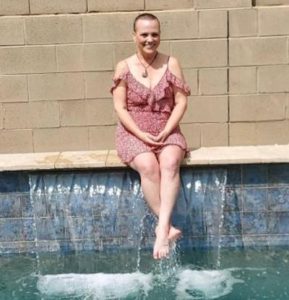 By Stacy Koruba
Little nuggets of happiness are sprinkled all around me and I have been carelessly ignoring them, the same way I pretend not to notice the new grays popping up all over my head. The majority of my life is spent trying to be very positive and optimistic, I look on the bright side of things, I believe everything happens for a reason, even if we don't know what the reason may be. I recently discovered that I am always waiting for a better time to be happy. Waiting for a new treatment from my therapist, waiting for a better day waiting on a brighter future. "I will be happier once I can move to a different state." "I will feel better once I have been in therapy longer, I will get my shit together tomorrow." It is a never ending waiting game and while I wait I really focus on the bad things that happen in life, they become monumental, even though the difficult situations that happen occur far less often then the moments of happiness I am blessed with.
I came to this conclusion at the end of the evening last night. Yesterday was a roller coaster ride of emotions and in the past, I would have gone to bed completely drained of any positive energy. I would have been so hyper focused on the bad that I would not have recognized any good. A switch was flipped in my brain and I plan on reminding myself of this new way of thinking throughout the remainder of my life.
The day began by taking my husband to the dermatologist to have a spot on his nose checked out. He had skin cancer a year and a half ago and noticed a new growth last week. We were both on edge but did not want to admit that to one another. The Doctor was running late, the waiting room was overcrowded which made my husband apprehensive about even staying for the appointment. He remained in the car until they called him for his turn, I was not allowed to go in, so I waited outside, trying to be positive as all of the "what ifs" tried knocking their way into my brain. Mark returned, the tip of his nose bandaged, notifying me that the Dr. did not like the way things looked and had biopsied it. Now we must wait 4 to 10 days for the results. We remained quiet for a bit, until he started cracking new nose jokes, trying to lighten the mood which did nothing but piss me off. Joking about skin cancer is not funny to me, joking about skin cancer is the only thing he can do in order not to cry or have a drink and ruin his 23 years of sobriety.
We got home and he wanted to keep busy, so he washed the outside and inside of the car we just gave to our daughter. He loves music and I heard him blasting it outside the garage door, a few times I heard him singing loudly. I looked out the garage window at him and discovered he was lost in the music and the task, and I laughed for a few moments and thought back to happy times the two of us had shared together over the last 24 years. It was at that moment that I became relieved that he was able to get an appointment so quickly after noticing the new bump, many doctors make you wait weeks. I was thankful for the success of his last surgery.
My Mom called and was frantic because her cell phone screen was all dark. I tried walking her through the steps to get the brightness back, she was too upset to listen to me and just kept saying the phone was broke. I am not the most patient person when it comes to my Mom so after 10 minutes I told her that I could not help her, she would have to wait for the next time I was at her house. I ended the call feeling aggravated and like a huge jerk for not being able to easily fix her issue.
I had a discussion with my daughter about a several concerns I had with her. She is the easiest child to discipline which makes discipline exceedingly difficult. She listens without complaint; she does not whine or yell or get angry. Her response is usually "I understand." That is the extent of it, this is how she has always been. She is an adult now, so I really was not disciplining her, just letting her know that I had several questions.
At 4:30PM I took my dog Ringo to the vet. In Nov of 2018 he was diagnosed with cancer. He had a small mast cell tumor removed from the let side of his face, below the jaw. He now has a large lump on the right side of his face, below his jaw that I discovered a few days ago. The night before I had been looking lumps on dogs up on google and had myself convinced that he had lymphoma, the outcome for lymphoma is not great at all. I was not allowed to go into the visit with him, but the vet soon called me on a video chat. She let me know that the lump was not his lymph node (HUGE relief). They did blood work and a biopsy. We must wait another 3-6 days for his results. In the past I would have sat in the car panicking and crying. Yesterday I thought about how grateful I was that the last surgery had got us two extra years with this fantastic boy. While I waited for Ringo my daughter sent me a text asking me to clarify some things, I had said to her. It felt great knowing that we have a relationship where we can communicate openly, and I love that she will ask questions if she is unclear about something instead of jumping to conclusions. She is far more mature than I was at her age.
On the way home I stopped and picked up some frozen pizzas for dinner. Nothing special, just frozen pizzas from a place back home (Chicago) that we really love. I got home, Mark prepared them, and I spent 25 minutes in Jaden's room catching up with her. She had taken care of the concerns I had, she announced it to me, and I told her I noticed and thanked her. We then went to the kitchen and ate dinner together while we talked about our days and laughed together. When we were done, we cleaned up the kitchen and then hugged, it is something we try to do every night after dinner. It was so quiet in the kitchen and I noticed our hearts beating together at the same rhythm, it was beautiful.
I called my parents house and spoke with my Dad. He let me know that he took the phone back to the store where he bought it at, and they fixed it in a minute! He could not believe how easy it was. I felt sad for a moment that I did not go running over there to fix it for them. Then I giggled and thought how cute my Dad is and how much he loves my Mom because he sure does not give a crap about a cell phone and does not even know how to turn one on!
I ended the night by vacuuming my bedroom and changing the sheets and putting clean blankets on the bed as well. I opened the windows and crisp cold air flowed in. Clean sheets and blanket night are always my favorite, it is like a fresh start. I do not know what made me do it, but I got the urge to jump on the bed. It is something I was not allowed to do as a child and I just felt so happy that I wanted to see what it felt like. It was wonderful, I was jumping and had the flat sheet in my hand making it flip up and down and that is the exact moment that all of my little nuggets of happiness for the day started flooding through my mind. Laughter, a husband that is also my best friend, good talks with family, great communication, a tight hug, being thankful for extra time, frozen pizza, fresh air, clean sheets and jumping on the bed. All these things managed to drastically take away from the worry of waiting on the results of 2 cancer biopsies. I am going to make it a habit to seek out my happiness every day and journal about it, having those memories to read about will be good during the rough patches. I hope you find your happiness too!!
I found a quote today that says, "Miracles are just a shift in perception from fear to love." By Gurbaksh Chahal. I felt like that quote was meant for me to find on this day. I read it a dozen times. I get it. I spent my day yesterday actually loving the little moments and did not concentrate on my fear. Love more, fear less.
Contact the Feature Writers