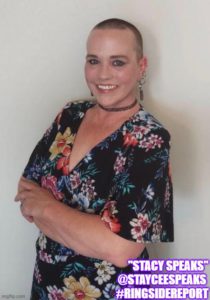 Hosted by Stacy Koruba
Stacy,
My 21-year-old daughter lives with me. I adopted her and 3 of her brothers when they were toddlers. They are by biological grandchildren. She has been difficult to raise since the age of 12, she has argued with me, refused to follow rules, threatened to return to her Mom, at times gave up in school. Her 3 brothers have never been an issue and have moved on and started families and lies of their own. I am 72 and need a hip replacement. I have requested many times that she help more around the house, instead she's allowed her bedroom to turn into a pig stye, the smell coming from the room is disgusting, the door is difficult to open because some may things are piled high in there. When I try to talk to her she cusses me out. Her attitude makes me feel nervous, angry and anxious all of the time. I keep putting off my surgery because I don't think I could heal with her in the house. My 50 yr. old son still lives at home and helps out a lot, he wants me to tell her to move but I feel like that would be harsh. What are your thoughts?
Lilly
Los Alamos, NM
Hi Lilly,
My thoughts as a Mom are, we do our best to raise our children to grow into thoughtful responsible adults. There comes a time where there is nothing more, we can do expect show them that they must learn to depend on themselves because taking care of you is a priority. Your health is what matters now. Being a Mom does not ever mean allowing another person to be disrespectful. I agree with your son, it is time to let her know that she is going to have to find another place to go. She can not follow the rules set in place in your home and her actions are preventing you from doing what you need to do to get healthy again. If she threatens to go back to her biological Mom perhaps, she has some underlying issues she needs to resolve with that relationship. Maybe now would be a great time for her to get the help she needs to do that. You are not giving up on her, you are doing what is best for you and pushing her in a direction that is beneficial for her to learn what is appropriate behavior in relationships. I hope you have a quick recovery with your hip surgery.
Dear Stacy,
I've been feeling alone and abandoned since June. Corvid's risking, I know, but my kids just don't keep in touch like before. I realize in person visits can't happen anymore, the kids want to keep me safe and I love that. Now, whenever I call them the are too busy to talk and say they will call later. They have families and lives and jobs to keep them active. My son and daughter are my only family I have left. Keep me locked up at home so I don't get COVID-19 is nice but being a prisoner, all alone isn't how I want to spend my last years. I'm 80, who knows how long I have left.
Rita
Rome, GA
Hello Rita,
I am so sorry that you are feeling this way. I try to make sure that my parents stay in the house all of the time as well and know that I have become overly bossy with them and it is because I can't stand the thought of losing them to something I can not control. Because I cannot control Covid I became overly controlling of what they could do, while trying to protect them. Please reach out to both of your kids and let them know how you are feeling. See if they can schedule specific times during the week to chat with you on the phone, so that they already have planned out that family time. My niece bought a phone for my parents so that we all can do video chats with them during the week. The person at the phone store showed them how to do the video calls and I will go over that again with my Mom when she forgets. She has told her friends about it and now they communicate that way as well. Being by yourself is difficult, so finding new ways to remain social right now is especially important. There are many options available on the internet. Join online book clubs, download online games if there are any that interest you, have your kids help find other things are may be of interest to you. See about doing video chats weekly and set some up with your grandkids! I am also always available to chat so send me a DM on my twitter account whenever you want!!!
Hi Stacy,
Christmas just isn't going to be the same this year because of Covid! My kids are going to be heat broken, all of the old traditions of celebrating with our extended family have to be put on hold. How do I even explain that to them! They are only 9 and 11. I hate it!
Deanna,
Norman, OK
Deanna,
Christmas will not be the same for many people, for many different reasons. Covid has caused so many deaths, sicknesses with long term effects and loss of income that we are a country left trying to find new ways to handle everything. I am sure your kids have been paying attention during all of this and know that many things have changed because of Covid, kids adapt far easier than adults. Make new, fun traditions. Make homemade decorations and send them to family, bake cookies together, set up a few family movie nights with their cousins so they can watch Christmas movies together on facetime. Do they same with opening presents or even with the actual Christmas meal, so that everyone can be together over video. Take with the adults in your family about making smaller videos during the month of December of families decorating together, baking together and being in the Holiday spirit so that you can all share once Christmas can be celebrated together again!
Stacy,
I have caught up on all of the series I watch. Tell me what you like to watch! I have Netflix, Hulu and Amazon Prime.
Beth
Chicago, IL
Hi Beth!
There are so many I have watched past and present, and I don't know what you watch so I may repeat or I may mention things you have no interest in but here is my list!
Grey's Anatomy, The Good Dr. American Horror Story, Stranger Things, Ozark, Better Call Saul, The Walking Dead, Lucifer, Mindhunter, Black Mirror, House of Cards, Designated Survivor, How to Get Away with Murder, This is Us, Homeland, Little Fires Everywhere, Scandal, Chicago Fire, The Resident, New Amsterdam, The Handmaids Tale, The Shield, Nip Tuck, Desperate Housewives, Medium, A Million Little Things, Brothers and Sisters, Number, Parenthood, Bones, Rescue Me, The Shield, Califorication, Big Love, 6 Feet Under, Penny Dreadful, Gilmore Girls
This is all that I can think of right now! I hope there are some new ones in there for you!!
Dear Stacy,
I share custody of my son with my ex. We are supposed to switch having him every other week. Lately, Scott has been making excuses for me not to get Phin on my weeks. It has happened 3 time over the last 2 months. When I pressed the issue last time, he said it is because he is afraid,
I will get Phin sick with Covid.
I work from home and have my groceries delivered. It's not really up to him to decide this, we have a court order. Scott works outside the house. Phin is 12 and wants to still come to my house. What do you think?
Marcia,
Englishtown, NJ
Marcia,
I think Scott seems to be using Covid to have some power over being the parent in control. I would not think this if he did not work outside the home, but it does not make sense since you say you do not leave the house. You have a court order which says you share custody. I do not know what the laws are but in Arizona I would be able to just go pick my daughter up on the date I was supposed to. If my ex did not allow her to leave with me, I would call the police and they would enforce the custody order. I know you do not want to do that in front of Phin, I hope Scott does not want to either. Let him know you will be there on the day you are supposed to me with your custody papers in hand, ready to call the police if you must. Hopefully, that will be enough to being him back to his senses.
Contact the Feature Writers