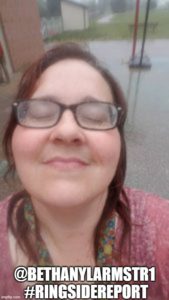 By Bethany "BST2" Armstrong
I want you to journey with me. I've got my safari gear on, an aging micro bus confiscated from poachers by government snipers, and an itch to deep dive the subconscious to tear free a fistful of truths. And I want you on that aging micro bus – it's Apocalypse Now, and Tremendous Trauma Safari Tours is in fact leaving the station. Pay the rifle holes in the seats no mind – didn't happen on our watch.
You may have heard me mention trauma. It's kinda the most important topic on the planet right now. We are a world in crisis, and we've been in denial about it for a very long time.
But – this isn't soapbox time – there's time enough for me to cackle like Witch Hazel while violently screeching "I told you sooooo!!! But you dickbiscuits never fucking listen to the behaviorist!" Hopefully, there's time. Perhaps enough. For now, I'm here to help.
In one of my better crisis trainings, I was given permission to share this story. To signal blast it if you will.
Let me draw your attention to the left. See that mangy mutt just yards away? I know it's just a canine but notice it's hungry eyes and fearful, hopeful growl? The beast has been hungry for awhile. A starving feral dog could make short work of any one of us.
Now who will be my volunteer for this little experiment? How about you… with the squinty pig eyes… the one who is bitching about how this safari is just Ruining your Vacation? Jill was it? Take this bone and hop out before I zap you with this cattle prod and take away all illusion of choice.
Now wave the bone Jill. Wave it like your life depends on it. It probably does.
Notice how the pup's attention is focused on the bone. It barely notices the plump morsel that is Jill. The bone is next meal, a stop gap to impending doom, salvation. The bone is Everything. It doesn't even notice all the fleshy bits of a bored mediocre middle-aged housewife that would be a feast for days. Stop laughing Hank, she's your wife, and you all need to hear this.
He's moving closer now. He doesn't see the quaking of her thighs, the sweat on her lip, the fear seasoning the meat. It's all about the bone. Now… Throw it Jill… Quickly!
Doggo chased after the bone, just as predicted. Hop back in Jill. And stop blubbering, we're not even at the good part.
Hank, comfort your spouse, you're all about to get what you paid for. There's no getting off, no going back, no refunds. Dammit Jill I said to stop squealing, you're fine!
See that oasis up ahead? The pride and joy of Tremendous Trauma Safari Tours, a pride of lions. And oh goody, one of them has taken interest in us. A lioness, natural born hunter, the female of the species is more deadlier than the male.
Jill! Remember last time? Take another bone and go. Don't make me taze you, you snot-nosed swine.
Now watch the lioness watching Jill. See Jill freeze. See Jill shake. See Jill wave wave wave the bone. Sorry Jill, old girl. Unlike the dog, the lioness is not just aware of the bone but also the jeep, the wind in the trees, the position of her cubs, the rest of the pride lounging behind her… there is not a minute detail she is not processing.
The lioness is as inquisitive as the rest of the feline family. Jill is nothing more than a curiosity, the bone even less noticeable. Anyone want to put money on what happens when Jill throws the bone? It's even odds whether she mauls mewling massive Jill and drags her carcass back to the cubs, follows the bone for a little snack, decides Jill has must have many bones buried beneath her jiggly flesh and helps herself, takes a swipe at Jill for her hubris in approaching the Queen of the Jungle, or dismisses Jill as beneath her notice and returns to the pride.
Any takers? No? Spoilsports.
The lioness is approaching slowly, time to roll the dice and throw them bones Jill! Literally, throw the thrice-damned bone!
Ah! Jill you lucky lucky twit. The lioness is bored. Hank, gather you lesser-half, we're going back to relative safety.
What's the lesson we learned here today folks? Don't answer all at once now. I'll give you a hint, it's not – do not piss off people who hold your life in their hands – though that's true enough I suppose.
Listen up! This was a metaphor for dealing with super traumatized people. Someone in growling, snarling, beastmode.
We all have a choice when faced with a bully boss, a Trumper, a friend in meltdown, a screeching Karen. We can have the brain of the dog, only focused on the bone or one facet of what is happening – the words they're saying or movements they're making – then you miss out on nuances you need to help heal a hurt or keep yourself safe. You only react to the one stimulus.
A lion brain takes in all stimuli. It knows the bone is a distraction. Sometimes the bone is a rage fit to manipulate you into compliance. Sometimes the bone is a cry for attention, for help. Sometimes the bone is a distraction from the real problem because the real problem is scary. Sometimes the bone is just waving because some asshole in a micro bus found it amusing. Sometimes the bone is boredom.
When you see beyond the bone, you can take in other factors that the person is trying to communicate. You can distance yourself from being emotionally wounded from whatever is happening and move into figuring out why they want to wound you. This gives you the same advantage a lion would have over a starving mongrel. This is Important Information people! The lioness takes in all of the data and makes a decision based on what is safe, risk vs. reward, and her own desires. If you can be the lioness, aware of the surroundings, the person, the reasons behind the behavior; then you get to choose.
That's power people.
Now get the hell off my bus! I'm a professional dammit! There are tours to give, lessons to share, and bones to distribute.
Contact the Feature Writers