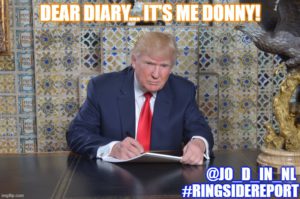 By Jo-Ann "Jo D NL" Duke
The diary scribblings of T4: Temper Tantrum Toddler Trump
Dear Diary,
Hey, buddy, it's me again. I can't believe that all those mean stupid judges are throwing out my really good challenges about all the illegal votes that were cast in that election, can you believe it?
It's like they don't believe anything I say, and I am their president, so of course, they should believe everything I say right away; they shouldn't be asking us for proof of what I am telling them, they should just do what I want right away, without any thinking about it.
They are acting so bad, and so against me, it's so not fair, right. I mean, I am the president, so what I say goes, because I am their boss. They threw out a whole bunch of them just yesterday; and the judge actually asked one of my lawyers if we had any proof of voter fraud or tampering.
Thanks to that awful question, my lawyer had to say no, not at the moment. It was so bad. Why can't anyone else see that the only votes that count are the ones that were counted on Nov. 3.
Also, that they only need to do recounts for the states I am behind in, that we should just leave everything the way it is in the states that we know I won, because we don't want to take any chances of the numbers changing there, and Sleepy Joe getting more votes than me, right.
Anyway, everyone is just being so mean to me, and they won't see that what I am saying is right, that I won the election, because I was so far ahead on the night of the election.
It's so plain to see, why can't they understand that? I know that they are trying to rob this job away from me, even if I don't want it that much anymore. I am so sick of dealing with and hearing about Covid, and all the people getting sick and dying from it.
Seriously, the numbers are still so low compared to what they said at the beginning, can't they see what a great job I have been doing, and they should show me the right appreciation for all my hard work. They never do that though, all they ever do is complain, I am so over it, you know what I mean.
Well, thanks for letting me vent so much, buddy, it really helps me feel better. I have to go back before they come looking for me, to talk at me again either about giving up and conceding, or what else we can do to fight this; actually, it depends on whoever is talking to me, there is such a difference in the two groups.
Bye for now, talk to you later and love you.
Donny
Contact the Feature Writers