[AdSense-A]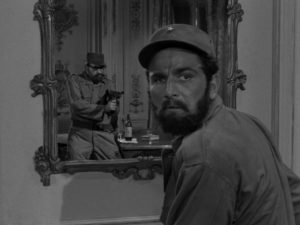 By William Kozy
Ramos Clemente (Peter Falk) stands on a balcony waving at the throng of citizens who shout "Viva Clemente!" after his recent overthrow of this Latin country's previous leader, General De Cruz. The crowd sound effects are not exactly inspiring, but Clemente turns back into the palatial room overjoyed as he faces his four comrades in the coup: D'Alessandro, Tabal, Cristo, and Garcia. They toast the Revolution. Clemente bursts into laughter, and the others dutifully follow suit. In a very well-conceived monologue Falk explains his feelings in this moment and how he never knew what to expect when victory came. At times, there is a hint of Brando in his impression of this revolutionary.
Clemente's attention suddenly shifts to the portrait of De Cruz hanging on the wall, and we see the first indication of Clemente's zero-to-sixty bad temper. He hurls his wine glass at the painting and instructs that the deposed De Cruz be brought to him. When the handcuffed DeCruz is pushed into the room we have some nice frame composition of the entire group by cinematographer George T. Clemens. The whole ensuing scene features some very fine dialogue by Rod Serling, and more energetic rage from Falk as he again channels the crazed lunacy that accompanies his character's sense of righteousness and justice. Will Kuluva playing De Cruz is at first cowed by Clemente's intimidation and threats. The violence of the nearly poetic rantings of Clemente compel us to listen attentively. The monologue is a big bear to handle, but Peter Falk is just the actor to take it on. His work is astounding if you're used to seeing him as the beloved Lieutenant Colombo. His soulfulness in that iconic TV detective role is so memorable for its gentility, soft-heatedness, sly wisdom, and low key performance. But here in this episode Falk demonstrates a complete opposite end of the acting spectrum in this role, and yet it is an utterly equally impressive performance.
By the end, De Cruz has summoned up the courage to push back on Clemente, using a different flavor of verbiage. His words are harsh, but his manner is much more measured, restrained. It's as though he has the advantage of seeing the entirety of the political, sociological system, having been the conqueror like Clemente, rising up from a lower status, to the now conquered. His monologue is a philosophy of cynicism, countering Clemente's upright outrage.
Before being ousted from the room, De Cruz notices the ornate mirror hanging on the wall, given to him by an old woman who said it was magical. De Cruz and spells out its spell: "By looking into it, I could see the faces of my assassins….look deep General Clemente. Find out who your assassins are. You will see them in that mirror, in the dark corners. You will see them in the crowd. You will see them everywhere."
The omen has an immediate effect on Clemente—which his raving behavior heretofore helps the viewer forgive the script for. De Cruz's temperature runs cool so we assume he hadn't fallen prey to the mirror for that reason. It is Clemente's burning irascibility that allows the embers of mistrust planted by De Cruz, or the mirror, to spark that suspicion into a blaze. Clemente sends Cristo, Tabal and Garcia to go carry out the order to have De Cruz executed.
Gazing into the mirror, and musing on what De Cruz said, suddenly Clemente sees in its reflection the image of D'Alessandro aiming a machine gun at him. He whirls around and of course D'Alessandro is just standing harmlessly by the desk, but this doesn't dissuade Clemente from taking swift and horrible action. He accuses D'Alessandro of plotting against him, so he bull rushes him in a shockingly physical assault, busting him through the balcony door and heaving him over the wall to fall to his death. As Clemente stares at him below, part of me wonders if the casting of Falk with his glass eye, was a factor in what the producers thought would help the characterization. That eye of Falk's can make him seem sometimes like he's looking askew—and there are moments throughout his performance here that help convey a fittingly crazed look in Clemete's eyes, as though he is not seeing straight logically.
With the rest of his men in the room with him, we can see how disheartened they are by the death of their friend. Tabal (his beret and hair seem patterned after Che Guevara) is especially confrontational over the murder. After Tabal's had his say, Clemente looks up and sees the next image of betrayal in the mirror. Tabal and Garcia stalk him in the reflection armed with daggers.
What seems a little odd story-wise, is how the men know exactly what is going on with the mirror and Clemente. Most writers I think would have kept that relationship out of the hands of the surrounding characters, but I suppose that was no option since they were all in the room when De Cruz told them what would happen with the mirror. Clemente himself must have told them that he saw D'Alessandro in the mirror about to shoot him. How else would Tabal have known to advise Clemente: "Leave it be, Ramos. You can talk yourself into an illusion. You can make yourself believe anything." But Clemente shrugs him off and stares into the mirror. As a result, this makes their actions way too passive. Knowing so fully well what is going on, you question why they don't shoot the damn mirror with a gun and break its hold on Clemente. But instead they let it all happen, and of course he sends Garcia and Tabal away on the pretense of checking up on De Cruz. After they leave Clemente promptly calls the prison and tells the guards to shoot Garcia and Tabal when they arrive.
Cristo is his sole remaining cohort and seems content to have the pie cut into two pieces instead of five. Clemente sits at his desk wondering aloud how he could crush out the lives of these men who were his friends, his brothers. He wonders how he can not feel anything about it. It's not really a helpful monologue I'm afraid—is it meant to indicate that the mirror is definitely the source of the images? If so that's certainly a mistake, for why would they want to ruin our sense of mystery over whether the images are being imposed by the mirror or Clemente's demented mind? Cristo reminds Clemente that "from now on, you have no friends. You have followers and you have competitors." Right on cue Clemente gets up from his chair and this time purposefully goes to the mirror. It is done—he has completely given in to consulting the mirror without hesitation and with full trust. Tony Carbone as Cristo has the more unfortunate-fitting facial hair of the men and it detracts a bit from his fine debates in close-up shots with Clemente. When Cristo heatedly tries to convince Clemente that the mirror is just an ordinary mirror, he is shot dead by Clemente who seems to be finding it easier with each killing.
The next visit comes from Father Tomas who questions Clemente about the ongoing executions. Clemente has by now seemed to turn against "the people", a full swing from the opening when he blasted De Cruz with his "It's what they want! What they want!" indicating the masses.
Clemente confesses to the priest that he's frightened and he can't live like this. All day and night he says, "I hold my breath and I keep looking in back of me to see if there's something. I want to know why do I have so many enemies?"
The priest tells him that it's the same old story with tyrants. That the one real enemy they have is the one they don't recognize until it is too late. He takes his leave, and Clemente looks into the mirror for the last time. Then he reaches for his gun and hurls it at the mirror shattering it. Father Tomas has heard this from outside, and then hears a gun shot. He and a guard rush in, only to find that Clemente has shot himself dead. It's not 100% clear to me what the message here is, but it does have the feel of somehow being a fitting end to the episode. Did he, in the end, see the truth of his lurking sociopathy, and chose not to live with that? Perhaps he saw the truth that he would always be haunted, just as everyone told him so, and he couldn't live with that? There are several other possibilities one can think of I'm sure. Haven't we all at some point found it a little hard to face ourselves? In the case of his extreme actions the mirror made that reflection unlivable.
I rate this episode a 6.6
Contact the Feature Writers