[AdSense-A]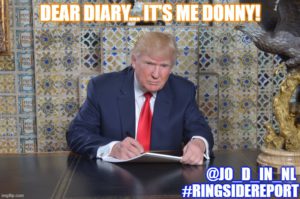 By Jo-Ann "Jo D NL" Duke
The diary scribblings of T4: Temper Tantrum Toddler Trump
Dear Diary,
Hey, big guy, it's me again, your buddy Donny. I am totally staying here, since we both know that it was me who really won that election. Can you believe they think I am going to concede? Why would they think I would do that?
That would mean that I think or believe I lost. We both know that I will never ever think that. Why would I, when all the polls on the night of the election were showing that I won? It's so clear that all the fake news and the other party are using all those illegal ballots to try and steal this election from me.
I am never giving up, and I am going to prove that I won, and that everyone else was wrong, and that I was right; the way it always is. I mean, whenever have I done anything wrong, I am the best and greatest president, as well as the best businessman ever.
Anyone who says anything different is just so jealous of me. Anyway, my followers and my Republicans, well, they are so good, because they are listening to me, and backing me up, which is great.
They are refusing to recognize, big word for me, hee hee, that the election results are real; since we all know that they are using all those illegal ballots to say that they won; so this is what we will keep fighting up they give up and realize that we are right; and that I am the real president, and will stay here as the ruling party.
Actually once I am sworn in again, I am going to see about getting the term limits, I think that's what it is called, well, I will try to get those changed so that I can stay a lot longer than four more years.
Well, now I feel better, thanks buddy, you really helped me out with all of this. Just getting to say what I think without people complaining all the time is great, you know. Well, I got to keep in touch with my followers about fighting this thing, and what our next plans will be; I am making sure that the thieves cannot try to set up their version of the government, or at least not make it easy for them.
Bye for now, talk to you later, for sure and love you.
Donny
Contact the Feature Writers